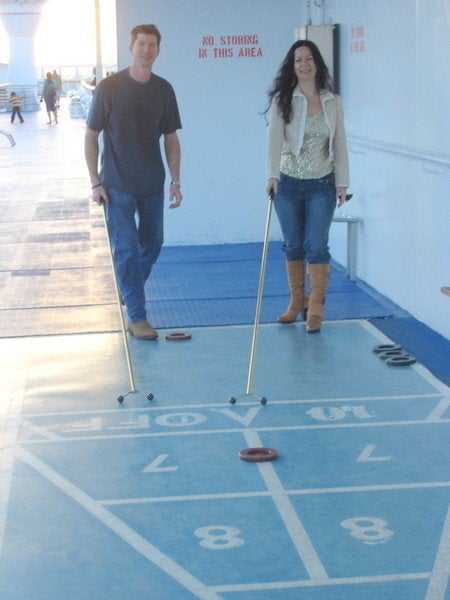 Amy Luna Manderino stumbled into her 2010 cougar cruise experience somewhat accidentally -- by winning tickets after accompanying a friend to a cougar event.
Several months later, she ended up with a marriage proposal.
"I met a young man my first night on the cruise," said Manderino, 47, an artist who had previously been married to a man seven years her junior. "We ended up dating … and after the cruise he came to visit me. Turns out he wanted to marry me, but I said no ... we didn't share the same values and priorities."
Manderino –- who got more involved with cougar events after the cruise, and was even crowned 2011's Miss Cougar International -– is just one of hundreds of singles who have gone on cougar cruises. She described the experience like that of any other event or vacation for singles, with one major exception.
"By night three all the cougars were in bed early, after two nights of partying," she said. "All the guys were in the bar alone."
The Singles Travel Company LLC held the first International Cougar Cruise in 2009, 42 years after Dustin Hoffman was seduced by Mrs. Robinson in "The Graduate," and four years after Demi Moore and Ashton Kutcher got married. The cruise brought together cougars (women in their early 40s and 50s who like to date men younger than themselves) and cubs (young men, usually in their late 20s and early 30s, who do the opposite).
Since that time, the company has offered five more cruises (most recently in December) ranging from three to five nights in locations including Mexico and the Mediterranean. The company is working to book a seventh, expecting 60 to 80 attendees to come on board. It's a smaller amount than the first and second cruises, which attracted 275 and 120 attendees respectively, but still more than its regular singles cruises, which generally have 15 to 40 people.
Cougar cruises take place aboard a large, commercial ship alongside thousands of other non-cougar vacationers. Though the first cruise was held on a Carnival Cruise Lines ship, after Carnival received negative press for housing the event, Singles Travel Company was forced to switch to Royal Caribbean, who they have happily worked with ever since.
The itinerary of the cougar cruisers does not differ much from that of the regular ship participants with whom they share a boat, although Ann Thomas, the director of Singles Travel Company LCC, always has one or two employees host the cougar cruises. The hosts bring cougars and cubs together during meals, daytime excursions and nighttime activities, like bar hopping and jacuzzi parties.
As far as Thomas knows, Singles Travel Company is still the only group to offer cruises for older women and younger men.
Richard Gosse, the publicist for Singles Travel Company and founder of Cougarevents.com had the idea for the first cougar cruise the summer before the first one set sail. Gosse had just hosted the first-ever cougar convention in Los Angeles, which attracted hundreds of attendees and quickly sold out. While Gosse had experimented with hosting events for older women and younger men in the past, he said they only gained traction when he labeled them "cougar events" that year. The term cougar was popularized in 2002 by Valerie Gibson when she released her best-selling book "Cougar: A Guide for Older Women Dating Younger Men."
Although Thomas was initially fearful that her company would receive negative backlash, three years later, she said she's glad she took the chance.
"It is a very party-like atmosphere, and it serves a purpose for a part of society that has been there all along and getting stronger and more prevalent," Thomas wrote in an e-mail. "It is also a women's lib issue. Men have always dated younger women and society accepts it (to a point); this is the reverse!"
According to Thomas, cougar cruises generally have a 50/50, if not male-heavy, gender ratio -- unlike most singles events, which are usually predominantly female.
But this is not surprising to Gosse, who said he finds many young men are very interested in meeting older women.
"The cubs say they like the older women because they know what they want and they don't play games. A lot of men really don't like the young women they date -– too much game playing and immaturity," said Gosse.
Manderino said she spoke to younger men on her cougar cruise who echoed that sentiment.
"When I ask younger men, 'Why do you date older women?' they all give the same answer," said Manderino. "They all say 'because they know what they want.'"
She added, "At a cougar cruise, It's more like, 'I like you and you like me, I like sex and you like sex -- let's see if we're compatible.'"
Aasla Lee, a 75-year-old who attended a 2011 cruise to the Caribbean, saw her ship's dynamics quite differently. The twice married Lee won tickets to the cruise after she was crowned Miss Cougar America at the 3rd National Cougar Convention in New York City.
"The gentlemen I saw who were attractive got latched on to immediately," said Lee. "I think the women were a little more aggressive … than in most other situations. A little more willing to choose instead of waiting to be chosen."
She added that many of the men were drinking heavily on the ship in order to "keep their courage up" when facing flirtatious older women.
"It's not like when guys are pursuing younger women or women their age. The dynamics change a little bit, and these are older women who are probably more secure and more confident, but also maybe more desperate," said Lee, a retired graphic and industrial artist.
While Lee had not been involved with the cougar community before winning the Miss Cougar America title and went into the cruise with an open mind, because of the heavy drinking and partying, she said it "wasn't [her] kind of cruise."
"I don't really drink and I wasn't interested in jumping in the sack with a drunk guy," said Lee. "I just kind of enjoyed watching everybody else do whatever they were doing. It was all stuff I had done 30 years ago."
Not every woman walks away from the cougar cruise with a marriage proposal, like Manderino.
Lee said she didn't meet a special someone on the cruise and only kept in touch with one male friend from the trip. She described a ship full of hookups, without much romance.
"I think the women were looking more for a relationship, while the guys were looking for what guys typically look for," she said.
Thomas, the director of Single Travel Company, said she is unsure if the cougar cruise has resulted in any marriages.
"There are some romances that develop, but we haven't followed [up] on any," said Thomas.
Either way, Manderino maintains that the ship's hookup culture isn't any different than what you would find on any other singles trip.
"There is a stereotype that if an older woman dates younger men, then they would automatically date ANY younger man, but we want compatibility too," said Manderino. "I don't think anybody, even if they're the same age, JUST wants to have sex … At the end of the day you still have to stand the person that's next to you in bed."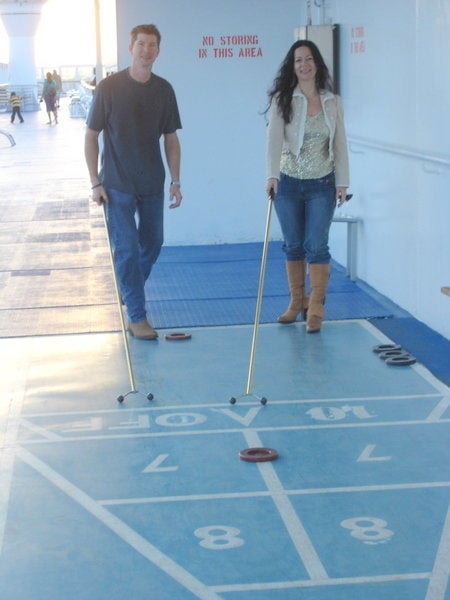 Cougar Cruises And Events
Popular in the Community