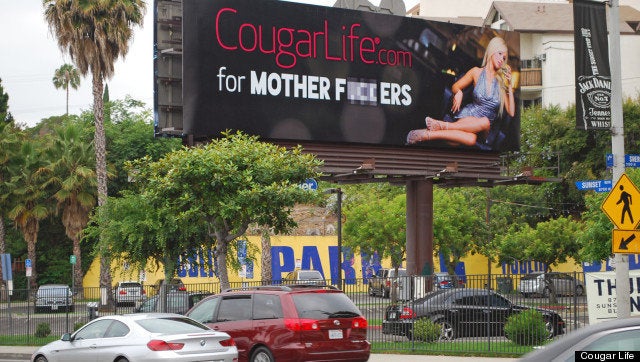 A giant risque billboard has gone up on Sunset Boulevard in Los Angeles that is sure to slow traffic along the Sunset Strip.
The billboard, pictured above, is of a sexy blonde woman holding a cocktail and lounging next to the words, "CougarLife.com … for Mother F*ckers."
CougarLife.com describes itself as "the premier online dating service that pairs women in their prime with younger men and ends the double standard!"
Elissa Buchter, spokeswoman for Cougar Life and a cougar herself, told The Huffington Post that the billboard is the first of more the company hopes to put up in Hollywood and West Hollywood. The company is targeting the area, Buchter said, because it is the national "cougar capital" -- with more Cougar Life members in the 90069 zip code than anywhere else in the U.S. Regarding the term "mother f*ckers," she commented, "The majority of cougars are single moms. And we thought it'd be a good way to get their attention and make a splash."
According to the Cougar Life website, a cougar is a woman 35 or older and seeking or involved with a "cub," a man at least five years younger. The relationship works for both partners because "they're both at their sexual peak," Buchter explained. "Older women are a lot more confident, more willing to explore, and in touch with their sexuality," she said.
A lot of men in their late-20s want an independent woman who is not codependent and does not want drama or money, Buchter said. "Cougars have their own thing going on and can show cubs new experiences. And younger women are often cranky, indecisive, needy, immature and play a lot of games," she said. As for the cougars, Buchter explained, "It's refreshing for women to come across a man who's in his prime and doesn't have baggage."
It's not surprising that the "cougar capital" is in Hollywood, the land of movie stars, money and plastic surgery. In a recent survey on CougarLife.com, "cubs" ranked their favorite celeb cougars. Sharon Stone won with a landslide 44 percent of the votes, followed by Kathy Griffin (20 percent), Madonna (18 percent), Kim Cattrall (15 percent) and, lastly, Susan Sarandon (3 percent), according to the site.
In September, the company offered perhaps the world's most famous cougar, Madonna, $300,000 to record a song and video. The iconic 53-year-old pop star dated then-22-year-old Brazilian model Jesus Lutz and is now dating 24-year-old Brahim Zaibat. Madonna hasn't responded to the offer, but it "still stands," Buchter said.
The City of West Hollywood issued the following statement to HuffPost about the Cougar Life billboard:
The City of West Hollywood has a lease agreement with Van Wagner Communications which allows for the operation and maintenance of a privately-owned billboard on Sunset Boulevard. The lease agreement gives the City limited approval of the billboard content based on City policy or community standards. The City reviewed the billboard content and determined it did not violate City policy or community standards.
Click through Cougar Life commercials, a music video and interviews with Cougar Life president and "proud cougar," Claudia Opdenkelder: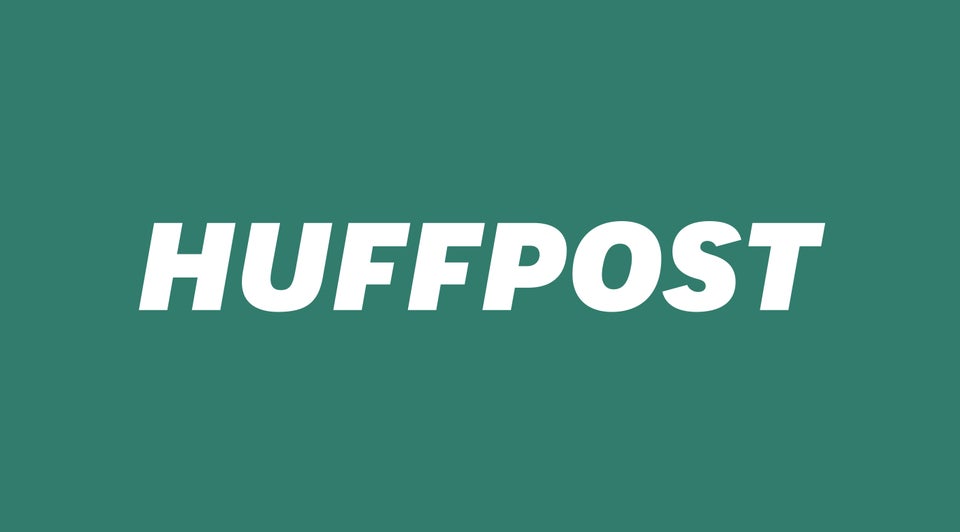 Cougar Life Commercials & Videos