A billboard that sexualizes the act of breastfeeding has been deemed too racy for the streets of Los Angeles.
The poster, an advertisement for CougarLife.com, shows a naked woman breastfeeding her baby. It went up on Sunset Boulevard just after Mother's Day, but will be taken down Thursday morning in response to community pressure. The billboard is apparently too close for comfort to the West Hollywood Farmers Market, which typically attracts residents of all ages.
"There is no reason for this billboard to be taken down. The Farmers Market is actually the perfect place to showcase this ad," said Cougar Life spokeswoman Marlo Jordan a statement to The Huffington Post. "There is nothing more natural than a woman breastfeeding."
Of course, the billboard isn't just about breastfeeding. CougarLife.com is an online dating site that connects older women with younger men. In the billboard advertisement, a thought bubble floats above the child's head with a one-word question: "Jealous?" To drive the oedipal theme home, the advertisement also pixelates the point at which the baby's lips meet the mother's nipples, much like adult content.
"People may have been offended by the message of older women dating younger men," Jordan's statement continues, "but I find that shocking in this day in age."
The Farmers Market is operated by the City of West Hollywood, but the city wasn't involved in the billboard removal, said a spokesperson. Instead, community members worked directly with Van Wagner communications to take it down. The spokesperson also confirmed that the billboard operator's lease agreement with West Hollywood only allows the city limited approval of billboard content.
(Story continues below)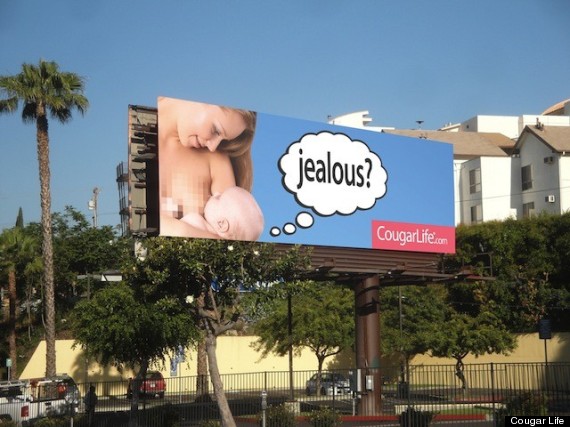 In an earlier phone interview with HuffPost, Jordan had said that the billboard is making the case that breastfeeding, much like a romance between an older woman and younger man, is beautiful and should be accepted in society.
"I know there are going to be some moms that look at it and think, 'What in the world?'" said Jordan. "But we don't think there's anything shameful about either breastfeeding or relationships between older women and younger men."
Jordan, a divorced single mom who breastfed her own children, also pointed out that the sign sent a positive message: "A mother breastfeeding can still be sexy."
CougarLife.com has over 4 million members, over a third of which are "sexy single moms," according to a press release from the site. Last July, Cougar Life erected a similarly risque billboard above Sunset Boulevard that advertised its site "For Motherf**kers."
Cougar Life's nipple-in-cheek advertisement aside, images of actual breastfeeding mothers have landed real women in hot water. Army veteran Crystal Scott's photo of breastfeeding while in uniform drew the ire of military leaders who said she was using the uniform to further a cause, which is against protocol.
And despite doctors' unambiguous recommendation that breastfeeding is optimal for mother and child, breastfeeding in public is still far from socially acceptable in some parts of the United States. Last month, a mother in South Bend, Ind. was asked to leave the restaurant while she was breastfeeding her son -- a request that is illegal in that state.
What do you think about Cougar Life's billboard? Should it be allowed to remain on Sunset Boulevard? Tweet to us at @HuffPostLA or let us know in the comments below.
This story was updated to include a response from the City of West Hollywood.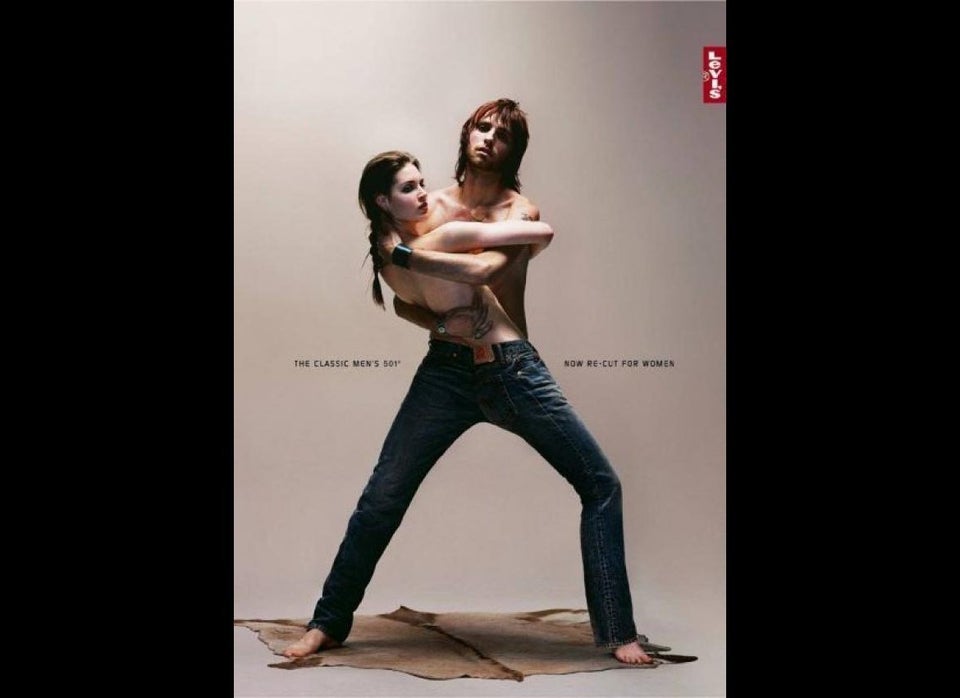 100 Controversial Adverts
Popular in the Community