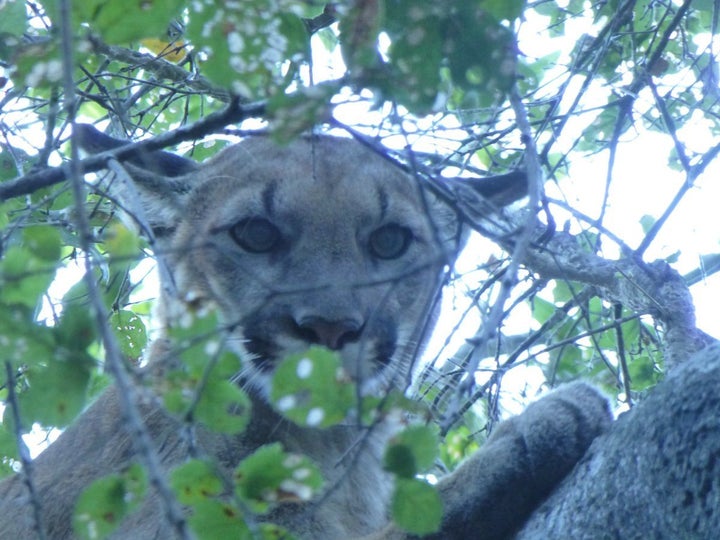 A mother cougar has been found dead near Malibu Canyon Road after apparently being struck by a vehicle, officials have revealed.
The nearly 6-year-old California mountain lion, dubbed P-23 by scientists tracking her, was the mother of two kittens (including P-54) born about a year ago, her third litter. Their fate is unknown, but they're close to the age when kittens typically leave their mother to strike out on their own, said a statement by the National Park Service.
The death this week is the latest sign of the difficult battle for survival the big cats face in the Santa Monica and Santa Ana mountains of the Los Angeles area as housing and highways increasingly encroach on their habitat and inhibit their searches for prey and mates. Los Angeles is one of only two major cities in the world, along with Mumbai, that have big cats living within the city limits.
"Mountain lions are incredible animals that have adapted to live in California's mountains, canyons and deserts. But these big cats are no match for the network of roads, highways, and sprawl that we've built with little regard for their impacts on lions or wildlife connectivity," J.P. Rose, lawyer for the Center for Biological Diversity, told Huffpost.
The National Park Service has studied about 60 mountain lions in and around the Santa Monica Mountains. About 20 adult cougars are believed to live in the Santa Ana Mountains.
P-23 is the 18th mountain lion to be killed in a road collision in the region since 2002. Wildlife and environmental activists have been advocating for the construction of a wildlife crossing over U.S. 101, which would allow for safe, freer access throughout the area by the big cats. The Liberty Canyon Wildlife Crossing would create a 200-foot-long, 165-foot-wide overpass bridging U.S. 101 west of Liberty Canyon Road in the city of Agoura Hills, but the mission has lagged due to a lack of funds. The California Department of Transportation, known as Caltrans, released an environmental assessment in September and is reviewing public comments on the project.
The Center for Biological Diversity and other groups support use of state funds for the project. "The crossing is necessary to preserve wildlife connectivity in Southern California that has been disrupted by poor land use and transportation planning," said Rose.
P-23 had been a favorite of mountain lion watchers ever since she was spotted by a cyclist in 2013 astride a dead deer on Mulholland Highway in Los Angeles.
P-23′s first two litters were preyed upon by mountain lions or other wildlife. Two kittens from her first litter, P-36 and P-37, were photographed in 2015 being attacked and eaten by P-27, a dominant male in the Santa Monica Mountains. The other dominant male at the time was the kittens' father, P-12.
Two kittens from P-23′s second litter were also killed by a mountain lion or other wildlife. But a third, surprise, survivor (P-53) was later discovered by researchers.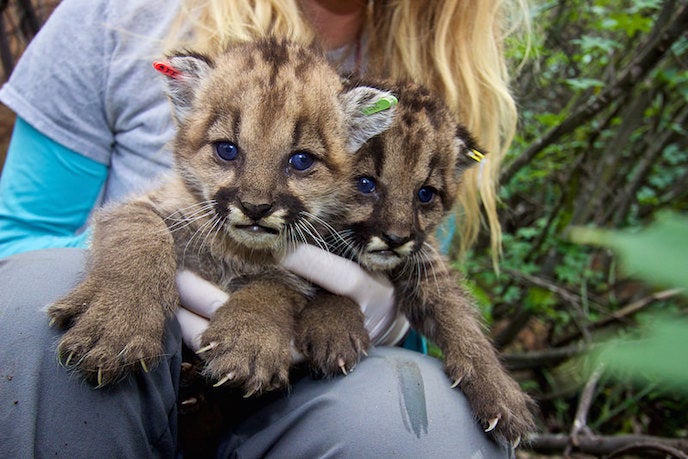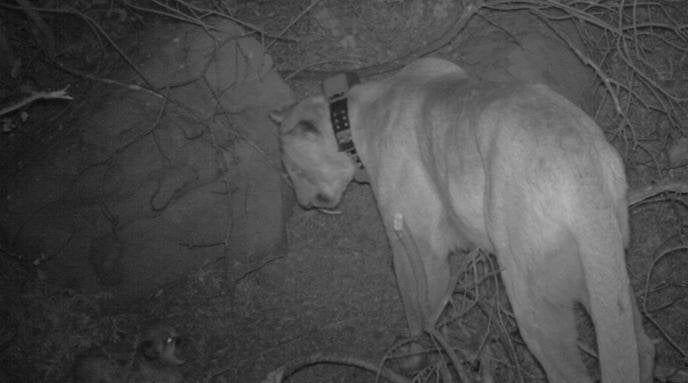 Here's a 2015 video of P-53, making the characteristic "chirping" sounds of a mountain lion kitten.
P-23 was a prime example of what's known as "first-order" inbreeding among the cougars of the area, another problem caused by territory constraints from housing developments and highways. Such inbreeding threatens the survival of the species. P-23 was the result of a mating of P-12 and his daughter. P-23 later also mated with P-12, who was both her father and grandfather, to produce P-36 and P-37. P-23′s half sibling is suspected of being the father of her latest litter.
The California Department of Fish and Wildlife will conduct a necropsy of P-23.
Popular in the Community