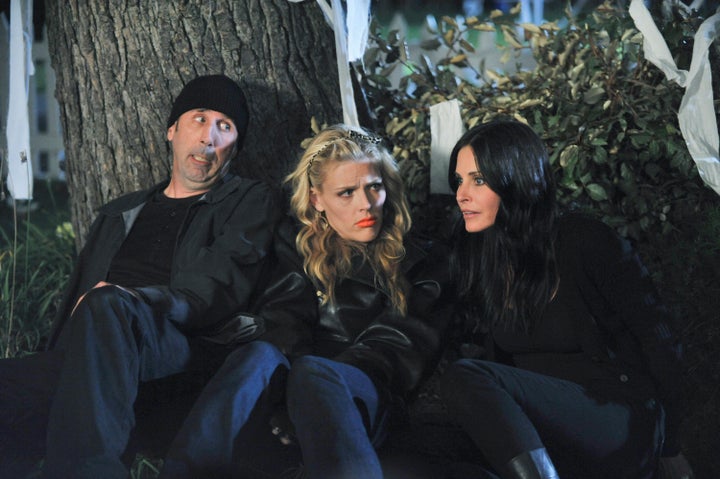 Fans of the Cul De Sac crew got the terrific news on Tuesday that "Cougar Town" is finally returning after almost a year off the air. That's reason enough to raise a very full wineglass. Cheers!
I've missed the "Cougar Town" crew so much that, as soon as ABC confirmed its return for a third season, I emailed co-creator and executive producer Kevin Biegel to ask what Penny Can fans should expect from Jules, Grayson, Ellie, Andy, Laurie, Bobby and Travis in Season 3.
Find out what Biegel had to say about the show's rumored name change, the best way to bring a viewing party to your town and the reason Travis (Dan Byrd) will be wearing a helmet in upcoming episodes.
Are you glad the show is returning Feb. 14? Any qualms about whether there's enough time to promote the show's comeback?
I'm glad the show is back on the air -- period. No qualms at all. I think ABC is very smart to put us back on Valentine's night. It's a big, romantic episode that very concretely says, "This is very much a show about adults and adult relationships." There's an engagement that happens on the show that ties in nicely with the romantic holiday.
So is the name change finally dead? I figured there are no plans to change the name from "Cougar Town," but I thought I'd just ask.
It is so, so, so, so, so, so, so dead. That said, if we hear a better name, we'll change it. We won't. It's dead. I think. I'm pretty sure. I'm not sure.
Lots more viewing parties coming -- Las Vegas, New York, Boston, Austin -- as well as smaller viewing parties we're trying to enable. If you can get a picture of 25 of your friends with a sign that says, "We want a 'Cougar Town' viewing party," we will send you episodes, Penny Cans, signed scripts, shirts and try to get some actors to Skype with the party. That way, we can thank fans in places we haven't been able to or won't be able to go.
What can fans expect from the new season. Lots of romance? Lots of silliness? Was there an overall theme or idea that seemed to come out in the writing? Can you give a few hints about what's to come.
We wanted to start with an engagement and then have that and the eventual wedding be the bookends for the year. I think it's our funniest season. I think we've found a comfortable groove and also allowed ourselves to try some different things -- structurally and thematically, there are a few episodes this year that are not things we'd have tried last year. And Dan Byrd wears a helmet for seven episodes as punishment for having a bad haircut last year. So that's either a great thing or the pettiest thing anyone's ever done. I prefer to think it's the former.
"Cougar Town" returns on Tues., Feb. 14 at 8:30 p.m. EST on ABC.
Related
Popular in the Community