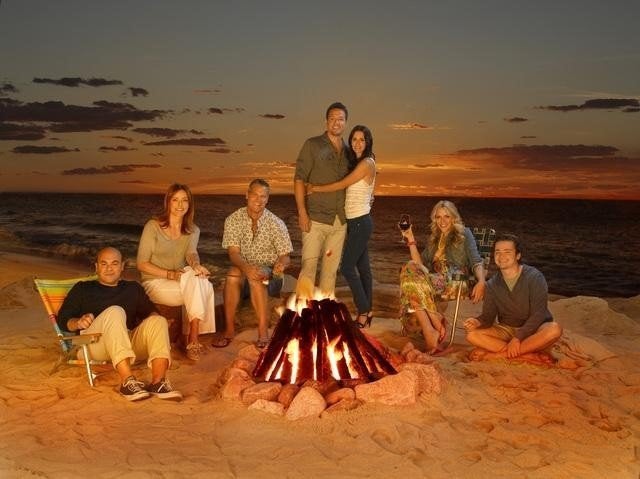 For the past month "Cougar Town" co-creator and executive producer Bill Lawrence has been waging a social media campaign to promote his ABC comedy, with little help from the network.
"The show was getting jerked around by ABC, and we knew that in the modern era of television, promoting your show is not only the network's job, but it's your job as a showrunner," Lawrence told HuffPost TV. "So we sat there, in the writers room, and decided as a cast, that if this show ended up going away after this year, we would all regret it if we didn't try our best. No one had ever tried this, but in the era of social media, we thought that we'd take the show to the people. We knew that the show could survive if we just recaptured the audience that used to watch it, a year-and-a-half ago. [Laughs.] To do this, we needed to give them direct access."
As soon as Lawrence and co-creator Kevin Biegel found out about the possibility of a late winter premiere, the two creators -- along with the cast -- launched their grassroots campaign, complete with national viewing parties, wine giveaways and fan parties, giving loyal "Cougar Town" fans the direct access Lawrence wanted them to have.
The creators' plan was to premiere the first few episodes of Season 3 in bars or other venues around the country and give fans a chance to interact with some of the stars and writers. There have been viewing parties in nine locations, including Sarasota, Fla., Chicago, Las Vegas, on the show's set in Culver City, and recently in New York and Philadelphia. All were set up without the knowledge or assistance of ABC.
"Access is about access to cast and writers," explained Lawrence. "Every single person in this cast and all of the writers are on Twitter. They can talk to us about the show and ask us questions whenever they want. We brought the cast to different cities around the country for viewing parties. We encouraged fans who didn't live in those cities to throw their own private viewing parties, with 25 or more of their friends. The first one of those parties was [Sunday night] in New York, and they didn't know it, but Dan Byrd went there to surprise them."
Lawrence and Biegel managed to find sponsors for the viewing parties to help with the costs of organizing these events. One of those sponsors includes Cult Wine, which donated over 150 bottles of wine to giveaway to fans who promised to stay in on Valentine's Day and watch "Cougar Town."
"It's a big deal for Courteney to be at open bars, shaking hands with people and out having wine with fans," said Lawrence. "If it's anything for the show, she's into it."
In recent years, social networking has opened new paths for showrunners, writers and even actors to promote their series to the public. Busy Philipps, who stars as Laurie Keller on the ABC comedy, said that they all know what it's like to be on a "really good show that gets wrongly cancelled." In 1999 Philipps starred in the critically-acclaimed, yet ill-fated, "Freaks and Geeks."
"I do believe that if Twitter and Facebook and these things had existed, there's no way 'Freaks and Geeks' would have been canceled," the actress said Saturday night at the Paley Center. "The fans would have fought for it. Bill has really changed the game. You're just at the mercy of the network and where they want to put their money, and if they want to throw all their money at 'Whitney' billboards, then that's fine, but we can do all we can to promote the show ourselves."
Even with the success of the viewing parties and giveaways, Lawrence and Biegel remained practical about their odds. "I think the odds are about 65-35 that the show is back next year," Lawrence told the crowd Saturday night. However, his co-creator Biegel strongly disagreed, adding, "The show's coming back next year. There's no doubt in my mind."
Considering it's been nine months since the Season 2 finale aired, Lawrence said there are still fans out there who believe the show has been cancelled.
"At least once a day someone posts on our Facebook page, 'I'm so sad that this show was cancelled. It was my favorite.' It's a big country, and part of the burden of the DVRs and all of the technology is that it's hard to reach everyone," Lawrence said. "Even Twitter, which I love, is for a very niche group of people, but it's been a fun experiment. I think if it works, everyone will do it, and if it fails, no one will be doing it."
The wine-soaked comedy may be back on the primetime schedule, but the show's lead-in, Tim Allen's "Last Man Standing," doesn't exactly pull in the same ratings as "Modern Family" -- "Cougar Town's" former lead-in. However, according to Lawrence, that may help his ratings-challenged comedy.
"That lead-in is a double-edged sword," said Lawrence of "Modern Family." "It's great because you get a huge amount of eyeballs to check you out, and it stinks because you're judged very harshly against a hit show that does big numbers, and if you can't hit those numbers, it's bad for the show. I love 'Happy Endings,' but they're pulling in the same numbers that we did last season, and they're going to get the same treatment."
The only question that remains is whether the creators' efforts will result in higher ratings, but for Lawrence and Biegel, at this point, that's out of their hands.
"If I could control how many people would watch the show, I'd be a wizard," Biegel told HuffPost TV. "Unfortunately, I'm not a wizard. I can only be thankful for the people that watch the show and like it. We're not trying to make the show more mass-appealing than it is because I don't think that's the correct thing to do. All we can do is go with our gut, and make the show we want to do. Sadly, people still think our show is about a woman having sex with younger men, which is not true. So we have our obstacles to fight, but we're not going to turn into 'The Big Bang Theory' because I don't want to be that show."
Lawrence added: "I don't know if any of this is going to work, but if it does, we all feel super psyched that the show's still on, and if it doesn't, at least we'll all feel that we did everything we could. But hey, if this show is still on next year, I'll love ABC."
Popular in the Community