While sitting alone on a hot summer's day in sunny South Beach, I was pondering why so many great women I know are still single, including myself. And a few good men too. I am really referring more to the Baby Boomer generation. Of course, there are girls in their 20s, 30s and 40s who want to get married and probably will. But I am wondering why us boomer babes stayed single.
I am not referring to just any women, but some extraordinary women. Women who have it all: brains, beauty, bodies, personality, success et al. Maybe that's it! We have it all and that is just too much for most men!
I am always told I intimidate men. From my post college days as a young preppy in the Big Apple to my current status as a scenester in South Beach, being an Ivy Leaguer is just not something to flaunt to men. I never quite learned how to 'dumb it down'. Being strong and independent is the kiss of death in the dating world. People always ask me, why didn't I get married. And they always think, especially men, that there must be something 'wrong' with me.
For me, I think it was the time period I was brought into the career world. I was one of the first generations to have real careers, not just traditional 'female careers' like secretaries and school teachers. I always was an overachiever. I graduated top of my junior high class and gave the speech at graduation. I was the only one from my high school to leave the Midwest and go to an Ivy League college. I valued a good education. Then I got the top paying job of my Cornell graduating class.
I landed in the Big Apple with a big career ahead of me. I loved my job and got to fly around on the corporate jet to meetings and meet world class athletes. My first job was with Colgate Palmolive in their Sports & Recreation division when they owned a lot of sports subsidiaries and ran the world tennis tour and golf events. It was glamorous for a kid out of the Midwest landing on Park Avenue. I was surrounded mostly by men at work. Only the secretaries were women. Then I moved onto a career in the fashion industry representing top fashion designers and producing their ad campaigns at exotic locations around the world. I was booking all the male models myself. Hey, someone had to do this job! Again, it was all very sexy and seductive.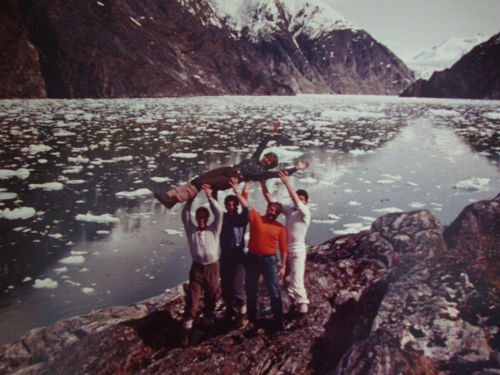 Single on top of the world in Alaska for photo shoot with male models & photographer
I met a lot of great men along the way through my work and single life in NYC. I had a blast back then. Those were the days when one night stands were de rigeur and social diseases like VD and aids had not hit the pavement yet. Life was free and easy. Studio 54 was at the height of its glory. Happy hours happened after work rather than the pumping iron at the gym back then. Today, I am a spinaholic spinning daily at the gym, but it was not even invented back then. And yoga was not yet in vogue.
I got caught up in the fast lane. I did not really think about my biological clock ticking. I even fell for a Latin Lover who wanted to get married and have a baby... roles reversed as I was the breadwinner and had no interest in 'settling down'. I also dated a wild Wall Streeter who would collect me in his limo for all our nights on the town. He had a life size Pink Panther sitting next to his driver... just to paint a picture of his crazy character. Life was thrilling!
Later, I landed in the jetset world. I moved to Miami into luxury lifestyle marketing and was on private jets and yachts around the world at marquis events like the Monaco Grand Prix, Cannes Film Festival and summers in St. Tropez, Ibiza & Sardinia with winters in Aspen, St. Moritz, Gstaad. It was a glamorous social scene circuit. We were our own tribe on this global bandwagon. Most were single and chasing the party around the world.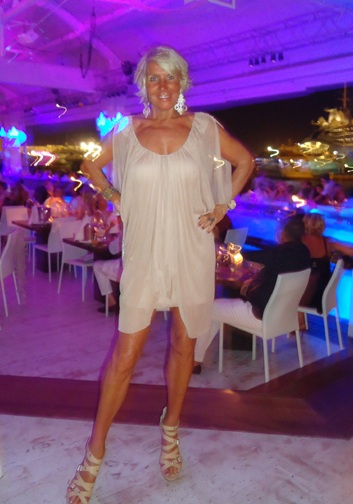 Single in Ibiza
This summer, I finally decided I wanted 'off the train'. I want a more meaningful life with a nice life partner. But I may have gotten off too late and missed my station. My marketability with men has diminished. I am an aging boomer. My male counterparts want young eye candy. And the men that want me are young boys. I had my boy toy phase, but am over it. Mind you, I still look good with a muscular body working out 7 days a week and always have turned heads with my shapely legs. But I may have woken up too late and finding a 'real man' seems like an impossible dream at this stage of the game.
My story is not unique. It is mirrored by some of my closest babe buddies from around the world. It does not seem to be an upbringing or cultural thing that has kept us all single. I really think it is a generational thing. All my hot babes are boomers like me and never got married.
One was my cheerleading co-captain from high school in Chicago. We could not out-compete each other so we became co-captains. She went onto become an Emmy Award winning soap opera star and never got married. She still looks like a babe! Another is a college friend who became a hot shot trader on Wall Street working in a man's world and never got married. She even wrote a best-selling finance book along the way. Another coed from Cornell worked for a major league baseball team surrounded by men and never got married.
One holiday in my twenties, I ventured off to Club Med in Tahiti. I met an Olivia Newton John look-alike from New Zealand waiting in line for our room assignments. Both of us wanted single rooms, but that was banned for women. Only the men got the singles. So alas, we became roommates and friends for life. She was a savvy, successful computer consultant running her own business out of Auckland and never got married. My Argentine lover's cousin, a former Miss Argentina and model never got married. She is the strong one in her family taking care of all the men... their matriarch! No patriarch figure has been found for her.
Fast forward to South Beach, a sexy town for singles. Here I befriended a wild and crazy, but lovable Colombian babe and former Miss Colombia who also never walked down the aisle. And more recently, I have become buddies with a Miami based couture designer from Albania and a former fit model. She too never said her vows to a man. And yet another super sexy friend from Milan who does high finance deals with big boys from Europe and the Middle East flies solo. She too turns men's heads in any room she enters and still has not taken one for keeps. Oh, and a Russian vixen/former fitness model in Miami also scares away the men with her icy attitude.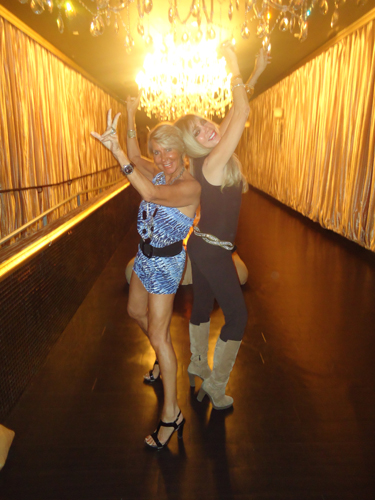 Single boomer babes at South Beach Club Grand Opening
And last, but not least is my longtime client who was coined "The Queen of Romance" who has donned the covers of all those romance novel. She never became a bride til she hit her late 40s. The marriage was short lived and she is back on the market. Thus, I consider her one of my 'forever single club' members. She is still a beautiful model/actress and keeps herself busy with her own wine bar in NYC.
So why are all these beautiful babes still single? And where are all the "real men" who want "real women"? That is the million dollar question. Please write me if you have the answers.
CAVEAT: I have a few good guy friends who also never got married who are Baby Boomers too. They are an eclectic clan with one from Sweden (Stockholm), another from Turkey (Istanbul), one from Italy (Milan), and one from the Midwest (Detroit) and last but not least a New Yorker. Oh, and one more from Boston with a Harvard degree. These guys are all smart, successful, fit and fun and I think just have been having too much fun traveling the world and leading the good life to settle down or settle. And one more who is the top breast plastic surgeon in Miami from Australia. He has enhanced tens of thousands of beautiful women and has still not walked one down the aisle himself... remaining forever single.
HOPE GAINER is a global imagemaker, marketer and branding expert based in Miami with clients worldwide. She also produces upscale events during marquis platforms like Monaco Grand Prix, Cannes Film Festival, Art Basel, International Boat Shows and Polo. Additionally, she is luxury property expert with Douglas Elliman Florida. She is a founding member of the Florida Luxury Marketing Counsel and contributes to several luxury lifestyle magazines. In her spare time she is very philanthropic contributing to a variety of worthwhile causes. She loves to stay fit working out daily and traveling around the globe whenever possible to hip hotspots or undiscovered hidden gems.
www.ehopeinternational.com www.ehopeinternational.com/HopeProfileSofiMagazine.pdf
PHOTO GALLERY
Most Romantic Cities
REAL LIFE. REAL NEWS. REAL VOICES.
Help us tell more of the stories that matter from voices that too often remain unheard.