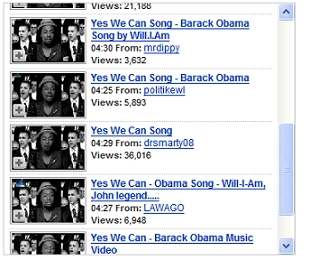 There are essentially three elements of influence: (a) Message, (b) Networking, and (c) Fundraising. "Message" includes all raw communicative product: Speeches, commercials, articles, videos, anything creative. Networking gets it out there — to the media, to decision-makers, to the wider world — and fundraising is fairly obvious, though of course it can turn out rather awkwardly for people like Bill Bennett. This isn't news, but what continues to be is how (a) and (b) continue to work together in grassroots, contagious ways in this campaign.
The latest example is the beautiful, inspiring song and video based on Barack Obama's "Yes We Can" speech after the New Hampshire primary. You know it, but if for some strange reason you don't drop everything and watch it here — or here or here or here or here or here or here or here. Or here. So far, the video has been posted 62 times on YouTube, including one enterprising NYC guitarist who figured out all the chords, listed them for others, and recorded it in one take. I am not going to add up all the views on each video, but in many cases they are in the tens or hundreds of thousands. They definitely add up. Nevermind the blogs, Facebook and MySpace pages they were posted to. That's (b) all sewn up — with zero ad dollars spent.
Now to (a). Quite unrelated to whomever you're voting for, it's a brilliant work of art, musically but also visually (except that "dipdive" watermark really takes away from the visuals). It's a gorgeous marriage of text, song and image, and the cast is a wonderful mix — Wil.liam and John Legend are amazing; Kareem Abdul Jabbar, looking so imploring, is very moving; Aisha Tyler— who knew?; Anson Mount and Taryn Manning redeem themselves from that Britney Spears movie; Herbie Hancock and Alfonso Ribeiro? Wow. And ScarJo, of course — Barack's #1 fan. It's a great mix of star power and real honest-to-God cred, beautifully directed by Jesse Dylan (evidently social justice songs run in the family).
There are a few behind-the-scenes things about the video that are important to note. The first is that it really does seem to have been done independently from the campaign. Democrats have a much, much deeper bench of creative talent on all sides (music, film, advertising) and it's always freely offered, but the campaigns are typically very cautious about encouraging such efforts (cautionary tale: Kerry '04). I heard from a source inside the Obama campaign that they've had many offers for explicit celebrity support that have been gently discouraged (see the wisdom of George Clooney here). Who knows what might have happened if the campaign had been asked, but numerous sources from inside the campaign say that, nope, they learned about it when they saw it online (literally, from one staffer: "Supporters of ours independently produced it. Have to say, though, that it was pretty cool when we saw it online."). Another campaign insider not on staff learned of it via email forward. "The whole campaign has encouraged volunteers to take the initiative and make a difference — host a fundraiser, debate party, post policy ideas," he said. "Here's an example of that extended to the celebrity realm."That's the official campaign position, in any case: A link to the video was included in a campaign email this afternoon from John Kerry, who said the video "came from the bottom up, not the top down, created by people who have been touched by this campaign."

Be that as it may, it still leads to the second point: Could the video be construed as a campaign contribution? Wrote the Black Eyed Peas' Will.i.am, prime mover behind the project, in his blog post on the subject (punctuation edited for flow): "Usually this process would take months — a bunch of record company people figuring out strategies and release dates, interviews, all that stuff — but this time I took it in my own hands, so I called my friends Sarah Pantera, Mike Jurkovac, Fred Goldring, and Jesse Dylan to help make it happen." Campaign contributions are capped at $2300 — I think it's safe to say that Jesse Dylan's video-directing services are priced a little higher. Or Amber Valetta's day rate. Never mind Herbie Hancock's as studio musician. It's a very valuable piece of media that was given to the campaign, and were it not so close to Super Tuesday I imagine that the Clinton campaign would be quietly sending off emails to various reporters suggesting they look into it.
Why? Because it's been viewed millions of times by now, not only on YouTube etc. above but on ABC NewsNow, where it debuted Friday (and where it remains hosted), plus all sorts of other media impressions. It's currently hosted on Barack Obama's official site and it apparently played yesterday during the rally where Maria Shriver gave her endorsement. This isn't a titillating curiosity like Obama Girl; it's a serious piece of art, and it's being passed around at the highest levels. It's another indicator of what Obama can inspire, and it adds to the momentum that has swelled since his win in South Carolina, the Kennedy endorsements, and the upswing in his poll numbers. Oh, and it was generated in California — not exactly an insignificant Super Tuesday state.
Which brings all this back to influence: Message, networking and fundraising. This election cycle marks the first time when distribution has been so easy — and so cheap, and not concentrated in the hands of the campaigns. YouTube carries the message here (like it did for Hillary Clinton's Sopranos spoof video, it must be mentioned) and the ease with which video is posted and embedded means that a product can be seen without reliance on the official airwaves. In this way, (c) takes a back seat to (a), which is the real driver of (b). Could this swing Super Tuesday? Who knows — but given the wide circulation already and the fact that the press seems to be picking up on it today (most of those articles linked above were from today), it seems that the video will crest/has crested right in time for Super Tuesday. For those who think that getting thousands (likely millions at this point) of views is of value the day before a neck-and-neck election, the video just might prove to have an impact. Indeed, if you believe in such things, you might be tempted to go even further than that and assert that yes, it can.
Video below; also, I'm guessing that this is the ONLY post about the "Yes We Can" song that namechecks Bill Bennett.
Related
Popular in the Community