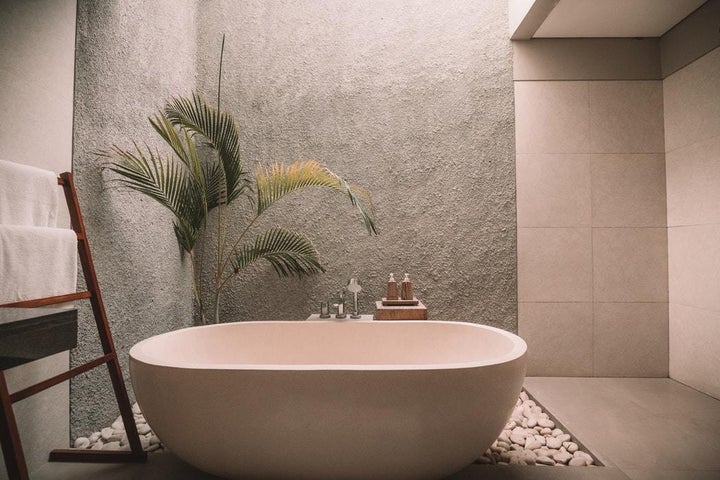 The Danish concept Hygge has caused quite a stir in the interiors industry and while it isn't essential that your bathroom channels this Danish concept, The Happiness Research Institute suggests that incorporating Hygge into your bathroom set up could make you happier. From shower doors to lighting, let's take a look at the crucial design elements that can help you to create a Hygge inspired space.
Ensuring your bathroom is clutter free is without a doubt one of the most important factors when creating a Hygge inspired interior. After all, it's all about enjoying the space that you are in and a clutter free space is the aim. Opt for bathroom furniture that has excellent storage capacity to house all of your essentials from towels to toiletries and this will in turn help to keep clutter at bay. Why not incorporate shower shelving to free up some much needed space in your bathroom cabinets and contemplate built in wall alcoves to house stacks of fresh linens? Vertical storage is a superb way to save space in your bathroom so a storage ladders could be the perfect place to showcase your essentials such as candles, plants and books. Arm yourself with the Little Book of Hygge for more interior inspiration.
Creating a Hygge inspired bathroom is all about creating a warm and cosy ambience and one of the easiest ways to do this is with lighting. There is no room for harsh, clinical lighting here so dimmable lighting is a great choice for the bathroom as it gives you an abundance of light when you need it with the ability to create a tranquil atmosphere in the evenings when you want to relax after a hard day. Candles allow you to create a tranquil atmosphere while also experimenting with scents.
When choosing the different elements that make up a Hygge inspired bathroom, it helps to play around with textures. Plush fabrics can turn a cold bathroom into a cosy space at speed. When choosing bath mats, towels and robes for your bathroom, always opt for thick, soft fabrics that focus on comfort. Sinking into a super soft robe or enveloping yourself in a plush towel after a hot shower is what Hygge is all about.
When it comes to Hygge inspired bathroom design, less is more. Bathrooms are usually one of the tiniest rooms in the home and if you want to create a minimalist style aesthetic, it makes sense to be selective when choosing how to fill the space. Scandinavian interiors tend to be paired back and clean and you can create this look with ease when picking out your bathroom suite. Frameless shower doors are perfect when you want to create a simple yet elegant bathroom interior. They also create a seamless space that makes the room look instantly bigger. Hygge is about the simple things so rather than including elaborate or extravagant designs, choose glass fittings and tiles in white or stone hues to achieve that natural laid back feel.
Remember that a functional bathroom needs to reflects your needs so it is important to choose elements that will grow with you. Follow our top tips to create a functional space that is both stylish and relaxing.
Popular in the Community