Sorry Chris Christie, You're Not on Deck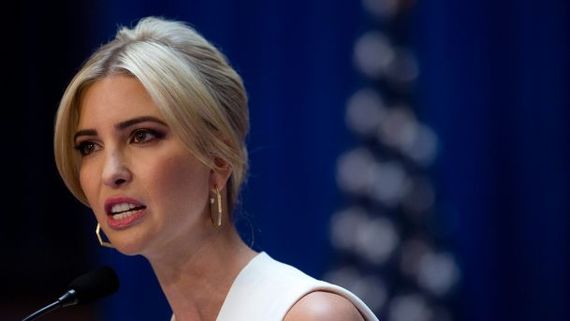 As everyone reels from the results of Super Tuesday, I can't help but speculate on what Trump has planned next. He's already broken every campaign rule, so why not put another Trump on the ticket should The Donald get the Republican nomination?
Hear me out. There is only one person with the Trump name who is universally admired and respected with widespread national appeal, Ivanka Trump. Her pedigree and educational background include Georgetown and Wharton. She is an accomplished businesswoman and skilled negotiator who at last count has three official jobs, one as Executive Vice President of Development & Acquisitions at the Trump Organization, principal of Ivanka Trump Fine Jewelry, and finally, founder of The Ivanka Trump Lifestyle Collection which includes nearly everything from custom fragrances to eyewear to her own clothing line. She is married and the mother of two little ones, ages four and two with her third on the way. She has also spent a considerable amount of time on the campaign trail which Vanity Fair recently detailed, and has developed an ease connecting on the stump even though she is well into her third trimester and due to give birth any day now. She is sharp, tough, thoughtful, and surprisingly relatable. She has an ability to temper her father's bluster and add substance especially on questions of how a Trump Presidency would treat women -- not to mention deep insight on what it is like to work for the enigma that is Donald Trump.
More than anything, she is comfortable being in and around power. She doesn't back down from anyone or anything, not even her father. And you can tell her father respects and listens to her, which is more than 99% of the human population. She could help Trump capture the female vote and perhaps temper her father's bluster that seems to compound daily. If she were on the ticket, I could also see Donald charging her with running the State Department too and toppling ISIS while she's at it. Not that she needs yet another job(s), but wouldn't that be an interesting twist on an already crazy roller coaster ride that is the 2016 Presidential campaign?
Calling all HuffPost superfans!
Sign up for membership to become a founding member and help shape HuffPost's next chapter