Forget the Rules Committee. Forget the superdelegates. Forget attacking Obama in the bathroom with a butcher knife. The increasingly demented Hillary has come up with a real nuclear option -- the only way to neuter the presumptuous pretty-boy who hijacked her party...
Why not? She's won Appalachia, the White Heart of Darkness. Who needs jobless hicks on meth anymore?
State-of-the-art female-male metoidioplasty is now an outpatient procedure. High-dosage melanin injections with standard UVA tanning treatments makes becoming black even easier.
Wednesday morning, a crazed grin splitting her Chucky-like cheeks, Clinton told her staff: "All my life I've felt I was a man trapped in a woman's body!" No-one disagreed. The possibly insane candidate continued: "I ask myself: 'Can I do this?' I answer myself: 'Yes I can! Looking for change you can believe in? Meet Harry Rodham Clinton!"
Only Harold Ickes applauded.
Operation Real Change (Stage 1) began yesterday. Beneath those pants-suit pants there is now a real guy -- and one with impressive testicular implants. Stage 2 takes a little longer. So Harry will be unveiled late next week right before the Puerto Rico primary. And Harry will be just way he likes his coffee: hot, black and sweet.
No one will stop her (or him). No one. No one will even try. No one ever has. Nothing can stop him/her now. Nothing. Not even...Bill.
Word is Bill can't stand the idea of being Harry's wife -- let alone his First Lady. On the other hand, the White House will have its very first interracial same-sex marriage. That could work.
Whatever it takes, right?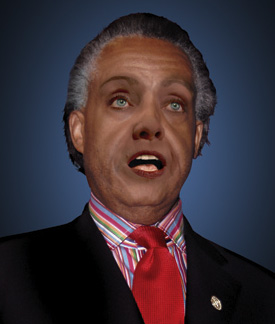 This post is based on a story from My Wall Street Journal, the sizzling satire I just edited, with some of the funniest writers around, of Rupert Murdoch's new er, plaything. Check it out at www.wsjparody.com or Amazon and get a copy soon -- before they're sold out.
Calling all HuffPost superfans!
Sign up for membership to become a founding member and help shape HuffPost's next chapter