But at a StarTalk Live event at the Apollo Theater, Tyson pumped up the swag, showcasing "StarTalkin'," a rap song penned and performed by nephew Stephen J. Tyson, Jr., aka Tyson, aka DJ Ear.2.Ear.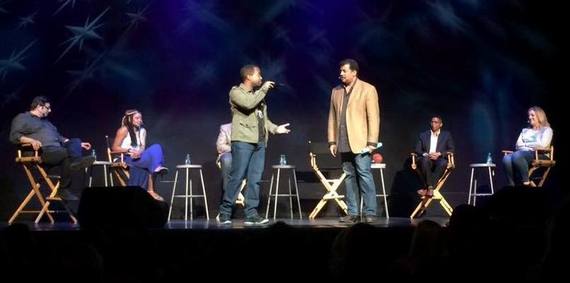 The younger Tyson's love of Hip-Hop goes much farther than performance. Via email he explained that Hip-Hop "is not something that can just simply play a role in someone's life, but is something that actually IS someone's life."
He walks his talk. He is a co-founder of Just Listen Entertainment, established to encourage young people to explore "the Hip-Hop principles of peace, unity, love, and having fun through the expression of music, film, poetry, and youth workshops."
As an undergrad at Franklin & Marshall College he also co-founded IMPACT (Intelligent Men-of-Color Purposefully Accomplishing College Together), with eight other alumni mentors who help male students of color, "develop the self-confidence and leadership skills to be successful scholars."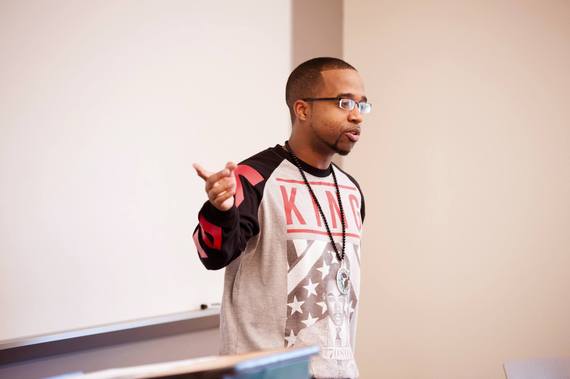 His masters thesis, detailing the history of Hip-Hop culture, included an informative 32 minute documentary entitled Hip-Hop: A Culture of Peace featuring insightful reflections of scholars, performers and devotees--and a clip of presidential candidate Hillary Clinton proudly proclaiming that, "Hip-Hop is America" during a CBS New interview.
Now completing an Ed. D in educational administration, he's currently pondering how to combine "Hip-Hop, youth development, education, and social justice into a coherent and functional thesis."
It's a timely topic, especially after the recent controversy surrounding the disappointing math and reading scores on the 2015 National Assessment of Educational Progress. And Tyson feels the Hip-Hop principles espoused by Afrika Bambaataa and the Universal Zulu Nation, "the founders of Hip-Hop as a culture," could breathe new life into our ailing educational system.
"Hip-Hop has grown into an international lifestyle that new generations of children are born into every day," he explained.
"For example, there is a lot of political expression happening right now from my Hip-Hop brothers and sisters in Syria and Palestine who are facing turmoil in their respective countries. There has been a lot of money talk and party music being made by my Hip-Hop brothers and sisters in the USA and Japan and it's no coincidence our respective national GDPs are doing OK at the moment. There are black-conscious songs being made by mainstream Hip-Hop artists like Kendrick Lamar, reflecting much of what is happening between the police and black communities in the United States. Do you see what I'm getting at?"
He asks educators unfamiliar and uncomfortable with Hip-Hop culture to "challenge themselves to recognize Hip-Hop as a thing that they don't know much about, but is very important to their students."
"This could be a first step toward developing a stronger sense of understanding and respect for one another in the classroom, allowing teachers to tie in the goals, objectives, and lessons of the classroom to potential 'real world' situations."
Tyson's "real world" includes a family of unabashed overachievers who have supported his passion with pride. His father is a Fulbright Award winning art professor. His mother is "an esteemed college administrator."
We all know Uncle Neil's "vitae" by now. But young Tyson is most impressed with his uncle's devotion to family and friends.
"He is one of the busiest people I know, yet he does everything to make sure that he is there for the people who need him most," Tyson said.

He is also inspired by his uncle's ability to "to convey the most complex topics in the simplest of ways."
"I know he gets chided as that 'Well, actually...' guy in the Twitterverse," he admitted. "But sometimes we as a collective need to be fact-checked."
We, as a collective, are also very lucky to have young men like Stephen J. Tyson, Jr. steering our young people--and our school systems--toward a brighter future. And he's working on yet another project, a song entitled "Mother Earth" which "is set to be even grander and touch on more topics than 'StarTalkin' did," he says.
Uncle Neil, given that aforementioned vitae, will no doubt wholeheartedly approve.
Photo credits: All photos and video links provided by Stephen J. Tyson, Jr.
Popular in the Community