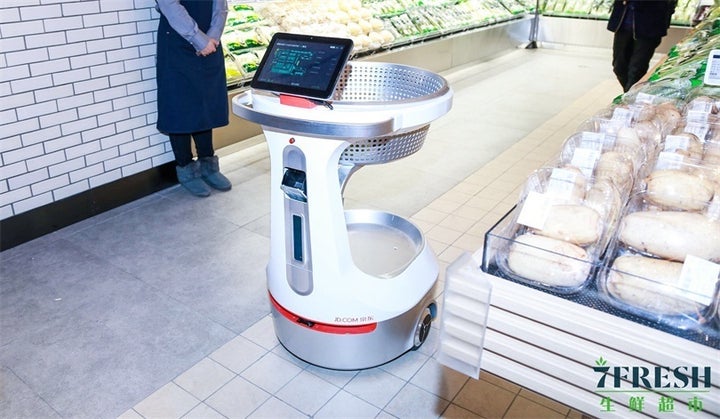 Last week, JD.com, the third largest internet company in the world by revenue, announced the launch of 7FRESH, its new offline supermarket offering. 7FRESH will leverage data from JD's 266.3 million e-commerce customers to provide what its CEO Xiaosong Wang says will be a "premium experience far beyond anything Chinese consumers have experienced before."
The company has offered fresh food online since 2012, but this is its largest move into the world of brick-and-mortar grocery.
The news comes on the heels of rival Alibaba's foray into the supermarket scene. Last November, Alibaba invested $2.9 billion to claim a 36% stake in Sun Art Retail, China's top grocer. With around 450 supermarkets throughout the country, Sun Art Retail is often likened to the Walmart of China. Alibaba also runs several other supermarkets under its Hema division.
But here's what may separate 7FRESH from the pack.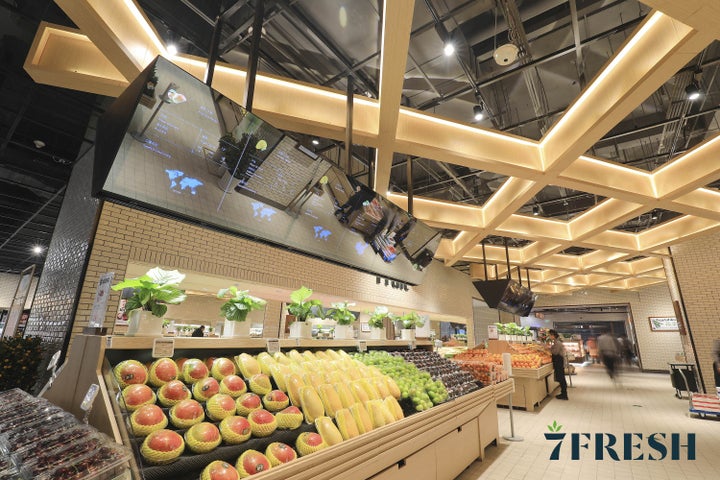 First, although Alibaba is often likened to Amazon, JD's vertical approach to sales and overall business model is actually far more aligned. Like Amazon, the company maintains massive warehouses to sell both its own goods and those of third parties—including those of 2,000 food suppliers. As such, it operates the nation's largest cold chain logistics network. Additionally, its end-to-end supply chain logistics and delivery systems are considered best-in-class (JD is beginning to use blockchain technologies to track everything from production to delivery).
Second, JD's partnerships are operationally and geographically strategic. The rapidly-growing company is deep into an exclusive collaboration with Walmart, recently entered into a $500 million joint venture with the major Thai retailer Central Group, and it's part of a joint AI research initiative with Stanford University's renowned Artificial Intelligence Laboratory.
Lastly, 7FRESH is already leveraging many of the latest in-store technologies. Smart shopping carts follow customers around as they shop (featured image), "magic mirrors" can sense when customers pick up items and then display data such as nutritional information in real-time, and customers can check out using a facial recognition system. And if you don't want to carry anything home, that's fine. 7FRESH allows customers to shop in the store but have groceries delivered to their homes in 30 minutes.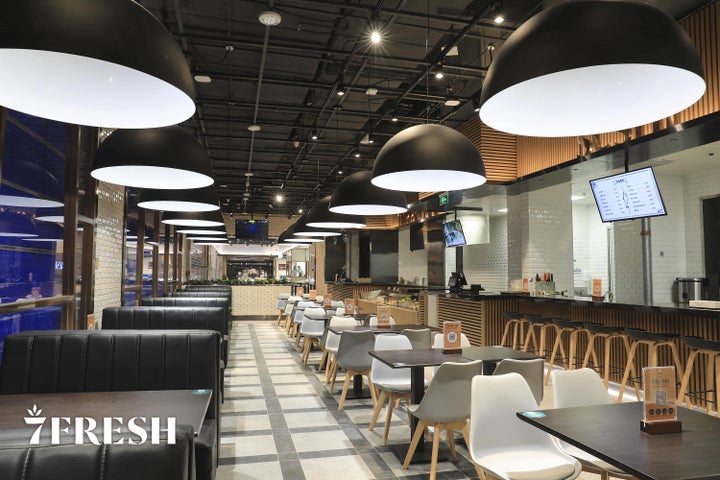 The parallels to Amazon Go (Amazon's AI-powered "no checkout required" store) are, of course, astonishing. Like Amazon, JD is a household online name across China—it's the world's 19th most visited site according to Alexa.
7FRESH is, of course, yet another example of a digital retailer opening up a physical store. But with JD.com's digital presence, wealth of customer data, global partnerships, and on-the-ground supply chain and logistics capabilities, it has the potential to set new benchmarks for what customers not only in China but throughout Asia expect from their grocery shopping experience.
Having spent years living in Thailand, I can say that a tech-powered premium grocery store such as 7FRESH would certainly pull customers away from the traditional big players such as Tops Market, Big C, and Tesco Lotus, and from some of the premium grocers such as Gourmet Market (which is owned by The Mall Group, a rival of the aforementioned Central Group).
But that's all speculation. China will be 7FRESH's first, toughest, and certainly largest challenge. Early wins there, particularly against Sun Art Retail, could force grocers throughout the region to step up their game.
Cameron Conaway is the Director of Content at Reflektion, a top 100 AI company of 2018.
Related
Popular in the Community