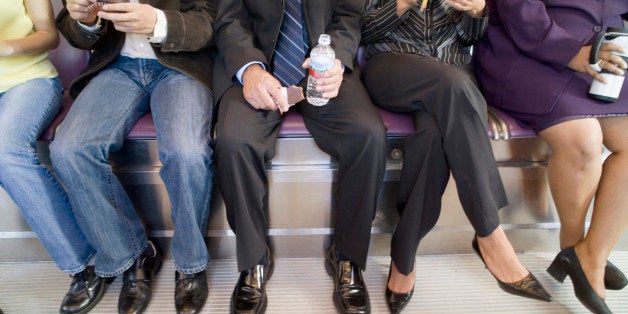 That's a lot of empty seats on the road -- and all that traffic and congestion has a large financial, environmental, and emotional cost. Carpooling is common amongst families, but has yet to become a viable transportation method for most people. It's certainly never been prevalent enough to be seen as a replacement for having a car.
But on-demand ridesharing platforms Lyft and Uber see a major opportunity here. Earlier this year, both companies joined a host of other startups offering "shared ride" services (named Lyft Line and UberPool, respectively). The idea is that if two riders are going in the same direction, it is cheaper and more efficient to have them ride together. In exchange for sitting with a stranger, riders can receive a discount of anywhere from 30-60 percent each, depending on demand. Although they are only available in certain areas thus far, the service is proving to be extremely popular -- Lyft reports that in just two months, one-third of their rides in San Francisco are now Lines.
Lyft and Uber have already undercut the price of a taxi in most markets, but with this new service, both are now taking aim at public transit systems. By attempting to offer a viable alternative to the bus and metro, Lyft and Uber are offering new options to consumers in a space where few existed before. As Timothy Lee writes at Vox, "Until recently, there weren't many services in this 'in between' category. If you were going to the airport, you could get a shared-ride van. And some urban areas had dollar vans. But these were limited services in niche markets."
If you're traveling with multiple people over short distances, Lyft Line and UberPool can be quite affordable, but it's still not cheap enough. However, it is not hard to imagine a day where larger, higher-efficiency vehicles can handle more passengers, and fares are a fraction of what they are today. There are engineering, financial, and logistical challenges but nothing that's more difficult than what has already been accomplished. If these companies are serious about ending reliance on car ownership, they will need to become more financially accessible.
Expect this new type of corporate carpooling to serve as both a both competitor and a complement to existing public transit.
It is likely that these services will just exacerbate the differences that already exist in the quality of public transit in different areas. The localities that invested and ran their systems well won't be as impacted. In the areas where frustration is higher, the problems will surely become worse when revenues and ridership decline. And the biases and history that impact why certain systems are the way they are will become more apparent.
On the other hand, those areas that did actually built effective railway and metro systems that cover longer distances may find ridesharing to be a perfect complement.
There are sure to be critics who will want to keep these services out because of the disruptive impact they will have on local government budgets. But it would be a mistake to stop such a promising emerging means of transportation. People who have to rely on public transit right now deserve another option that doesn't require waiting long periods, riding dilapidated vehicles, and dealing with the types of crimes that exist in the most badly run systems.
There are serious questions whether Lyft and Uber are the right companies to do this. Despite their community-oriented marketing rhetoric, both have a history of cutting corners with the law. Uber in particular is notorious for its questionable ethical practices, and it's understandable that many would not feel comfortable having to rely on such ruthless operators.
At some point, it may make more sense for communities to run their own ridesharing services. It's just a matter of time before non-profit versions of Lyft and Uber spring up; it would be feasible to set basic standards and establish protections and let each location determine how it wants to operate. A community-owned version would not be able to burn through enormous amounts of venture capital, but perhaps we will value services differently and be willing to pay more to support our neighbors with a car instead of one centralized corporation.
Uber and Lyft's most lasting contribution might end up being the widespread acceptance of the idea that anybody can be a part-time driver. Like AirBnb, both their greatest strength and weakness of these ridesharing companies is the fact that they are a platform, they don't actually own anything. In the case of Uber, their assets are their brand, execution, and code -- but none of these last forever. Whoever comes next will certainly benefit and build off the current crop of companies taking on the worst of the regulatory burden.
Although organized ridesharing is common in many countries, it's still rare in the United States. More than technology there is a cultural change that needs to occur, and the sharing economy companies are already changing our attitudes about trusting strangers. This concept can work for others too -- a study from MIT recently showed how taxis can adopt a similar approach to increase ridership.
In the near-term, the benefits of adopting this type of system can be enormous. Uber CEO Travis Kalanik suggests UberPool in London "could take 1 million cars off the road;" even more ambitiously, Lyft CEO John Zimmer predicts that traffic in Los Angeles could plummet if more rides are shared. Achieving this will come down to these companies improving their customer service and consumer protections -- it's the riders that will ultimately decide who is in the driver's seat.
Related
Popular in the Community