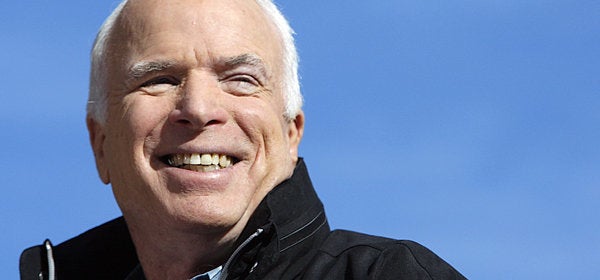 Democrats are circulating a poll showing Sen. John McCain (R-Ariz.) losing ground in his own state, an ominous sign for his beleaguered campaign as state after state turns blues.

Project New West, which aims to build the Democratic Party in the Intermountain West, says McCain leads Sen. Barack Obama (D-Ill.) in the Grand Canyon State, 48 percent to 44 percent.

The pollsters call that a "dramatic shift" from a survey they took in mid-September, which had McCain ahead by 14 points, 54 percent to 40 percent.
The New York Times' Randal Archibald writes that McCain will probably win Arizona, but may not be able to save the rest of his state party:
Democrats -- and privately, some leading Republicans -- say they believe that the Democrats can pick up one and possibly two Congressional seats now held by Republicans. That would give them a majority of Arizona's Congressional delegation -- now with eight members -- for the first time since 1966.

"I don't think that there is probably any seat in the country for Republicans this year that is safe, and particularly not in light of the spending disparity," said Representative John Shadegg, a seven-term Republican who is battling to hold on to the seat for his north Phoenix district.

...

"The Democrats are well-funded, organized and hungry," Nathan Sproul, a Republican strategist here, wrote this month in a memorandum to party members. "It is every man and woman for himself or herself. Good luck. You're going to need it."
Popular in the Community