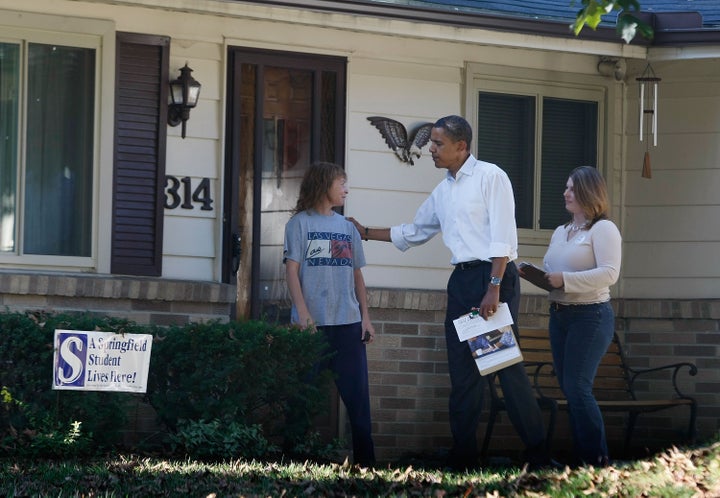 Ellen Whelan-Wuest, 28, was one of a record number of unmarried women who voted in the presidential election in 2008. Working and campaigning extensively for the Obama campaign in New Hampshire, she remembers seeing a political fervor in people that she had never experienced before.
"It was like a lot of them were adults for the first time, and their candidate reflected everything they hoped for in the world," she told HuffPost from North Carolina, where she's working toward a degree in public policy. "But now, things haven't really moved forward. Some things have, but they don't really care about them as much. We're facing a totally different landscape now, and a lot of people are freaking out."
It is this emerging attitude that has experts wondering if Obama can re-engage with unmarried women -- one of the fastest rising demographics in America, according to census data -- and without whom, the Voter Participation Center concluded, he would have lost the presidency in 2008.
Considering that unmarried women represent 26 percent of the voting population, their support was significant. Though they have consistently supported Democratic candidates since 1992, peaking with Clinton at 62 percent in 1996 and then again for Kerry in 2004, they supported Obama by a steep 70-to-29 percent margin, while the majority of their married counterparts voted for McCain.
But in the past two years, support for the Democratic Party among this coveted group of unmarried female voters has been waning. Only 57 percent voted Democrat in the 2010 midterm elections, and according to a Greenberg Quinlan Rosner (GQR) poll, more than half of white, unmarried women voted Republican. In 2012, the numbers don't look promising for the Democrats.
Page Gardner, the founder and president of the Voter Participation Center (formerly "Women's Voices Women Vote") said that this declining support should be a cause for concern for the Obama administration. While she doesn't expect many of these unmarried women to switch parties necessarily, she wonders if they'll be as engaged as they were in 2008.
"I'd be worried about it," she said. "We did a series of focus groups recently where [unmarried women] clearly articulated the excitement and hope that they felt in 2008, and then also the discouragement as they look into 2012."
Times are tougher now for these women, especially as economic concerns are on the forefront of their minds, added Celinda Lake, the founder of political strategy firm Lake Research Partners. Lake pointed to their growing disillusionment with both political parties and their potential unwillingness to turn out for Obama -- or turn out at all -- in the same numbers as they did during the 2008 election cycle.
In 2003, Lake told SF Gate that the poor turnout from unmarried women during the 2000 election might have cost Al Gore the presidency. If Obama is going to be re-elected in 2012, she said, "it's going to be even more critical that he has their support."
But has he already lost it?
THE ROAD TO DISENGAGEMENT
May Boeve, the executive director of the international climate change campaign 350.org, remembers canvassing in Reno for Obama in 2008, and says she is not planning to head back there in 2012. The president has let her and many of her friends and fellow activists down, she said, though she pointed to the Occupy Wall Street movement as a source of inspiration. She hopes Obama will pick up on that energy, and if he does, she says there is a "broad range of people ready to put on their T-shirts and ring some doorbells" in his name.
"Ever since I graduated from college, I would get tons and tons of phone calls and emails that are like, 'Why aren't people rising up in the streets? Why aren't young people taking charge and rising up?' Now it's a political moment that we're in the middle of," says Boeve, who is one of the 26 percent of unmarried women who could potentially turn out to vote in the next election. "We want to see some evidence that he's taking this as a good sign, and willing to make a decision and prove to the country that he's listening to the 99 percent."
The increasing disengagement among unmarried women can also be attributed to the fact that, especially in recent years, that demographic has been harder hit by the recession than either married women and unmarried men have been.
According to a Pew Research study, 786,000 jobs went to men between June 2009 and May 2011, while women lost 218,000, making this the first period since 1970 that women have lost jobs while men have gained them. "Employment trends during the recovery favored men over women in all but one of the 16 major sectors of the economy," the report concluded. (State government is the exception.)
While married women are able to rely on a second income in times of crisis, single women often find themselves with no source of income to fall back on, and they're suffering. Nearly half of younger single women women have seen their own wages or those of an immediate family member cut, according to the Voter Participation Center report, while a third of unmarried women or their immediate families have lost health insurance.
Single mothers are especially struggling. In another report from the Institute of Women's Policy Research, 66 percent said they failed to pay bills within the past year, 44 percent had difficulty paying rent or making mortgage payments, and 80 percent of single mothers said they had to cut back on their household spending.
Economic concerns are "consuming" single women, the report explains, and Gardner agrees: "If you think about wages, unemployment and the rising cost of health care insurance, these problems have been particularly, acutely felt by these women."
Natasha White, an unmarried, former legal assistant at the ACLU and current law student at DePaul, recalls the excitement she felt organizing events for Obama in 2008. "But now," she said, "it's just so disappointing that he can't get stuff done."
On the flip side, White and her friends are also put off by the Republican contenders. The GOP debate on October 18 seemed "absurd," she said, and she didn't connect with any of the candidates on any level. Except, perhaps, with Mitt Romney.
"I agree with some of the things he says," White admitted. "So that's been interesting to watch."
Like many other single women interviewed for this piece, she said she will most likely vote for Obama in 2012 -- "begrudgingly," she admitted -- but she is hoping that when he starts campaigning again, he'll be able to bring back some of that passion he elicited from voters in 2008.
"Every time he speaks, it's like, 'I was on the fence with you before, but now I'm with you.' So I think when he re-engages again, things will change."
Kate Hutchison, a single, 24-year-old registered independent, voted for Obama in 2008. But unlike White or Whelan-Wuest, she is unsure how her vote will swing in 2012.
Hutchison said Obama once embodied the ideal that one should strive for the things one is "passionate about," but graduating during the recession felt like being "slapped into reality." Though she considers herself a social liberal, she'll vote in 2012 for the candidate who makes the most compelling argument for economic change.
Caroline Chesnutt, 30, voted for Obama in 2008 as well and hasn't completely made up her mind this time around. She'll be voting in Nashville, Tenn., and sees an inherent benefit in what she referred to as "changing the guard."
"I think four years is plenty of time for any president to make a difference," she said. "Whatever he hasn't accomplished by now probably won't ever happen. So let someone else have a go."
Anna Greenberg of GQR suggested that instead of pretending the current recession is coming to an end, the administration should adopt a more empathetic stance, acknowledge the hard realities that persist for single women, and provide reassurance that these issues are being addressed.
"I hate to use the Clinton cliche," she said, "but 'I feel your pain' is appropriate."
The Voter Participation Center came to a similar conclusion. Unmarried women voters want to hear a "stronger economic rationale" from their candidates, and should not be relied upon to vote Democrat in 2012 -- or even to turn up at the ballot box at all.
Obama shouldn't engage with single women "in large policy prescriptions," said Gardner, responding to the Center's report. Rather, the economic goals must be translated into women's everyday lives, and they should know there is "a light at the end of the tunnel."
"I do think that the shift that the administration has made with the jobs bill is helpful," Greenberg added, referring to the $447 billion bill Obama presented to Congress this week. "If there's consistency, it will speak to the changes that are occurring."
Over a year remains before the next election, and Obama may still have time to connect with the demographic that helped get him elected in 2008. Nonetheless, he has to define his narrative quickly if he wants to keep single women in the fold.
Though Whelan-Wuest still considers herself an Obama supporter and plans to vote for him again in 2012, she says she is finding it harder for her to make a case for him. At the same time, she wonders if any of the potential GOP candidates are painting a clearer picture for economic change.
2012, she said, might prove to be a year when the "Things Haven't Gotten Better" campaign faces up against the "I'm Doing My Best" campaign, neither of which seem very appealing to a nation that is so desperately seeking solutions to their economic woes.
She hopes that other unmarried voters might continue to support the president for what he still clearly hopes to achieve, and what he might accomplish with a Democratic Congress on his side. But like so many others, she's growing tired of excuses, and tired of watching her friends struggle.
"When I campaigned for him, I went door to door and I said, 'Look, I'm voting for his judgment more than anything,'" she said. "But now people want to know that [their] candidate is going to do something that immediately effects their lives."
Laura Stampler contributed reporting to this piece

Popular in the Community