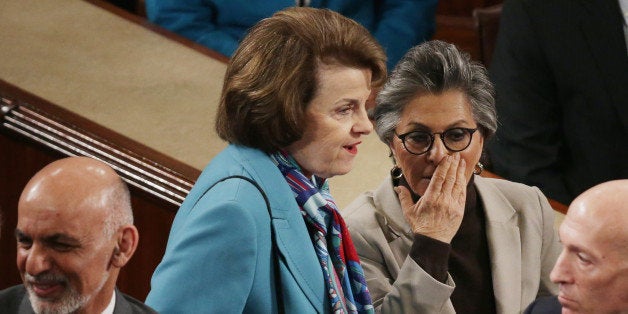 Co-Authored by Maclen Zilber, Democratic Strategist and Campaign Consultant based in Hollywood, CA
Despite the recent scandal swirling around FBI Director James Comey stemming from his controversial and unprecedented engagement in the 2016 race for the White House, most public opinion polls continue to show that Hillary Clinton has a firm structural electoral college advantage in the race to become America's 45th President.
If Clinton prevails, her win could bode well for a number of California's Democratic heavy-hitters. In fact, given the draw and prestige of cabinet positions, and the state's deep bench of rising stars on the blue team, if Clinton wanted to, she could fill nearly her entire cabinet with Golden State occupants.
Atop the list of blue-chip California candidates for possible cabinet posts could be one or both of our state's distinguished Senators, Dianne Feinstein and Barbara Boxer. Both are longtime Clinton allies, and both have a pragmatic, get-things-done approach that is very similar to Secretary Clinton's.
It's no secret. The state's two Senators, both ushered into office during 1992's "year of the woman" wave, have long been confidants and proponents of Clinton. The question is, with Boxer retiring this year, and Feinstein closing in on the end of her latest term, do either of them have the interest or inclination in serving in a cabinet position?
Simultaneously elected in 1992, both Feinstein and Boxer rode a Democratic wave to Congress' upper house on the coattails of then-Arkansas Governor Bill Clinton's bid for the Presidency. Ever since, the pair's relationship with the Clintons has blossomed into a strong friendship and partnership.
In 2008, Feinstein presided over the much-discussed "kumbaya" meeting between then-Senators Barack Obama and Hillary Clinton after their bitter, drawn-out primary battle. The meeting sowed the seeds of Clinton's endorsement of Obama, and ultimately put her on a trajectory toward becoming Secretary of State. Both Senators were early, outspoken advocates for Clinton's 2016 Presidential bid, and played key roles in helping deliver her a resounding victory in California's June primary election.
Given the depth of their experience, Feinstein and Boxer could fill a range of cabinet positions, particularly when it comes to foreign relations. The duo have expansive backgrounds in foreign policy and either could be tapped for the coveted job of Secretary of State, or perhaps the civilian oversight position of the Department of Defense as its next Secretary.
Feinstein is currently the ranking Democrat on the Senate's Intelligence committee, and previously served as Chair. She's also a member of the Senate's subcommittees on Defense, as well as Crime and Terrorism. Boxer serves on the Foreign Relations committee, and subcommittees on East Asian and Pacific Affairs; on Near Eastern and South Central Asian Affairs; and on the Western Hemisphere, Peace Corps, and Narcotics Affairs.
While Secretary of State or Defense Administration positions seem well suited for either one of California's Senators, the fact is that both could easily do the job of myriad other cabinet posts.
If elected President, Clinton has pledged that women will make up more than half of her cabinet. Here's the kicker: all but a handful of the Democratic women in the U.S. Senate represent states that are either swing states or that have Republican Governors who could fill a Senate vacancy, making California's Senators among the few women in the Senate who could be elevated without hurting the Democrats' chance at a Senate majority.
This will be extra important, and likely a key element of Clinton's political calculus as she considers who to appoint in her Administration, since the Democrats may well have a slim majority in the next Senate.
All these signs point the possibility that Californians might soon stop addressing Feinstein or Boxer as Senator and start addressing them as Madam Secretary.
Popular in the Community