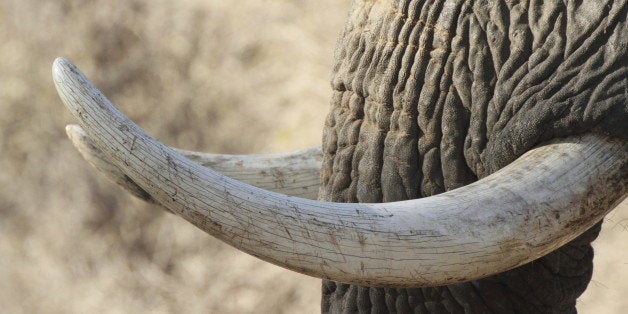 California's Bear Flag is among the most well-known state flags. The walking bear and lone star above the words "California Republic" have symbolized the Golden State since 1846. The California grizzly bear is said to have been chosen for the earliest iterations of the flag to represent strength and unyielding resistance.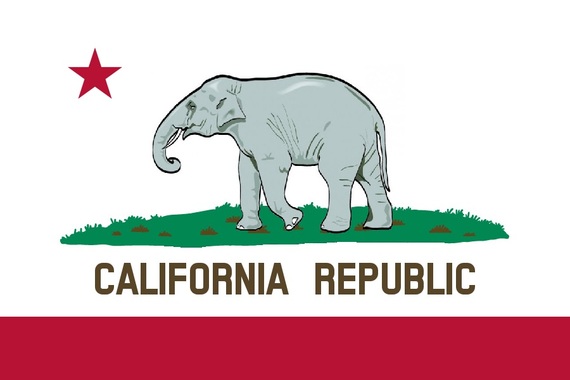 Image created by Chip Weiskotten ©WCS (art from Vectorportal.com and Wikimedia Commons).
One wonders what the flag would look like with an elephant in place of the bear. Obviously elephants are not indigenous to California (to see one you could visit one of its wonderful zoos), but the state could not ask for better a representation of strength and determination, not to mention family bonds, intelligence and patience.
The elephant is an iconic creature to many of us for these reasons, which makes it so important that we protect the dwindling population that remains in the wild. In 2012, approximately 35,000 African elephants were killed by poachers. Put another way, 96 elephants were killed each day, representing the worst mass slaughter of elephants since the international ivory trade was banned in 1989. African forest elephants in particular have been devastated by poaching and have declined by about 65 percent since 2002. At this rate, African forest elephants could effectively be extinct over the next decade.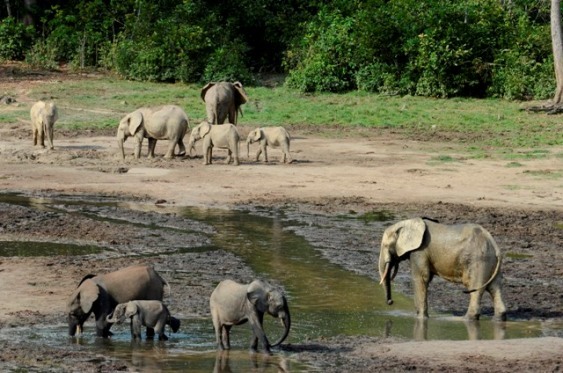 One of the most important remaining populations of African forest elephants lives in and around Dzanga Bai. Due to the demand for illegal wildlife products like ivory, poachers are slaughtering elephants and selling ivory articles for large profit. Photo by Cristián Samper ©WCS
California may be on the verge of joining the effort to find a solution to the elephant poaching crisis. Last month, Assembly Speaker Toni G. Atkins and Senator Ricardo Lara introduced the aptly named Assembly Bill 96, which would ban the sale of ivory and rhinoceros horn in the state of California. Similar to bills enacted by New York and New Jersey last year, the California legislation intends to close loopholes that prevent the effective enforcement of existing California law prohibiting the sale of ivory.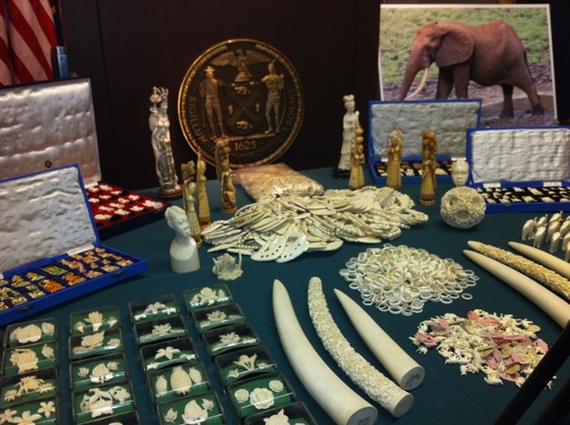 In 2012, the New York State Department of Environmental Conservation, in conjunction with the U.S. Fish and Wildlife Service and the Office of Manhattan District Attorney Cyrus Vance, Jr. seized $2 million in illegal elephant ivory in New York City. Photo: Manhattan District Attorney's Office.
Unfortunately elephant poaching in Africa is fueled by the demand for ivory products in other parts of the world. While the largest ivory consumer nation is China, the U.S. is not far behind. Within the U.S., research has shown that California has the second largest market for ivory after New York.
A 2014 study of California's ivory market conducted by our colleagues at the Natural Resources Defense Council found more than 1,250 ivory items for sale in 77 markets and stores in Los Angeles and San Francisco. They estimated that up to 90 percent of the ivory seen in Los Angeles and approximately 80 percent of the ivory seen in San Francisco was likely illegal under California law. Further, the proportion of recently-made ivory items in the state has doubled since 2006 from 25 percent to 50 percent.
So why the need for new laws? The current ivory regulations in the U.S. make meaningful enforcement nearly impossible. Investigators are rarely able to distinguish legal ivory from illegal ivory. Once ivory leaves Africa and reaches the markets where it is sold, it can be manipulated to appear antique to circumvent laws on ivory trafficking. For this reason, the U.S. needs to implement a federal ban on the trade of ivory and states need to pass legislation to close loopholes that permit the continued trade of ivory within their borders. California can be a leader in this effort.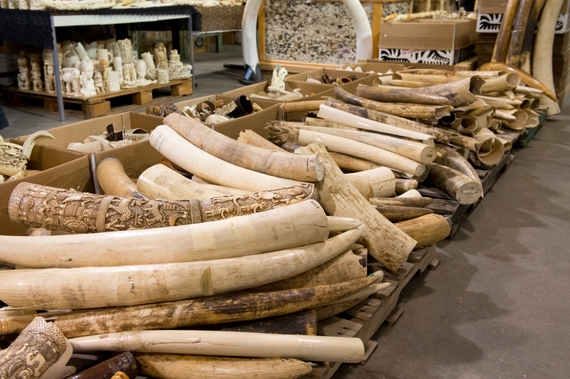 Confiscated ivory destroyed by the U.S. Fish and Wildlife Service in November 2013. Photo by Julie Larsen Maher © WCS
The ripple effects of AB96 would extend far beyond the Pacific shoreline, Sierra Nevada Mountains, and Mojave Desert. It would reduce poaching pressures on elephants in Africa and raise consumer awareness of the harm that comes from purchasing ivory. Californians are proud to have a bear adorn their state flag, but by helping stop the illegal trade in ivory through the enactment of this ban, the Golden State would be supporting a global effort to save another symbol of strength and determination.
Popular in the Community