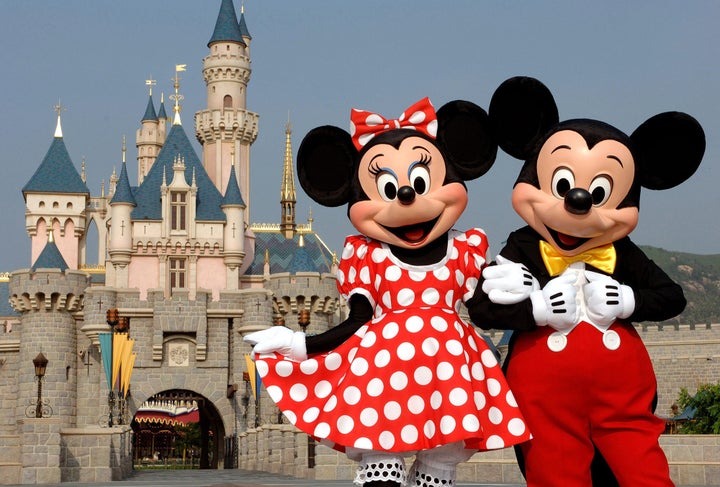 Disney changed children's television history by accident -- or, more accurately, by desperately seeking money. Walt and his brother, Roy, needed tons of funding to realize Walt's greatest vision -- a great, clean, destination amusement park for families to be called Disneyland. The TV networks had been pestering the animated movie gods -- Peter Pan and Alice in Wonderland had been huge hits -- to get into the small-screen business. So in 1953, their construction expenses mounting, the Disneys relented and went to the networks with a pitch: We'll give you programming if you finance our amusement park. CBS and NBC balked at the steep terms, but struggling ABC bit -- and off the Disney's list of barely thought-out TV show ideas, the network first chose an anthology series called Disneyland. That became such a smash that ABC ordered another show from the memo, The Mickey Mouse Club.
Described on the pitch list only as a 15-minute broadcast from Disneyland, The Mickey Mouse Club idea soon expanded to an hour. Five days a week. Starring children. Two dozen of them. As I detail in my book Why? Because We Still Like You, the concept was an instant phenomenon in the fall of 1955 with kids across the country, who delighted in seeing children like themselves on the screen performing. Millions were soon buying the Mouseketeers' odd eared headwear and singing "M-I-C, K-E-Y, M-O-U-S-E." The children who starred in the show, shouting their names in the "Roll Call" at the beginning of every episode, became icons to young Baby Boomers who'd never forget Lonnie Burr, Darlene Gillespie, Doreen Tracey, Bobby Burgess, Cubby O'Brien, Karen Pendleton -- and, more than anyone, Annette Funicello.
The show taped for just three seasons before relations between ABC and Disney soured and the stars got too big for their Mouseke-uniforms, but it would live on for decades in syndication -- not to mention for eternity in its cultural impact. (Even if you've never seen the show, you can probably sing the song.) And in the 1990s, the company revived the concept on its cable venture, the Disney Channel, to great effect. Surely you've heard of an ex-'90s Mouseketeer or two: Do the names Christina Aguilera, Ryan Gosling, Keri Russell, Britney Spears, and Justin Timberlake ring a bell?
Since then, kids' TV has become much bigger business. The Disney Channel and Nickelodeon mint tween and teenaged stars at record speed now, giving us Miley Cyrus, Miranda Cosgrove, the Jonas Brothers, Selena Gomez, and Demi Lovato in rapid succession. The difference? These days, these precociously talented kids are marketed individually for maximum impact, and multi-platformed as standard operating procedure. (You don't get a Disney Channel show without planning to cut at least one album for Hollywood Records ... but what the hell's wrong with you, wanting just one?) Could there be some benefit, though, to returning to the old Mouse Club model? What if these kids were allowed to develop their talent in a lower-pressure environment instead of immediately carrying their own show, album, and line of housewares? What if they had the benefit of bonding and collaborating with other kids like them before setting off on solo tours and paparazzi-baiting exploits?
It certainly wouldn't solve all their child-star travails: The original Mouseketeers showed the same symptoms of growing up in the spotlight that many subsequent kiddie idols have -- depression, nude photo spreads, run-ins with the law. But the core group of 1950s Mouseketeers also stay remarkably connected to each other even to this day, 55 years after their debut, and say no one understands them like their former co-stars.
Not to mention: Who doesn't love a show featuring crazy-talented kids singing and dancing together? There's a reason so many kids' sitcoms and movies revolve around secret pop star lives (Hannah Montana) and let's-put-on-a-show plots (High School Musical, Camp Rock).
Disney declined to comment for my book about whether they'd ever revive the Mouse Club format again, but what do you think? Would you like to see another incarnation of The Mickey Mouse Club?
Popular in the Community