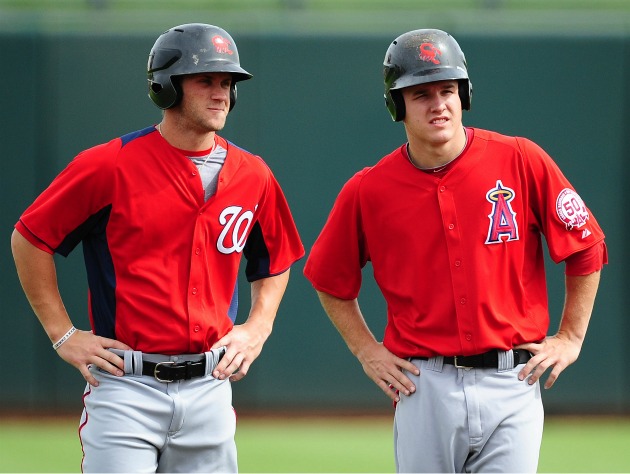 In 1979, two NBA franchises drafted two of the basketball players the world has ever seen. The Lakers drafted their Hall of Famer Magic Johnson and the rival Boston Celtics drafted the legend that was Larry Bird. In an era where basketball was an afterthought in the mainstream media and NBA Finals games were played on tape delay, the league needed a spark, they needed two charismatic players to dominate the league and bring the NBA into new and uncharted territories.
Everyone knows that Magic and Bird are living legends, but few can accredit the NBA's overall success to the two aforementioned mega stars. The NBA was in a hard place and had no recognizable and marketable player, besides Julius Irving, Dr. J. Alone, the Doc was not charismatic enough to carry tan entire league, so Bird and Johnson took the reins from the former ABA star and never turned back.
After a tune of eight titles between the two, the league was saved and fans came rushing back to endorse the most exciting sport during the 1980's.
However, baseball once was America's pastime. They already had an established period in their history. But after the enumerable steroid scandals and the "steroid era" continually looming over the game, there seemed to be a need for a new infusion of excitement and talent in order for Major League Baseball to contend as one of the nation's greatest sports leagues.
There is a potential that we may be witnessing the newest rendition of a Magic vs. Bird-esque rivalry unfolding before our eyes.
Los Angeles Angels outfielder Mike Trout and the Washington Nationals Bryce Harper are poised to take over Major League Baseball and vie for World Series and league MVPs year after year.
At the start of the 2013 MLB regular season, the Nationals and the Angeles have two of the most talented rosters and are considered in some circles as favorites to make it out of their respective leagues and face each other in the World Series.
Mike Trout and Bryce Harper essentially came to the Majors at the same time. Trout played 40 games in 2011 with 5 home runs, 16 runs batted ins, and 30 stolen bases. However, his "rookie" year was last season, where we played in 139 games after his call up from the Minors. Trout amassed one of the greatest season we have seen by advanced metrics since Barry Bonds' peak. Trout had 30 home runs, 83 runs batted in, 67 walks, and 49 stolen bases. Trout had a "10.4 WAR, one of the 25 best seasons in history and the highest since Bonds' 10.4 in 2004. Other advanced metrics also put Trout on top, with a 9.5 in the fangraphs.com WAR and 35 Win Shares, a Bill James stat", according to Chicago Suns Time's journalist John Grochowski.
Trout was not just a phenomenal offensive player, on multiple occasions, Trout would nearly leap out of the stadium to rob home runs from the batters. He was a mainstay on ESPN SportCenter's Top 10 highlights every week and he would excite a new brand of baseball fan with his athletic and magnificent play. Flashes of Willie Mays would come to the forefront our minds when watching Trout chase down a fly ball deep into left field territory. The ball player truly is a five tool player. Trout is one of the most exciting players we have ever seen play the game of baseball.
On the other side of the coast, the National's outfielder Bryce Harper may be the only player in league history that has nearly the same potential that can be compared to the talents of a Mike Trout.
Bryce Harper was drafted by the Nationals when they were part of the doldrums of Major League Baseball, and they expected him to take them out of irrelevancy, along with pitching phenom, Stephen Strasburg. And that is exactly what they plan to do.
In the Nationals season opener, the Nationals made a statement. Last season, the Nats possessed the game's best record with 98 wins and 64 losses. This season, they plan to earn the best record for the second strait season.
Bryce Harper and Stephen Strasburg each had outstanding outings. Strasburg pitched in 7.0 innings with an 0.00 ERA, 0 walks and 3 strike outs. But it was Harper that stole the show. Harper homered on each of his first two at bats, which resulted in the only runs of the game. Harper was 2-4 at the plate, with a batting average of .500, and 2 home runs.
In Strasburg's second start, he gave up 9 hits and 6 runs in 5 1/3 innings. Even though he did not have a stellar outing, the future remains as bright as a summer day in Tahiti.
In the opener, Harper became the youngest player to have two home runs in his regular season debut and the second youngest ever to homer on opening day.
Trout had an unassuming start to the regular season with a batting average of .263, 0 home runs and 1 run batted in. Trout will turn it around, he truly is a spectacular athlete.
Bryce, however, has exploded and has is batting at a clip of .417, with 4 home runs and 8 runs batted in, in only 9 games.
Even though Bryce Harper recorded history in his season debut and is having a stronger start to the regular season, Trout will be neck and neck with him throughout the season and throughout their entire careers.
We will judge who is a greater ball player at the end of their careers. Our metrics will be who has more rings, who has more home runs, who has a better batting average, who has more league MVPs, and who is the most exciting player over the next two decades.
In baseball, players start at a younger age and aim to develop their skills, hence the expansive minor league system. Harper is 20, and Trout is 21. Even at their ages, the two young men are arguably the top two players in the game. If Miguel Cabrera did not win the triple-crown, than Trout would have won the MVP as a rookie.
These players are poised for greatness, and their journey's have already been set into motion.
The first chapter of this great rivalry has just begun to be written, and this season is the canvas that will dictate the start of their story.
And the story will end with Trout and Harper leading Major League Baseball out of the "steroid era" and into the new golden age of baseball.
REAL LIFE. REAL NEWS. REAL VOICES.
Help us tell more of the stories that matter from voices that too often remain unheard.