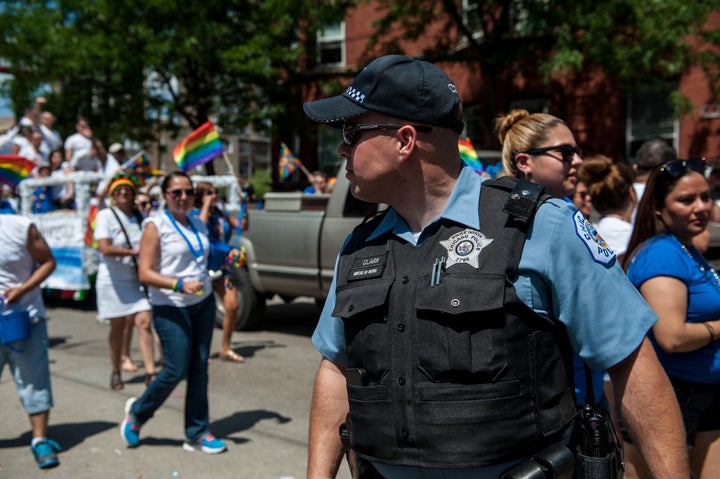 At Pride 2015, the LGBT community had a lot to celebrate. In a landmark decision, Obergefell v. Hodges, the Supreme Court struck down state bans on same-sex marriage, which were some of the most well-known discriminatory policies against gays and lesbians. The court's ruling signaled a shift in society's acceptance of non-traditional relationships.
But old prejudices don't go away overnight, and there has been a fierce conservative backlash, particularly in GOP-dominated state legislatures. Since the Obergefell decision last June, several states have passed "religious liberty" bills. These laws allow individuals and businesses to discriminate based upon sexual orientation. North Carolina recently passed an anti-trans law, House Bill 2, that requires people to use the bathroom of their biological sex, instead of their gender identity.
"We're seeing pushback, for sure, but it's coming from people who are losing. We saw the same thing with marriage," said Jacob Meister, attorney and chairman of the Civil Rights Agenda, an Illinois-based LGBT advocacy organization. Despite setbacks, he is optimistic that the country is going in the right direction in regards to LGBT rights. Meister noted that there was a strong negative reaction to discriminatory laws passed in North Carolina and Mississippi from private businesses and state and local governments.
This year's Pride Month comes against the backdrop of a contentious presidential election. A Republican president and a like-minded congress would likely move to reverse many of the advances the LGBT community has made in the Obama era.
Jay Brown, communications director for the Human Rights Campaign (HRC), believes much is at stake in this year's election. In an emailed statement, Brown wrote,
"All the progress we've made in the last several years ― all the victories for LGBT Americans ― they are at stake... We've got an enormous ally in Hillary Clinton who is a proven leader working for LGBT people in the United States and around the globe. Make no mistake, Donald Trump would take us back decades."
Brown went on to state that it was also important to pay attention to congressional races and urged both LGBT Americans and allies to vote in November.
Donald Trump has not outraged the LGBT community at large to the same extent he has with other minority groups, muslims and hispanics most notably. Trump's specific policy positions remain unclear, as has made seemingly contradictory statements on many issues. Since he has never held elected office, he has no voting record that can be examined. Trump rarely brought up LGBT issues during the GOP primary race, especially compared to his more socially conservative rival, Senator Ted Cruz.
Still, Trump is at odds with many LGBT activists. In an online post, Brandon Lorenz, another communication director for the HRC, expressed concern over Trump's positions on marriage equality, anti-discrimination law, anti-trans "bathroom bills", and repealing President Obama's executive orders protecting sexual minorities. Lorenz wrote,
"Despite his malleable rhetoric ― which shifts depending on who he is standing in front of at any given moment ― he has made clear that he will be no friend to the LGBT community in the White House"
"Donald Trump is the most pro-gay, and even pro-LGBT, Republican nominee for President of the United States that this country has ever had," according to Gregory T. Angelo, national president of the Log Cabin Republicans (LCR). In an interview, Angelo defended Trump's record on LGBT issues, saying:
"In Donald Trump, you have a candidate who not only has been to a same-sex wedding, who not only says he opposes discrimination in all forms, but who is on record saying he supports amending the Civil Rights Act to include sexual orientation nondiscrimination."
He also noted that Trump had given "tens of thousands" of dollars to AIDS charities and is "the first republican nominee to specifically acknowledge that discrimination exists in the transgender community."
Angelo dismissed the Human Rights Campaign's criticism of Trump, saying "It doesn't surprise me. In fact, I expect such a reaction from the HRC, who was in the tank for Hillary Clinton at the outset of her campaign." He went on to claim that the HRC "has lost a great deal of credibility in this election cycle" due to their "partisan" support for Hillary Clinton.
Even within the Log Cabin Republicans, there is division over whether the group should support the presumptive Republican nominee. The group's national board of directors has yet to decide whether to give its endorsement. The last time the LCR withheld their endorsement for the GOP presidential nominee was 2004. The LCR was upset with George W. Bush's support for the Federal Marriage Amendment, which would have enshrined a discriminatory definition of marriage within the U.S. Constitution.
Calling all HuffPost superfans!
Sign up for membership to become a founding member and help shape HuffPost's next chapter