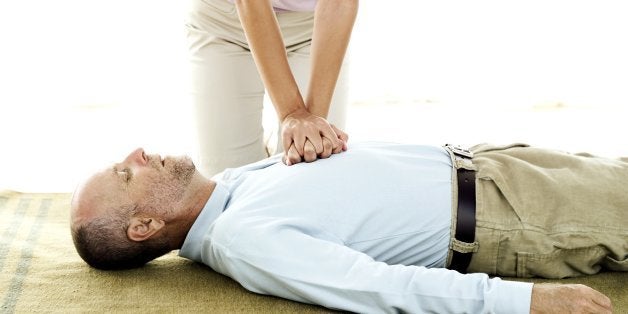 Who has time to learn CPR?

Everyone knows it's important and yes, it's on the to-do list to take a CPR class, but somehow most of us never get around to it. It also seems really complicated, right? Well, not anymore.
The American Heart Association is teaching people how to do hands-only CPR and using music to help them remember the tempo for compressions. Here's a hint, it's 100 beats per minute, which is why DJ Earworm, also known for his United State of Pop, created a hot mashup for the American Heart Association.
As DJ Earworm said, "There's that moment, when you see that someone needs help, but you're a little panicked trying to remember what to do." Even if you're hesitant, the right action is ALWAYS to TAKE ACTION, because if CPR is administered it can double or triple a person's chance for survival.
Well now, luckily, it only takes 60 seconds to learn hands-only CPR in two easy steps:
Call 911 (or send someone to do that)
Push hard and fast in the center of the chest to the beat of "Hands-Only CPR Mash-Up"
Yes, Beyonce, Jay Z, Taylor Swift, Shakira, Ben Lee, Justin Timberlake, Aretha Franklin, McFadden and Whitehead and many, many more are included -- something for everyone. As I listen to the songs, I'm pushing my hands together to the tempo up and down at 100 beats per minute. Here's what I know from the ICU: practice, practice and practice. That way, if you ever have to use these skills, they'll be more automatic.

Why is this important?
Four out of five cardiac emergencies happen in private or residential settings, which means if you're called to perform hands-only CPR, you'll most likely be trying to save the life of someone you know and love -- a spouse, parent or friend.