Will victory in the 2010 elections go to political candidates who tweet? Or could a politician's credibility be crippled by open access to the inner workings of their mind?
Take Sarah Palin's favorite politician, Alaska's Joe Miller, for example. According to lawyer and blogger Craig Mitchell, Joe was polling at 42 percent, high enough to have easily won the election, on September 21st. However, Joe had something else on his mind. While on a fund-raising trip to Washington D.C. he tweeted a fatal post. According to Mitchell:
"(Joe Miller) volunteered that he thought it would be terrific idea to repeal the Seventeenth Amendment to the United States Constitution which requires Senators to be selected in elections like the one in which he is participating rather than by state legislatures."
Miller's rating dropped to 35 percent by mid-October and has continued to fall. True to his values, and to his downfall, Miller told his followers what was really on his mind.
In 2009, the Washington Post reported on a study by researchers from the University of Maryland who found that politicians who Twitter spend most of the time promoting themselves. While that's no surprise, the promotion fell into two categories: links to news articles and press releases, and details of trips to visit constituents.
In an attempt to counter this trend, TweetCongress.org, which tracks members of Congress challenges politicians with their mission statement: "We the Tweeple of the United States, in order to form a more perfect government, establish communication, and promote transparency, to hereby tweet the Congress of the United States of America."
Today, a scan of the constant twittering of Election 2010 political candidates on their website shows that the heaviest use of Twitter seems to be by Republicans as they seek to stay linked to their supporters.
Re-tweeting (RT) favorite quotes by other networked candidates offers them a steady flow of "content." However, these colorful items don't offer many insights into the ethics and values of a candidate. In addition, this type of re-tweeting doesn't really reveal if the politician would really represent their followers, if elected. For better or worse, we want to know: what are they thinking about, right now?
Calling Election Day 2010 Red November (#RedNov), Chandler Epp, Republican State Vice Chairman re-tweeted this prediction to his followers:
RT @klfredrich: Tomorrow is going to be TOOMSDAY! #RedNov
The standout among the tweets that I scanned was Texas Democrat and State Representative Aaron Pena. His credibility only seemed to increase with each post I read, and in the end, caused me to visit his website to learn more about him.
It seems to me that politicians who are able to stay transparent and true to their values as they tweet, commenting on things as they happen, simply reinforces why Twitter could become a powerful political tool.
This Just-in-Time Transparency -- free of spin doctors -- might help close the Credibility Gap. It could enable voters to send REAL candidates to state houses and Congress based on their credibility as leaders, not based on ideology and spin.
Alexia Parks is founder and director of Parkinomics, for the New Economy. She is also author of eight books, including Parkinomics, an Amazon business and motivational bestseller. It offers "8 great ways to thrive in the New Economy", for the individual who wants to lead a life of "meaning, prosperity, and purpose." Parkinomics includes ideas and links to resources.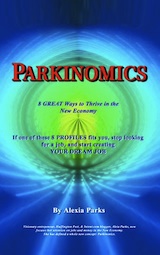 REAL LIFE. REAL NEWS. REAL VOICES.
Help us tell more of the stories that matter from voices that too often remain unheard.