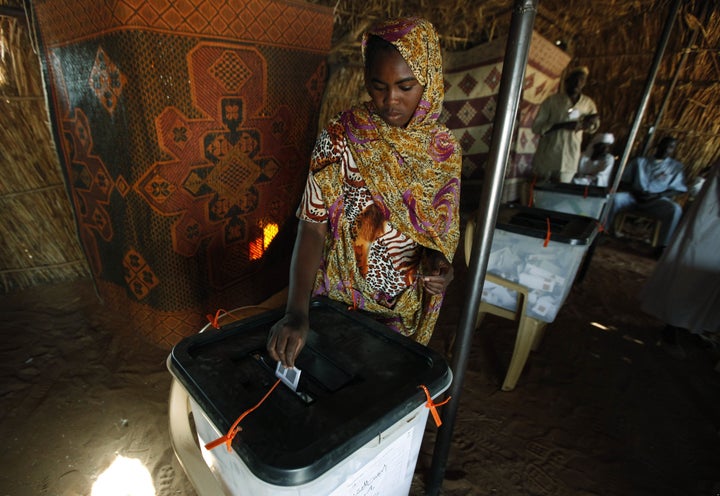 The first few months of 2011 will be crucial for Africa, and indeed for all who care about the future of the continent.
On January 9 citizens in southern Sudan will vote on a referendum for national independence that would, if it passes as expected, divide Africa's largest country along religious lines between a predominantly Christian south and a predominantly Muslim north (which includes the western region of Darfur). American diplomatic, development and religious organizations are heavily invested in the outcome, which has major strategic, economic and humanitarian implications.
Three months later (most likely in April) and fifteen hundred miles to the west, citizens of Nigeria -- Africa's most populous nation -- will cast their votes in a presidential election that threatens to snap the tenuous political compromise between Muslims and Christians that has held for more than a decade. In a power-sharing arrangement that ended military rule in 1999, the dominant political party (the People's Democratic Party) agreed to rotate the presidency and vice-presidency between northern (usually Muslim) and southern (usually Christian) candidates every eight years in a process known as "zoning." A southern Christian president served from 1999-2007, but northern Muslim president Umaru Yar'Adua died in office in May 2010, three years into his first term. The Christian vice-president, Goodluck Jonathan, assumed the presidency and now seeks reelection despite the northern (Muslim) zone's presumed right to the office. In a nation with a recent history of severe violence between Christians and Muslims, the stakes in this election are especially high.
Both of these crucial votes take place in nations astride the tenth parallel, the line of latitude that approximates the boundary in Africa between the predominantly Muslim areas to the north and the predominantly Christian areas to the south. Eliza Griswold's fascinating book The Tenth Parallel has revived and redirected the colonial-era fascination with this invisible boundary by recounting narratives of religious strife and reconciliation along its line from Nigeria to Indonesia. But, as Griswold deftly illustrates in a CFR Religion and Foreign Policy Conference Call , the role of religion in the Sudanese and Nigerian situations is extraordinarily complex, wrapped up as it is in political, environmental and economic issues in addition to the theological and cultural issues that naturally accompany religious diversity.
In fact, at a recent forum to discuss religious conflict in Nigeria, two experts with deep ties to the country -- a Nigerian scholar of religion and an American diplomat -- agreed that the country's problems stem less from religious antagonism than religious opportunism enabled by a weak state. The forum, held in late October during the American Academy of Religion's annual meeting, was sponsored by the Religion and Foreign Policy Initiative of the Council on Foreign Relations. Jacob Olupona, professor of African religions at Harvard Divinity School, bemoaned his native country's failure to establish a sense of national identity that could help to bridge Nigerians' diverse religious, ethnic, and linguistic identities. Unlike Tanzania, whose successful social policies have created a strong national identity, "Nigeria has failed at nation-building," Olupona said, in part because it has no social security programs to bind citizens together. As evidence, former U.S. Ambassador to Nigeria and current CFR Senior Fellow John Campbell cited a recent poll in which 92% of Nigerian Muslims claimed to identify themselves most strongly with their religion, then with their family/ethnic group, and lastly with their country. (Virtually the same proportion, 87%, of Nigerian Christians said the same.)
So what should be done about this strong sectarian impulse? Olupona began with a reminder that the "religion" at work in this context is a social and cultural phenomenon, not simply a quest for the sacred or transcendent. He recalled that many institutions such as community centers or hospitals that were once simply a part of a village or neighborhood have been rebranded as Muslim or Christian institutions, and that religious justifications were frequently given for actions that also had ethnic and economic causes. But despite the current tension between Christians and Muslims, Olupona counseled the Nigerian government to stay out of the process of interfaith dialogue -- at least until it has worked on more basic issues to improve access to healthcare and clean water, and to reduce poverty.
Ambassador Campbell, author of the new book Nigeria: Dancing on the Brink, agreed that the weakness of the Nigerian state was a crucial factor in the recent outbreaks of violence that combined religious, ethnic and economic grievances. But while American policymakers push for a "clean" presidential election in January as a step toward greater democratic legitimacy, he emphasized that the United States has remarkably little leverage over Nigeria. As the world's sixth-largest oil exporter and a leader in the African Union, Nigeria is the United States' most important strategic partner in West Africa -- and their government does not want us involved in monitoring its elections.
As we watch the events unfold in Africa, keep a careful eye on the shifting national and religious identities -- and the rhetoric that masks and reveals them -- in Sudan and Nigeria alike. Weak states are dangerous places for citizens, not least because peaceful transitions there are all-too-frequently elusive.

Calling all HuffPost superfans!
Sign up for membership to become a founding member and help shape HuffPost's next chapter