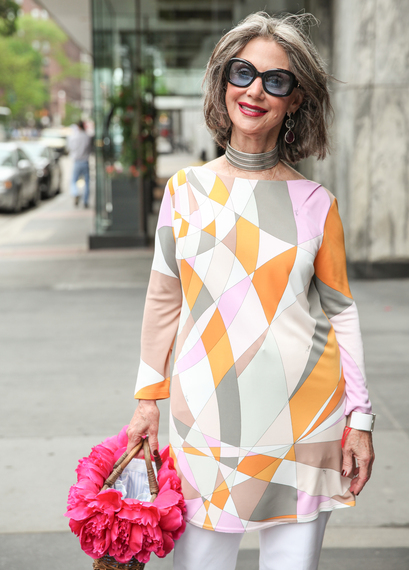 Have you overheard women at the manicurist's table next to yours, lamenting a litany of woes to her politely listening, usually very young manicurist?
Each week I look forward to frequenting a charming brownstone home turned manicure studio, for a plain manicure. I don't believe in the more creative options such as gels or acrylics so my stay is short (like my nails!) but always delightful because the shop is so charming all done up in pinks and fresh white paint... and to add to the atmosphere there is soft background music.
Yesterday proved to be different, very different, because I could not help overhearing the woman next to me lamenting her woes.
I thought to myself smiling, "This client is smart because her manicurist is certainly a lot less expensive than a psychiatrist or my husband's term for a shrink... a stretch!"
I continued listening to her bemoan her troubles, because our tables were almost touching. She was confiding in the manicurist as though she were a female Sigmund Freud, the Father of Psychiatry. Her therapy and manicure would cost $22.00, without tip!
I wanted to enter the conversation and say to her: "I'm sure you are juggling a lot of things in your life, but please do a reality check and count your blessings. I know you have at least one!
Instead I go into my private zone and think, rather than talk! I rehash my morning in my mind, and recall the thoughts I had in my favorite reflection tank...also known as my shower!
I remember feeling peaceful as the warm water, from my rain forest shower head, cascaded over my body. My mind was crystal clear as I cleansed myself of all unnecessary clutter.
What was so serendipitous about today's trip to the manicurist was that I counted my blessings this morning in the shower! A memory of the night before flashed into my mind. It was my husband opening the car door for me! I remembered thanking him and most importantly feeling very much loved and respected by this man I chose to be my partner 24 years ago! I smiled.
The point is this, darlings... try and remember to be happy for 'the little things.'
No, I am not a Pollyanna, always excessively cheerful or optimistic. But I do see my glass half full. What I am offering you today is what I have learned. I am offering you, darlings, my imperfect application of wisdom.
I truly appreciate my blessings; those fleeting moments during the course of each day. It may be my dog, Orchid, walking up to me as I write and licking my leg, a text, an email or a phone call from a child or grandchild, the taste of my early morning hot coffee, hearing my husband's voice, or looking at the gas gauge on my car and noticing my husband filled the tank.
I offer you this suggestion:
"Become aware of your daily blessings and count them! They are right under your nose. They are small snippets that may last but a second. They are your little mental treasures. Please recognize them, darlings, because they will either give your body a feeling of great physical relaxation or put a small smile on your face."
Do Something GOOD today... voice this, snippet of wisdom, to your grandchildren or to a best girlfriend (who is using her manicurist as her 'stretch!)
Calling all HuffPost superfans!
Sign up for membership to become a founding member and help shape HuffPost's next chapter