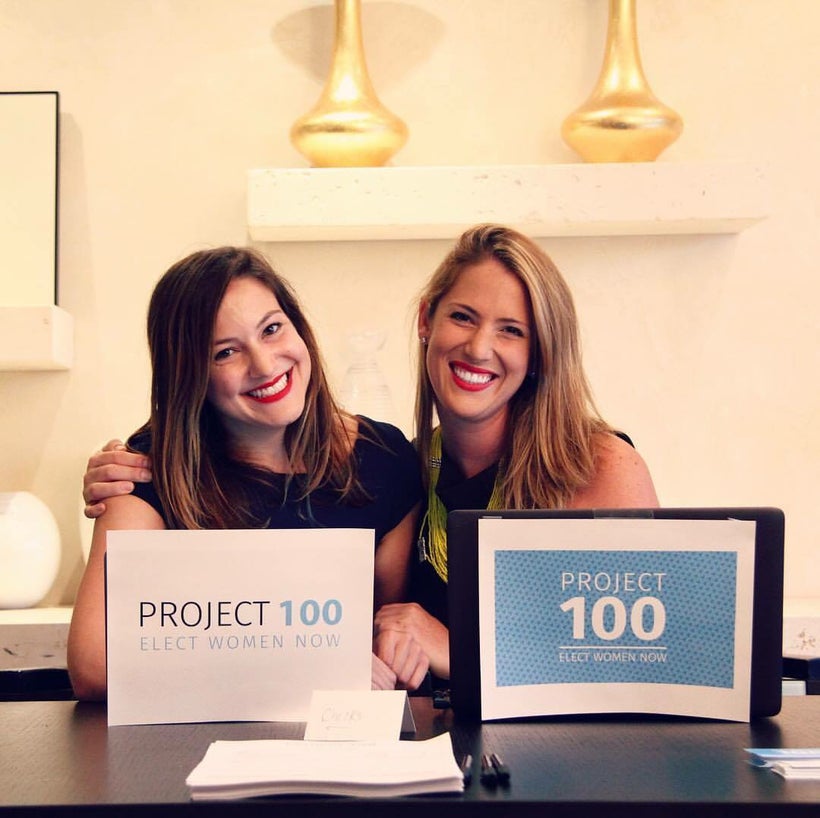 It doesn't matter what side of the aisle you are on. It does matter that you are a woman who wants to run for U.S. Congress. Project 100 can help you get there.
With the goal of 100 women serving in Congress by the 100th anniversary of women's right to vote in 2020, the new digital platform launched last month aims to help women win primaries, advance to general elections and win seats in Congress.
"There has never been a time with such attention to women's advancement and to unleashing this moment of power," says Danielle Gram, co-founder of Project 100 with her former Harvard College dorm friend, Isabel Kaplan.
"We are working to bring together activists and are working hard to build coalitions and we can be there as a resource," says Kaplan, co-founder of Project 100 along with third co-founder Eduardo Ortiz.
"This platform is the only place to go to find women running nationwide for Congress," says Gram,  former head of the Tony Blair Foundation and also co-founder of Kids For Peace, that engaged 10 million children  in the Great Kindness Challenge. .
Project 100 is based on geolocation and uses algorithms that collect data on money raised, media coverage and new endorsements of candidates. For voters, it enables tailored searching on candidates for background factors like candidates who may be racial minorities, LGBTQ candidates, healthcare professionals or scientists.
A startup funded by grassroots donations, Project 100 also secures grassroots donations for candidates and has a pool of volunteers nationwide to "harness the power of a new generation of activist" with social media and PR campaigns, according to the site.
"Our technology platform, will connect American citizens with women candidates running for Congress who deserve their support. There is currently no other platform that amplifies the voices of women running for Congress and provides Americans the opportunity to directly support candidates through grassroots donations, thereby helping candidates achieve thresholds of viability," according to the site.
Project 100 aims to fill the large gap in political representation because "the moment you decide to run there is no existing infrastructure of support," Gram says. "There are a few prominent organizations that will endorse candidates, but this addresses a real gap."
In the past year, as Gram, Kaplan and Ortiz hatched the idea for Project 100, "More than 20,000 women have raised their hands," to run for office,m Gram says. "And 390 women have declared candidacies."
She adds, "This is the hub for when you declare. Our focus is under-represented groups."
With the recent takedowns of men in Congress on both sides of the aisle  – Rep. John Conyers, Sen. Al Franken, Rep. Joe Barton and the accusations surrounding Roy Moore-- for lewd behavior or sexual harassment, this seems like the right time and a good idea.
"Some experts predict that as a result of all these stories, as well as the multiple scandals coming out of the private sector, this will be the 'Year of the Woman' just as it was in 1992. They anticipate that the fallout from the scandals will be the possibility that large numbers of female candidates will be elected in 2018, greatly increasing the number of women in Congress, who currently only make up a little less than 20 percent of lawmakers," writes Julian E. Zelizer in The Atlantic.
"If that happens, the new blood could transform Congress and create a new culture on Capitol Hill. We might be on the cusp of finally having a Congress where all male politicians treat their peers and their staffers with the full respect accorded by the law. The era of the skirt chasers and touchy hands will end," Zeilzer writes.
Based in New York, with volunteers working in Washington, D.C., San Francisco and around the country Project 100 is now a resource for those who declare candidacy, but will next year begin recruiting women candidates, Gram says.
"Americans really want to see women in elective office. The data suggests women are effective and efficient leaders," Gram says. "It is about fair representation."
With 51 percent of the population women, Congressional representation is 80 percent male and 81 percent white, Gram says. "It's a justice issue."
Project 100's mission aligns with Take The Lead's goal of gender parity in all forms of leadership by 2025, beginning with each person designing her Personal Power Plan. 
"We believe that just as power is an infinite resource, when it comes to accelerating women;s leadership, the more there is, the more there is," says Gloria Feldt, co-founder and president of Take The Lead. "When women lead, we all win," she says.
Women around the country considering running for office and registered to run agree.
Liuba Grechen Shirley,  Democratic Candidate for U.S. Congress in New York writes in Huffington Post, "If elected, I will be one of only 84 women serving in the 435-person U.S. House. That's just 19 percent. If you think that's bad, only 32 of the Fortune 500 CEOs are women ― the highest number of female CEOs in the list's history at just 6 percent. "
Shirley writes, "I realized I could no longer sit back and look the other way. We need to empower women to fuel our economy, and we need more women seated at the table. If we want to change Congress, we need to change the people we send there to represent us."
Republican Congressional candidate Valerie Mihalek has similar goals, according to Bucks Local News.
"The question is, 'Do you sit on the sidelines or do you say enough?' This is not a game. You're talking about people's lives," Mihalek says. "So I had a choice. Did I want to be an observer or did I want to be a person who takes action? And my personality has always been one that when there's a need for someone who is vulnerable or whose voice was not being heard I was willing to help their voice be heard."
To make 2020 a reality where women are equally represented, Gram says you can engage with Project 100 by learning about candidates near you, volunteering, signing up for the newsletter, hosting a house party or salon for a candidate through the event kits, and using any of the digital tools offered to get out the vote.
"We have waited long enough, " says Kaplan, author of Hancock Park and whose mother ran the 1988 presidential campaign for Michael Dukakis. "If we keep waiting to take our turns, it's never going to happen."
Calling all HuffPost superfans!
Sign up for membership to become a founding member and help shape HuffPost's next chapter
This post was published on the now-closed HuffPost Contributor platform. Contributors control their own work and posted freely to our site. If you need to flag this entry as abusive,
send us an email
.