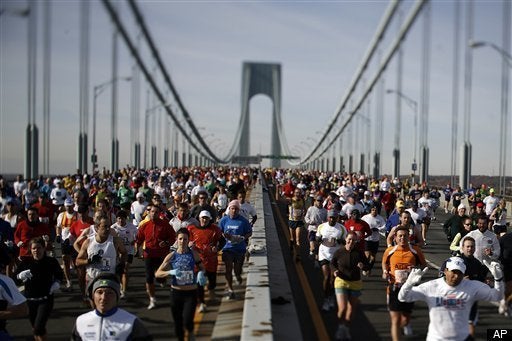 120 days until I (fingers crossed) complete the 2011 ING New York City Marathon. I'm already a few weeks into training, taking those initial steps in the journey of my first-ever marathon -- steps that fill me with equal parts excitement and fear. Apparently there's a lot more to running a marathon than those 26.2 miles I'll obviously breeze through on Sunday, November 6 (kidding, of course).
I think most people would agree that attempting (and hopefully completing) any marathon is a pretty epic accomplishment in itself. But this is New York City. It's the granddaddy of them all -- "the most prestigious and hallowed 26.2," says a friend and three-time marathoner. Talking to other runners who have completed New York say it ranks among the best moments of their lives -- falling in love, getting married, having children -- and more often than not, outranks them.
Last year, I was just a spectator at the marathon (a great spectator I might add). I shivered on that chilly November morning, shaking my cowbell while perched along the fence near the 86th Street entrance to Central Park. I ultimately lost my voice after cheering for the thousands of runners as they entered the park for the final two miles. But every time I let out a personalized cheer for a total stranger, I thought to myself, Could I ever be on the other side of this fence? My answer? Eh, maybe someday.
Everyone has a bucket list, and anyone who calls themselves a runner probably has "Run A Marathon" on there. I'm no exception -- although I never considered myself a "real runner" until very recently.
I grew up as an athlete -- a soccer ball was permanently attached to my foot starting at age five; I practiced my layups before basketball practice in middle school; I was a founding member of my high school's very first girls lacrosse team; I swam for (and eventually coached) my pool's swim team -- but running, I thought, was different. There's no team per se, no ball -- just me, my feet and the road. And, well, that just seemed too boring for me.
At the end of college, feeling like a little, lost twenty-something (which I still feel like), I turned to running. To stay motivated and try to give back a little, my older sister and I made a year-long pact to run at least one charitable 5K race a month. Despite everything from blazing summer runs at the Jersey Shore to a frigid January trail run in the woods, I was hooked. And two years later, I still haven't broken the streak. But other than a few five-mile races here and there, I haven't exactly set new goals for myself either and the feeling of being stuck in a rut was sneaking up on me once again.
That was, until I saw a couple of small signs up around the AOL Huffington Post office inviting employees to join its New York City Marathon team with -- wait for it -- guaranteed entry! The opportunity would include training with the well-respected Team in Training organization, which raises funds for the Leukemia and Lymphoma Society, a charity I've long admired. How could I resist? I took very little time to actually think about what I was considering, told myself I was crazy and signed up right on the spot anyway.
So follow along with me in this blog over the next four months as I manage my excitement (and fear), pound the pavement and hopefully learn something about myself as I prepare for this quintessential (and perhaps life-changing) New York City experience.
Calling all HuffPost superfans!
Sign up for membership to become a founding member and help shape HuffPost's next chapter