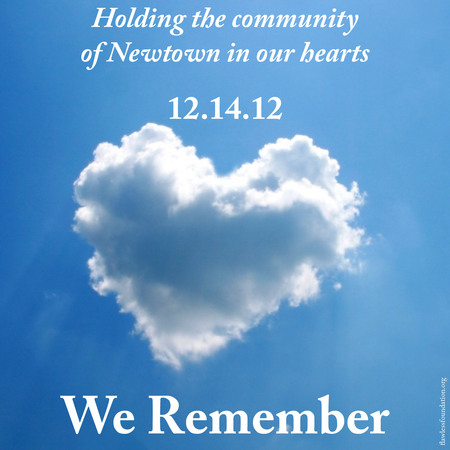 This is the third blog in our series as we count down to the winter solstice and bring light to the darkest days of the year.
Today, we make space for sacred reflection, as it has been three years since that unthinkable, chilling day in Newtown, Connecticut, where senseless violence took so many innocent lives. On this day, we open our hearts and remember.

Since that time we've experienced one case after another of mass violence in our communities. The extreme views may change in each case, but the results are the same: the loss of mothers, fathers, sisters, brothers, children, and friends. Each time we experience this horror, we wonder how we can ever go through it again; we fear the pain and we bury it deep in the darkest chambers of our collective subconscious. And with the memory of the tragedy, we bury our loss, our outrage, our words -- our hope of converting grief into change. This unreality has become our reality -- a collective paralysis.

We see heartfelt "sending thoughts and prayers" messages all over our social media feeds, but the action shouldn't stop there. Once we acknowledge the pain and let it break us into pieces, we have to carefully, refashion ourselves using the language of action as a guideline. Our grief is never the end -- it is the painful catalyst for change, it is the road to light.
Everyday I make the decision to acknowledge the shadow and use it in my work as a mental health advocate. I live with my heart broken open: I accept both the agony and the ecstasy in life as they are equally powerful human experiences. Looking from the outside, one might think that I can face the darkness because of my trauma history, which includes two near-death experiences and the loss of a close family member on 9/11, but that is not it. The true power in my healing, and my ability to turn grief into action, lies in my acceptance that the dark is an equal force to the light.
After news of the Sandy Hook tragedy broke, I posted on my Facebook wall calling for everyone to join me in mourning -- to wail, break down, and let the grief roll over us, because it is the pain and outrage that will wake us from our slumber and lubricate the path to change. We must alter the trajectory of this public health emergency together. If we continue with the same pattern of forgetting and staying numb, we remain stuck and disengage from each other. I see glimpses of this positive impact in my work where facing the pain unlocks hearts and souls, leading to action towards a new paradigm of hope and healing.

That is why I suggest that we, together, take our outrage, face our grief -- for the community in Newtown, for all the victims of gun violence, for all those with brain disorders who have been failed by our healthcare system, for everyone we have tried to push into the back of our minds -- and weave it into gold. We can no longer stay silent. If we do not face the inhumane discrimination and undertreatment of brain health issues, and the reality of our gun laws, then we endanger all lives.
Let's take a lesson from the heroic families in Newtown who are doing powerful work despite their ongoing devastation -every day they are making radical change a reality. To honor the legacies of their loved ones, these families have started a true revolution. We see their example in the activism of My Sandy Hook Family, which commemorates the life of each victim. This community did not let grief and rage paralyze them. What about the rest of us?
Here are six ways we can start making meaningful change:
1. At the Flawless Foundation, we believe in the preventative benefits of trauma informed care and Social and Emotional Learning (SEL), which gives children the skills needed to manage their emotions and mental health. This is the foundation of the work we champion, including the evidence based approaches of the thought leaders at the Child Trauma Academy, Think:Kids, and the Yale Center for Emotional Intelligence. We believe that if the work of these experts were widespread, we could change schools, mental health care and most importantly empower our youth (and families) to seek and receive quality care for brain health challenges. We need to create a society in which brain health and social/emotional learning are seen as crucial areas of development.
2. Talk to your children about brain health and teach them that the brain is an organ in the body like any other organ. Dispel the myths; be mindful of using language and media stereotypes - take steps to do away with discrimination.

3. Work towards policy change by getting political- get involved with advocacy group's like the Now Campaign.

4. Reach out to someone you know who lives with mental health challenges and let them know you are there for them. When you see someone slipping through the cracks, do something to help.

5. Volunteer at your local school - prevention begins with our children's holistic health and education.

6. Donate to organizations, like the ones we have listed in this piece, and brain research organizations (like One Mind Institute), and the Avielle Foundation which are all chronically underfunded. To set the context: As of 2013, the budget for the National Institute of Mental Health was less than one-third of the budget for the National Cancer Institute, and with one out of every five adults in the U.S. having experienced a mental health disorder in any given year, the time to act is now.
This holiday season, as the darkest days of the year draw near, and as we remember the lives lost and the grieving community in Newtown, let's make space for grief and out of it create light, hope, love, and -- most importantly -- action.
Calling all HuffPost superfans!
Sign up for membership to become a founding member and help shape HuffPost's next chapter