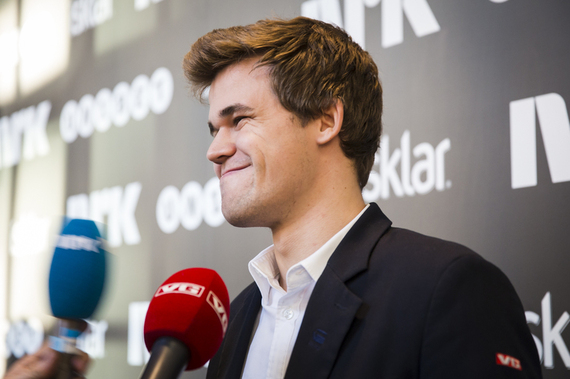 World Chess Champion Magnus Carlsen is in good spirits before the World Chess Championship that will be taking place in NYC. Photo Source: Agon Limited
For chess fans around the world, it is a very exciting time period. In the first time in decades, the World Chess Championship will be held in the U.S. from November 11th - 30th at the South Street Seaport in New York City. The existing World Chess Champion Magnus Carlsen from Norway, will be taking on the challenger Sergey Karjakin from Russia. Karjakin earned the right to compete against Carlsen for the crown after winning the qualifier 2016 Candidates Tournament in Moscow. While Carlsen has been the current World Champion since 2013, and is higher ranked, this is one of the most anticipated chess championships in recent memory. As of the current World Chess Federation's (FIDE) October rating report, Carlsen is ranked #1 in the world with a rating of 2853, while Karjakin is #9 ranked with a rating of 2772. Both teams and their countries understand what is at stake, and how competitive the match is expected to be. Kyrillos Zangalis, the manager of Sergey Karjakin, discussed with me that:
"the Championship Match in New York is the chess event of a generation. Everything about the organisation is a revolution in how the Championship has been staged. The whole of Russia will be eagerly following the action and cheering for Sergey and we can't wait to get started. I am, as part of Sergey's team, proud to participate in such an event, and I am proud of Sergey for contesting the Championship."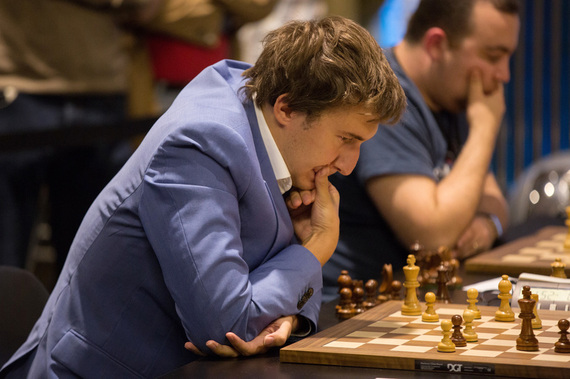 Sergey Karjakin became the challenger to take on Magnus Carlsen after winning the 2016 Candidates Tournament in Moscow. Photo Source: Agon Limited
Historically, major international chess tournaments have been run by FIDE, its governing body. This changed when Agon Limited (Agon) was granted the exclusive commercial rights 5 years ago to run these matches. Seeing an opportunity, Ilya Merenzon, a Russian entrepreneur, bought Agon three years ago to take chess to the next level. Since then, Agon has taken great strides to make the game professional, commercially attractive, and a well branded proposition for all stakeholders. Merenzon's strategic vision was to provide the highest caliber online-viewership-experience. To accomplish this, Agon invested heavily into technology, and this World Chess Championship will be the first to incorporate state-of-the-art virtual reality technology.
Besides executing on logistics, Agon has done a phenomenal job of elevating chess in the eyes of corporate and financial sponsors. For prominent chess competitions this year, Agon has attracted such sponsorships from: BMW, Four Seasons Hotels, EG Capital, PhosAgro as well as numerous others. For this World Chess Championship, Agon was able to secure EG Capital Advisors as the event's primary sponsor. I asked Michael Stanton, member of the Supervisory Board of EG Capital Advisors, about his thoughts on the Championship and why EG Capital Advisors decided to sponsor the event:
"We think that the World Chess Championship, to be hosted in New York City, is a great place to introduce EG Capital Advisors to the U.S., as EG Capital Advisors expands its activities in global markets. Established in 2013, the company started its operations from managing a very small fixed-income portfolio and is now the investment advisor on over $3 bln USD of assets. We are avid chess fans and enjoy the egalitarian nature of chess which we feel unites people across the world. We like the idea that our company will be associated with such a championship match which promotes chess as an intellectual game, based on ability, integrity, strategy, sophistication and good sportsmanship. We feel that our business shares many of these same values."
To heighten the stakes, Merenzon is expecting this match to "be the most watched championship in history." While former World Chess Championships have been known to get contentious and to be ill-executed, it seems that both competitor camps have so far been satisfied with Agon's managerial and promotional capabilities. When I asked Carlsen's manager Espen Agdestein about his thoughts on the upcoming event and the importance of the World Chess Championship on the brand equity of chess he replied with the following statement:
"Magnus wants to help popularize the game and bring chess to more people all over the the world. Having the match in NYC is awesome as it's a global metropolis and media hub. I know Agon has been working extremely hard on creating a huge spectacle out of the match, and a feast for global chess fans who will be following the match on TV and through their online broadcast. Coming from Norway, we see that live chess can be very entertaining to follow when the broadcast is done properly and with the aim of reaching a broad audience. During the World Championship in Chennai in 2013 it was complete Chess fever in Norway, due to amazing live coverage by the main media players. I'm sure it will be the same this year, and with Karjakin as the contender, I expect the same fervor in Russia. I really hope that Agon's broadcast will make a pull on the U.S. market and other countries with many chess players, that may have less in the way of tradition when it comes to following live chess events."
Thus, the world is excitingly counting down the days until this heavyweight Championship commences. It is going to be one for the history books, and the Opening Day Gala is already expected to have numerous international celebrities in attendance. To get an inside view of this imminent Championship, I was able to sit down with the CEO of Agon Limited, Ilya Merenzon for an exclusive interview below.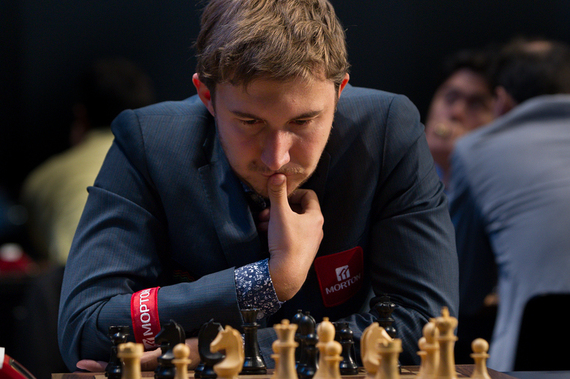 The challenger, Russian chess superstar Sergey Karjakin, will need the performance of his chess career to unseat existing World Champion Magnus Carlsen. Photo Source: Agon Limited
I am sure that planning a World Chess Championship of this magnitude required a tremendous amount of work. How long did your team take to organize the event?
We have been solely focusing on New York since about March, but it has been in the planning for a lot longer than that. Our biggest challenge was finding the right venue in Manhattan. As you can imagine it was difficult to find the right space for a whole month. But we are thrilled that we found the Fulton Market Building - it is providing us with everything we need to create a memorable Championship.
Has it been fairly smooth so far with coordinating between the different federations, the players, FIDE, and other key stakeholders?
Yes absolutely. Everyone in the chess business wants to see chess elevated back to the level where it becomes a truly mainstream sport. For the last few years Agon has been focused on the chess product - the marketing, the broadcast, the visual identity, the venues for the World Chess Championship Cycle. And we have received enthusiastic support from federations and players alike who recognize the strides we are taking to give chess a sustainable, commercially exciting future. We still have some way to go, but we are getting there.
Are you getting excited or a little nervous? What are you looking forward to most about the championship?
Very excited and very nervous! This is going to be the first Championship for the smartphone generation. Chess is primarily an internet sport these days and we have invested heavily to make the Championship as accessible as possible for a truly global audience. And we have so much going on at the Championship itself - from celebrity commentators to creating a virtual reality broadcast for our online customers.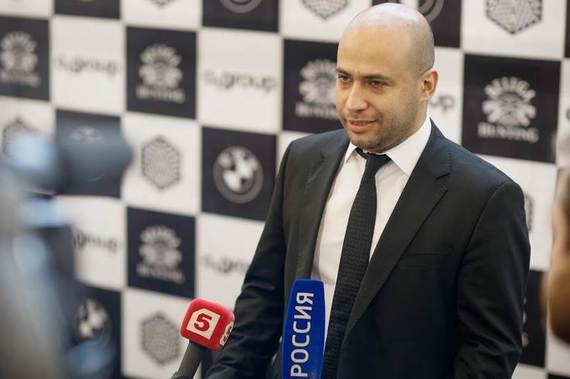 Ilya Merenzon, CEO of Agon Limited has been organizing one of the highest stake World Championship matches in recent chess history. Photo Source: Agon Limited


What impresses you most about Magnus and Sergey?

Well, firstly their chess ability. Magnus is obviously the highest ranked player of all time, and Sergey is not very far behind. Many people don't see chess players as athletes, but these guys are elite sportsman. They train just as hard to hone their technique as NFL or NBA stars and devote their entire lives to chess. That is incredibly admirable.
You have organized top notch events all over the world before. However, this is the first time in decades that the World Chess Championship has taken place in the U.S. How has the reception been in NYC so far compared to other world-stage cities?
New York has chess in its soul. That was one of the reasons we wanted to come here. And the reception we have received has been incredible. There is a real buzz in the city about the Championship and ticket sales have been really strong. A great many people remember the glory days of chess when Bobby Fischer won the World Championship and there is a real sense that this match between Magnus Carlsen and Sergey Karjakin could be as exciting.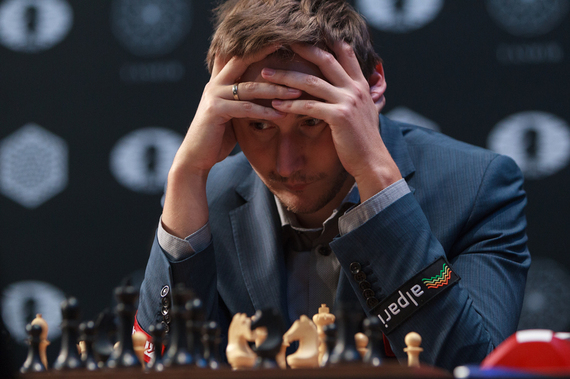 Can the underdog, Sergey Karjakin bring back the World Championship to the Russian Federation? Photo Source: Agon Limited
Agon has announced that the commentator will be Judit Polgar, the best female player in history as well as reporter Kaja Snare. What attracted your team to choose them?

First and foremost they are both incredible chess commentators and I am extremely glad we secured their services. They provide a fresh and lively approach that appeals to both chess experts and to those less familiar with the game.
This is the first World Chess Championship ever that will be using virtual reality technology. Where did that idea originate from? How do you think technology and/or virtual reality will change the face of chess?

Chess broadcasting, with a few notable exceptions, has suffered from a distinct lack of innovation over the last 30 years. The media industry and how we absorb content has changed radically and it is increasingly hard for a TV executive to justify putting on 6 hours of live chess on a terrestrial channel. But that's fine because the internet could have been made for chess. Over 100,000 games are started online every minute of every day and the 600 million strong global audience for chess tends to live online. The 360 degree broadcast was born out of a commitment to make the chess watching experience much more interactive than had previously been the case.
Agon Limited is pioneering the use of virtual reality in chess. This is the first World Chess Championship ever that will be using the technology to provide a greater user experience.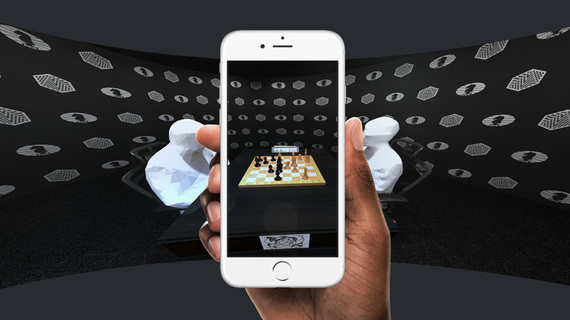 Our online audience will now get closer to the action than ever before. They will literally be able to watch the action from the players' perspective. Photo Source: Agon Limited
The opening night gala is expected to be quite magnificent. Are any celebrities or prominent individuals expected to be in attendance?
Yes, a great many, but I am not going to spoil the surprise!
How many worldwide users are you projecting will tune into the match? Are you anticipating this to be the most watched championship in history?
We believe that this will be the most watched championship in history. We are giving away a free broadcast widget that will show the live moves to any media organisation that wants to incorporate it onto its website. We already have sufficient interest in the product to know that the audience size is going to be huge And that is great news for the players, our sponsors and chess fans.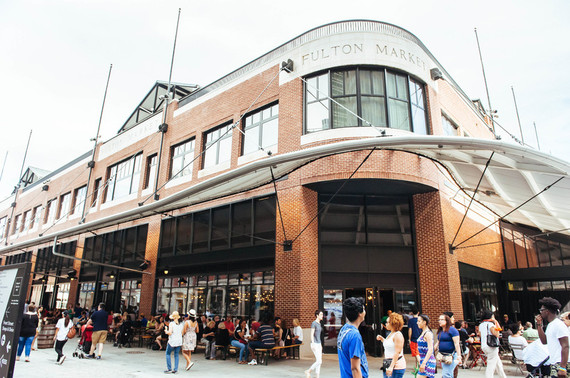 The championship will take place November 11-30, 2016 in NYC at the South Street Seaport. Photo Source: Agon Limited
We expect the total audience, who will have followed the championship to some degree to reach into the hundreds of millions.
With the championship stakes this high, former World Championships have been known to contain numerous scintillating stories. Are there any inside stories that our readership would find interesting?
Ask me after the last game and the Champion has been crowned!

Thanks for taking the time for the interview. While you have a lot of responsibilities, I hope that you will be able to enjoy some of the event. Fans are very appreciative of all of the work that your team invested into it. The world is anxiously looking forward to such a fantastic championship!
Popular in the Community