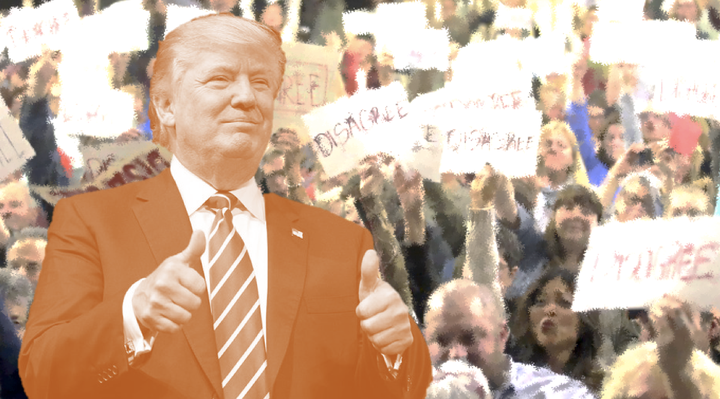 We've just experienced one month of Donald J. Trump's presidency. With roughly two percent of his elected time in the White House behind us, we now enter the most important week of his presidency – the first recess of the 115th Congress. More than his inauguration, more than our protests, more than his cabinet picks, this week will have an oversized impact on the months and years to come.
In one week, when our representatives return to Congress, will they be talking about the size of the crowds at their latest town halls? Or will they return to business as usual? You determine that – so go online right now and find a town near you at Resistance Recess. Don't see a town hall listed? Call your Congressional office today to find a time to meet with your representative while they are in the district this week.
This week will define the way that Congress reacts to and serves We The People for the next two years.
Each day of Trump in the White House brings a new level of absurdity and befuddlement. On Thursday alone, Trump claimed to have "inherited a mess" with the economy, lied about the size of his electoral victory, called the media "dishonest," asked a black reporter to set up a meeting with the Congressional Black Caucus, and said "there's never been a presidency that's done so much in such a short period of time."
And yet, none of that significantly impacts your life (beyond your blood pressure).
Trump uses this chaotic environment to his advantage. We need to focus on what matters and has a lasting impact. Of the dozen executive orders that President Trump has signed so far, most have been more show than substance, and the most consequential (the travel ban) has been stalled in the courts. No major legislation has advanced in Congress – yet. That's where you come in.
If we each take one hour this week to attend a town hall, we can have a greater impact on our country than all those executive orders combined. We can change how our representatives approach healthcare reform, Planned Parenthood Medicaid reimbursements, corporate tax reform, and the other priorities of the 115th Congress.
If you took one minute to read this, please take a moment to share it and engage others in this process. We need each of us in the fight to #resist Trump's agenda.
We survived the first month together. This week, we have the choice between staying in survival mode or going on the offensive by holding our representatives accountable. What will you choose?
Related
Popular in the Community