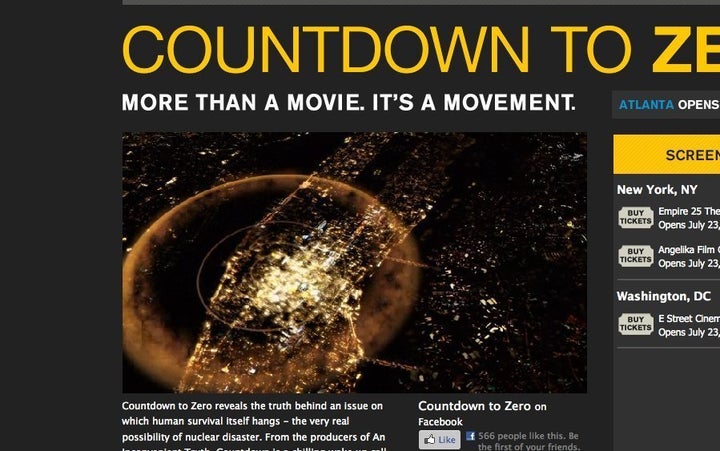 Musicians of all stripes are coming out to support the new film "Countdown to Zero," which documents the rise of nuclear weapons and advocates the urgent need to to secure loose nukes and eventually eliminate all weapons of mass destruction.
Macy Gray, Ok Go, Weezer, and R.E.M. are just a few of the bands urging their fans to see the movie and rally support for it across the nation. R.E.M. said of the film:
We're proud to support and help spread the word about the film Countdown to Zero and this critical movement - everyone should check it out. As so many global leaders across the political spectrum have correctly figured out, the Global Zero movement to eliminate nuclear weapons is one of the defining issues of our time, and something we should all get behind.
Directed by Lucy Walker, the creators of the film described it in a press release as
trac[ing] the history of the atomic bomb from its origins to the present state of global affairs: nine nations possessing nuclear weapons capabilities with others racing to join them, with the world held in a delicate balance that could be shattered by an act of terrorism, failed diplomacy, or a simple accident. Written and directed by acclaimed documentarian Lucy Walker (The Devil's Playground, Blindsight), the film features an array of important international figures, including President Jimmy Carter, Mikhail Gorbachev, Pervez Musharraf and Tony Blair. It makes a compelling case for eliminating all nuclear weapons worldwide, an issue more topical than ever with world leaders working to achieve this goal today.
Watch a preview below. For more information and to buy tickets, visit TakePart.com/Zero.
Related
Popular in the Community