The Indivisible Project, a nonprofit that connects people with advocacy groups, organized a searchable database filled with more than a hundred events scheduled in a dozen or more states. These counter-events are being held in response to the violence that broke out at Saturday's so-called "Unite The Right" rally, which was attended by thousands of white supremacists, armed militia groups and Ku Klux Klan members, as well as anti-racist counter-protesters.
Helen Kalla, press manager for Indivisible, told HuffPost that there are 6,000 local groups in their network, adding that Indivisible's mission is to resist President Donald Trump's "agenda by empowering local groups to hold their members of Congress accountable."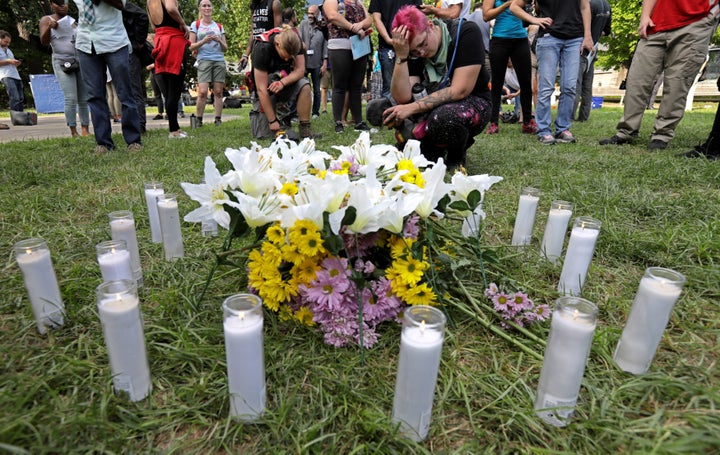 Events in response to Saturday's violence erupted in New York, Seattle, Chicago, Baltimore and other major cities Saturday night through Sunday. More were scheduled to take place in San Francisco and other cities Sunday night.
In Charlottesville on Sunday afternoon, people held a moment of silence as they formed a circle around the spot where Heather Heyer, a 32-year-old counter-protester, died after a man attending the rally drove his car into an anti-racist group.
Another vigil planned by Heyer's family on the University of Virginia campus was canceled amid fear of clashes and violence. Would-be attendees were turned away, and some said they were devastated to learn that Saturday's rally had bred so much fear.
Gatherings elsewhere are an opportunity for Americans to stand with those confronting racism in Charlottesville, the Indivisible Project said.
"This weekend, hate groups and domestic terrorists of all stripes went to Charlottesville, VA to push their hateful message of white supremacy, fascism, anti-Semitism, and bigotry," the Indivisible Project said in a statement Saturday.
"Tonight and tomorrow, we will join our fellow Americans across the country to hold events to show solidarity with those who bravely stood against the white supremacists in Charlottesville, and for all those who stand to lose under the hateful, bigoted agenda they push."
In Washington, D.C., on Sunday evening, a crowd of about a thousand gathered outside the White House with signs decrying the events at the white supremacy rally as terrorism. On Saturday, President Donald Trump was widely criticized for not singling out the activity of white supremacists and instead arguing that there was blame to go around on "many sides."
The protesters marched toward the city's statue of Albert Pike, a Confederate general during the Civil War, and chanted demands to "tear it down."
Armed with bats, flags and chemical sprays, white nationalists and counter-protesters fought on the streets of downtown Charlottesville on Saturday. In addition to Heyer's death, tragedy struck again when a Virginia state police helicopter responding to the rally crashed seven miles from the riot, killing the two state troopers who were inside.
At least 35 people were reported injured throughout the day, including 19 when the car rammed into Heyer and other counter-protesters.
The outpouring of solidarity is appreciated, one of the Charlottesville counter-protesters told ABC News on Sunday.
"My sister was almost killed by that driver," said Tommy, an organizer for the Richmond, Virginia, chapter of Democratic Socialists of America who only provided his first name. "Speaking for our little chapter in DSA, when we see [marches and rallies] springing up across the country, it just means so much that so many people are willing to stand with us ― and also fight with us."
Attorney General Jeff Sessions announced Saturday night that the U.S. Attorney's Office for the Western District of Virginia had opened up a federal investigation into the rally, saying that actions arising "from racial bigotry and hatred" cannot be tolerated.
The FBI's regional office in Richmond, Virginia, along with the U.S. attorney's office, has also opened a civil rights investigation into the fatal car crash.
President Donald Trump condemned the display of "hatred, bigotry and violence" at the rally, but said the blame could be placed on "many sides." His response was widely criticized for not explicitly denouncing white supremacy or racism.
This story has been updated to include more information on Indivisible.
Before You Go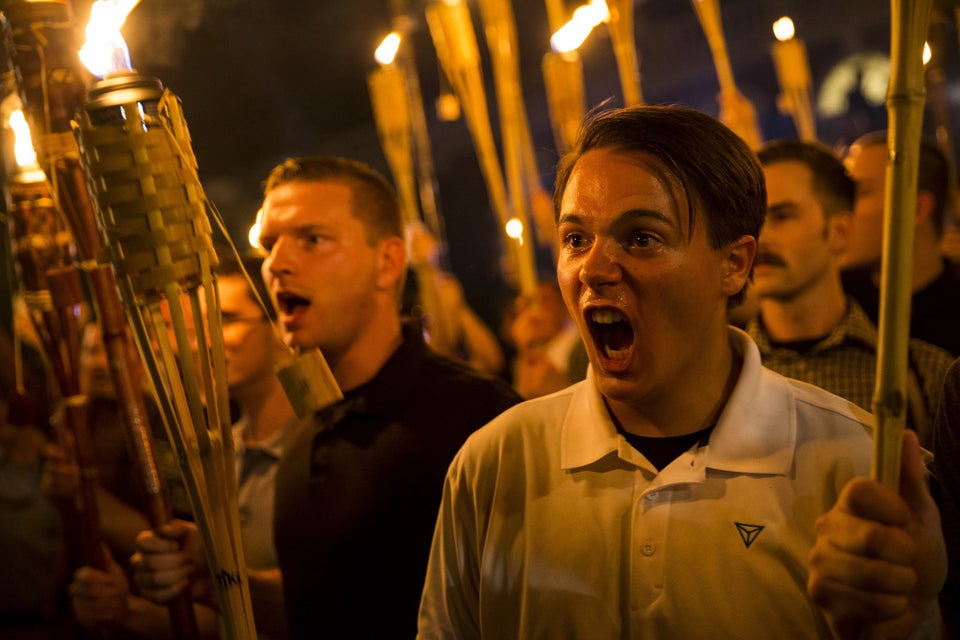 Clashes In Charlottesville
Popular in the Community