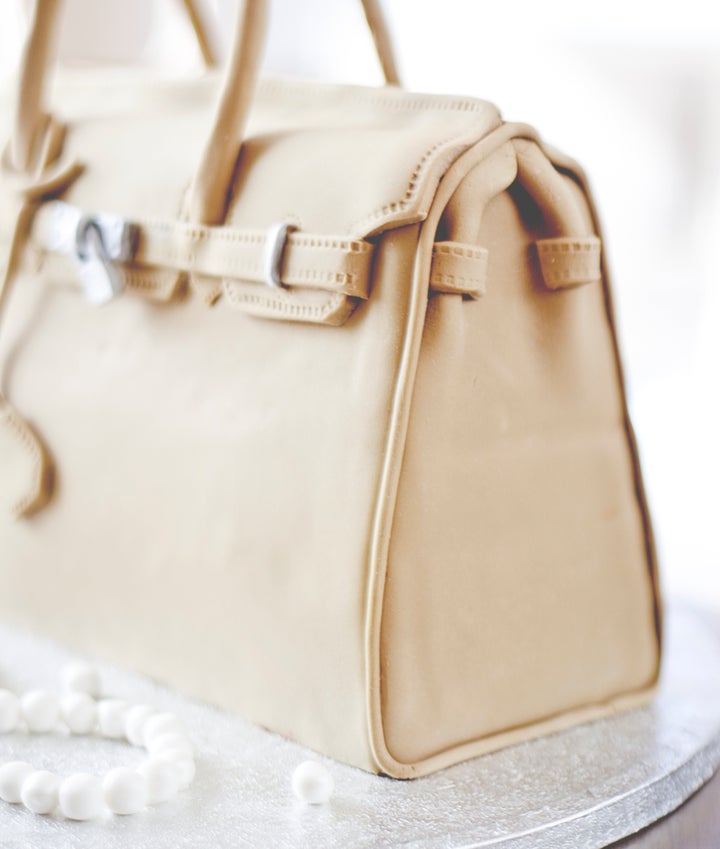 "Is that a fake Prada? I could spot it a mile away."
I still have trouble believing that a girl from my cheerleading squad actually said this to me in the 10th grade. To be fair, she was right. The authentic black nylon Prada backpack that she owned -- and I coveted -- cost over $300, an incalculable amount of hours spent babysitting, so I bought a fake. My friend Erica and I used to take the train into Manhattan once in a while and go down to Canal Street to scoop up knockoff Kate Spade bags that we called "fake Spades" for about $30. At the time, all the cool girls in school had Kate Spade totes and messenger bags, which retailed for around $150.
Even if nobody noticed, there's something about wearing a fake bag that makes me feel a little dirty. Was it obvious that the shape was a little off, or that the sheen wasn't quite right? One of my fake Spades lost its glued-on label, and therefore its value. One by one, my fake bags fell apart or wore out, and I'd have to get another. After a while, I realized that at $30 a pop, it would make sense to just save up and get the real thing. That's when my love affair with bags began.
My first real bag, a leopard-print Herve Chapelier tote, was like a gateway drug. Lots of girls at my school toted their books in the same bag in plain, solid colors. Owning the hard-to-find animal print made me feel special. I received countless compliments on my good taste. I carried it with me everywhere, but it wasn't enough. I tore out ads from fashion magazines with the bags I dreamed about owning and taped them to my wall.
When I started college, I craved a petite designer bag to take out with me on the weekends, but I was already struggling financially. I barely earned enough money working part-time to cover my prescription co-pays and toiletries. I scoured eBay in my spare time, searching for a used bag I could afford, and instead discovered the world of online handbag porn. There were bags designed by Nicky Hilton for the Japanese brand Samantha Thavasa, out-of production Louis Vuitton runway bags and even a gorgeous neon pink Fendi baguette.
Studying abroad in Europe during my junior year of college gave me the opportunity I had been waiting for to score my first designer bag at a discount. On a weekend trip to Paris with my roommate and her friends, I took a trip to the Galeries Lafayette, a department store with every designer boutique imaginable. Each one was having a sale. I shivered with excitement. There were classic Burberry novacheck totes, pastel yellow Chanel flap bags and nylon Longchamp totes in every color. Finally, I came to the Dior boutique and spotted the Gambler bag that I had seen in a print ad in a magazine. It was neon pink and purple with python trim and leopard print and was adorned with sparkly silver dice. And it was 50 percent off. I had to have it.
My roommate and her friends tried to talk me out of the purchase. They said I probably wouldn't love it as much six months from now. But who were they to judge me for my purchases? They were from Oklahoma, and wouldn't know a great bag if it one smacked them in the face. Ultimately, they were right. A Dior python Gambler that needs to be babysat when you use the bathroom at a bar is less than ideal when you're traveling. I learned my lesson, and vowed to shop smarter next time.
In Manhattan, handbags are to women what cars are to men. They're the ultimate status symbol. Instead of Mercedes, BMW and Lexus, there is Hermes, YSL, Gucci, Prada, Bottega Veneta, Mulberry, Louis Vuitton, Valentino, Chloe and Chanel. To me, a great handbag shows that a woman has great taste, and is successful enough to buy it. It isn't enough to simply wear a designer label; each season there are "it" bags with extensive waiting lists and price tags that can hover between four and five figures.
My inability to afford an "it" bag hasn't dampened my desire to own one, but I still wouldn't buy a fake knowing what I know now. In 2011, Harper's Bazaar launched a campaign called "Fakes Are Never in Fashion," to create awareness of the threats that counterfeit goods pose to consumers. In addition to the poor quality of most of the items and -- let's face it -- the negligible customer service, the sale of counterfeit goods is a significant threat to our economy.
On Wednesday, the New York Post reported that a shipment of knockoff bags and belts that would have been worth $20 million in stores was intercepted in Elizabeth, New Jersey. Can this country really afford to send more jobs overseas? Every purchase made from a counterfeiter is a purchase that could have made at a legitimate, tax-paying business.
The CFDA and eBay Fashion are now in the third year of their "You Can't Fake Fashion" campaign. The newest collection of limited-edition designer totes will go on sale on eBay in March, 2013, and I'll be waiting. When it comes to designer goods, this bag lady has learned it's best to keep it real.
Related