In order to country terrorism more efficiently, it is critical to develop a conceptual framework for understanding and countering terrorism that encompasses all linked facets. One of the most comprehensive conceptual frameworks, which encompasses various dimensions of anti-terrorism effort, is developed by Dr. Hamza Baitalmal, associate professor of Mass Communication.
In his conceptual framework, Baitalmal identifies the path Saudi Arabia has taken to counter terrorism from prisms of six factors: security, financial, legislative, executive, Judicial, and Intellectual and media. The strategies that are used to deal with each factor are laid out in detail as well.
It is worth noting that although "Saudi Arabia has been for the last 15 years bombarded from everywhere for its "presumed" nurturing of such extremist groups", "Saudi Arabia had been shocked like any other country in the world with the September 11/ 2001 incident, and this also true for all terrorist act happened in the world since then. This could be a surprise for many, and contrary to what most of the international Media propagates about Saudi Arabia. The international media had set the agenda, and framed the incident as if Saudi Arabia were the attacker or behind any terrorist act worldwide".
As a result, Riyadh adopted a multi-dimensional plan and broad perspective strategy to counter terrorism. Baitalmal argues that "The framework we propose can be useful for understanding this case specifically, while it also applies to other simpler cases that are part of the direct efforts put in by Saudi Arabia to fight terrorism. But at the same time, it can be a helpful tool in any campaign to restore the image of Saudi Arabia. In addition it "present a summary of each element, and the strategies used to deal with each element. It also includes a description of the way the framework had been built, a situation analysis and the shaping of Saudi Public thought, and finally our conclusions."
When it comes to the security dimension "The security forces have achieved a lot in its efforts to face up to acts of violence and terrorism. The ministry of interior's records show that it is totally bent on apprehending terrorists, and destroying all cells connected to terrorism in the Kingdom."
Regarding Intellectual and Media Use by Terrorist Groups, extremist and terrorist groups have been adept at using classical and even new social media. These forms of media appeal to the terrorists because of several reasons including "It is easy to avoid tracking by security agencies especially as they can change the location (of the server) of the host country. Perhaps the most distinguishing feature of extremist and terrorist groups, is the wide use of classical and even new and social media, professionally and in a way that draws attention." In addition, "some of these terrorist groups have produced books and publications in which they misrepresent the religious views of senior religious scholars (Olama), of both classical and contemporary persuasion. By this, they are trying to convince followers of the legitimacy of their calls and practices."

Unfortunately, the "traditional media has contributed to the growing strength of these groups by re-broadcasting shows that highlight terrorism and some of their deeds. The media itself considers this coverage mere news articles for their audiences, however the material is in fact indirect "propaganda" for their strength and brutality, and even part of an inadvertent form of psychological warfare, on behalf of the terrorists."

On the other hand, Riyadh's media system "is not different from other media systems in the region or some of the other developing countries. Until recently broadcast
media was owned and operated by the government, while print media was private, but under government supervision. In 2012 three new public authorities were established; the Saudi Broadcasting Corporation, to operate government radio and television services, the Saudi Press Agency (SPA), and the General Commission for Audiovisual Media to regulate private radio, and (and TV) services that are been introduced in Saudi Arabia for the first time. Up till now, six radio operators have been granted a license, their no TV channel operators as of now. The idea behind this move was to give some administration, and financial independency from direct government control. This move has been appreciated and seen as a step in the right direction to improve the service. To complete describing the media scene in Saudi Arabia, one cannot escape writing about some Saudi businessmen investing in Arab media. There are five Saudi media conglomerates: the Saudi Research & Marketing Group (1972) that publishes Al Sharq Alawsat Arabic daily Newspaper (1978) and the Arab News(1980) English daily newspaper; Alhayyat that publishes Alhayyat Arabic Daily newspaper; Orbit Show Time Network (OSN) (2009), a joint venture with the Kuwaiti Investment House; ROTANA (1982), an entertainment TV network; and finally the MBC group that operates several radio and TV channels, the most prominent being the Alarabiya news channel, a TV channel competing with the Aljazeera New Channel."

Baitalmal adds that "Media in Saudi Arabia for long has been criticized for not keeping up with development in Saudi Arabia. Criticism has come from different social groups, but mainly the conservatives and the liberals. This criticism has intensified lately with the introduction of the new, and social media. The criticism can been seen as a reflection of each group's perception of the role of the media in society. The liberals define the media as a tool for modernization, while the conservatives see it as a tool for propagating the cause of Islam. This difference has led to confrontation between the two groups, a confrontation that can easily be seen in the continuing debate in print and social media. Saudi media and those investing in it, have put in thousands of hours and pages of material related to fighting terrorism and extremism. These efforts include customized weekly programs on radio and television. As part of a public campaign, newspapers have devoted special pages daily, as well as weekly, to address the issue of extremism and terrorism. This is in addition to the employment of TV drama, in efforts to fight terrorism. Worth noting, is that the Saudi efforts were not only restricted to traditional media, but have also extended to Social media. Since the inception of social media, the Saudi society has been reported, in several surveys, to be one of the top users in the world, of this medium. Unfortunately, it is also reported to be a favorite for terrorist groups to recruit followers, and collect money."
Concerning intellectual efforts, "among the most prominent of all these efforts was the establishment of a research chair in 11 different Saudi universities to study the phenomenon of extremism and its ideology, and the spread of terrorism. At the international level, the Kingdom has taken several initiatives for cooperation with international institutions and organizations in this regard, and the most prominent of these was the call for a dialogue between civilizations, as well as the adoption of the King Abdullah Center for Dialogue of Civilizations in Vienna in 2009."
It goes without saying that there exists obstacles in countering terrorism. Accordingly "Since the issue of terrorism is a multi dimensional phenomenon, it requires the effort of several government and private sectors. The mere multiplicity of parties who are interested in addressing terrorism, in itself makes it hard to deal with the matter. In other words, the main obstacle is that there is no "single" administrative unit to manage all the effort. The different views and definitions on the matter, by the various social groups, is another obstacle. There is no single method agreed upon by these multitude of forces, to guide therapy. There are also those who do not actually agree with these efforts; they are mainly hardliners. Hence, part of the effort to deal with terrorism, is unfortunately spent on convincing those who do not support the effort, to support it in the first place. One final note is that these huge steps taken by the country, may be incommensurable; in other words have no "agreed" upon standard of measurement. There is no easy way to quantify and evaluate these efforts to decide whether they are successful or not. Saudi Arabia believes it is winning in its effort against terrorism, while others may not have the same opinion. Thus, Saudi Arabia may not see relief from many of the accusations leveled against it, in the near future."
Finally, Baitalmal's comprehensive, informative and intriguing conceptual framework, which is practical as well, concludes that Riyadh's "battle with terrorism is a security matter, it had been recognized from the beginning, that terrorist acts are an expression of a complex extremist ideology; a multi dimensional phenomenon . As a result the effort to fight terror can also be seen as complex and multi dimensional. In this study we tried to develop a conceptual framework to help identify the Saudi effort to fight terrorism. This framework encompasses six elements: Security, Executive, Legislative, Judicial, Media and Intellectual Efforts. The framework could be useful to understand this case specifically, but can also apply to other more simpler cases, i.e. more direct efforts to fight terrorism. At the same time, the framework may help in any campaign to enhance the Saudi "image"."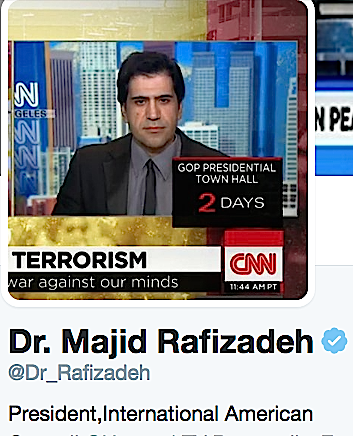 You can sign up for Dr. Rafizadeh's newsletter for the latest news and analyses on HERE.
Dr. Majid Rafizadeh is an American political scientist, president of the International American Council on the Middle East, business advisor, and best-selling author. Harvard-educated, He is a board member of several significant and influential international and governmental institutions, and. He serves on the advisory board of Harvard International Review. Dr. Rafizadeh is frequently invited to brief governmental and non-governmental organizations as well as give lectures at various Ivy universities and speak, as a featured speaker, at security, foreign affairs, foreign policy conferences, business, diplomatic, and social events. He is regularly quoted and invited to speak on national and international outlets including CNN, BBC World TV and Radio, ABC, Aljazeera English, Fox News, CTV, RT, CCTV America, Skynews, CTV, and France 24 International, to name a few. He has been recipient of several fellowships and scholarships including from Oxford University, Annenberg, University of California Santa Barbara, Fulbright program, to name few. He analyses have appeared on academic and non-academic publications including New York Times International, Los Angeles Times, CNN, Farred zakaria GPS, The Atlantic, Foreign Policy, The Nation, The National. Aljazeera, The Daily Beast, The Nation, Jerusalem Post, The Economic Times, USA Today Yale Journal of International Affairs, Georgetown Journal of International Affairs, and Harvard International Review. He is native speaker of couple of languages including Persian, English, and Arabic. He also speaks Dari, and can converse in French, Hebrew. More at Harvard.
You can also order his books on HERE.
You can learn more about Dr. Rafizadeh on HERE.
You can contact him at Dr.rafizadeh@post.harvard.edu or follow him at @Dr_Rafizadeh.
Calling all HuffPost superfans!
Sign up for membership to become a founding member and help shape HuffPost's next chapter