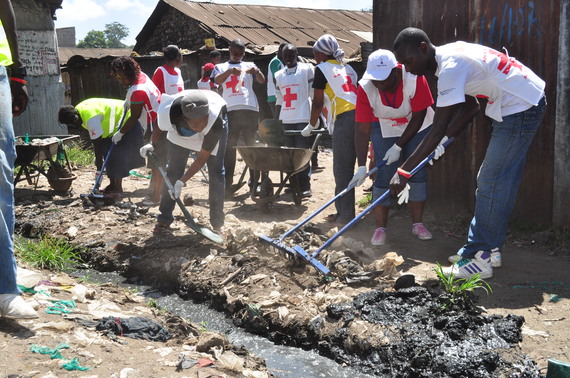 Kenya Red Cross Youth Volunteers Help With Cleaning in the Mathare Slums. Photo Credit: @kenyaredcross
Kenya is preparing to host a summit to counter violent extremism in June 2015. A timely and vital initiative by a country reeling from tragic terror attacks.
Our world is home to 1.8 billion young people between the ages of 10 and 24, and Dr Babatunde Osotimehin the Executive Director of the United Nations Population Fund (UNFPA) says, "Never before have there been so many young people. Never again is there likely to be such potential for economic and social progress".
Kenya has one of the most youthful populations in the world with about 60 percent of the population aged below 24 years. A demographic dividend and through this summit Kenya can change the narrative, by putting the spotlight on youth.
On September 21, 2013, a massacre of 67 innocent civilians took place at the Westgate Mall, in Kenya. And on April 02, 2015, gunmen stormed the Garissa University College, Kenya, killing 149 people, and injuring 79 or more. Both the attacks were claimed by the al-Qaeda linked group al-Shabaab.
In the case of the of the Westgate episode one of the gunmen was a Norwegian citizen of Somali descent. In the Garissa massacre one of the four gunmen was a local and described as a "high-flying, grade-A student" with a promising law career ahead.
Both men were in their early 20s.
In India, the violent Maoist movement is composed of large number of youth who are wreaking havoc in the country's development. In Colombia, South Sudan and Sri Lanka, decades of conflict had been sustained by child soldiers. In Pakistan and Afghanistan, easy recruits are found in mosques and religious schools. In Somalia, the feared terror group − al-Shabaab which in Arabic means "youth" − is waging attacks in Kenya. Young people from all over the world are joining the rank and file of the notorious ISIS (Islamic State of Iraq and Syria) that has taken violence to new heights of brutality and savagery.
Whether they are misled or forced with false promises, threats or exploit grievances, youth are increasingly on the frontlines of violent extremism globally.
Drawing on interviews and surveys with youth in Afghanistan, Colombia and Somalia, Mercy Corps published an insightful study entitled Youth & Consequences: Unemployment, Injustice and Violence. The study found that, "the principal drivers of political violence are rooted not in poverty, but in experiences of injustice: discrimination, corruption and abuse by security forces. For many youth, narratives of grievance are animated by the shortcomings of the state itself, which is weak, venal or violent. Or all three. Young people take up weapons not because they are poor, but because they are angry".
On the other hand, at a summit hosted by the White House to counter violent extremism in February 2015, President Barack Obama remarked, "But when people -- especially young people -- feel entirely trapped in impoverished communities, where there is no order and no path for advancement, where there are no educational opportunities, where there are no ways to support families, and no escape from injustice and the humiliations of corruption -- that feeds instability and disorder, and makes those communities ripe for extremist recruitment."
Two different, yet highly relevant narratives emerge about violent extremism.
The President of the Republic of Kenya, Uhuru Kenyatta remarked, "Youth comprise the strength, wealth and drivers of innovation in Kenya. But as we speak, 70 percent of unemployed people in Kenya are youth. This is an unacceptably high number, given that 30.3 percent of our population is classified as youth."
So what needs to be done to counter the specter of violent extremism?
Under the Government's leadership, all development partners including the private sector should collaborate to ensure a holistic, well integrated, multi-year programs that creates an enabling environment in which young people can develop, advance and achieve their full human potential.

In order to do that, it will be useful to:
Understand the relationship between youth and violent extremism within a broader context of their relationship to peace and security;
Build an evidence base for action on youth engagement in violent extremism and challenge misinformation/myths;
Focus on countering/preventing youth engagement in violent extremism without ignoring/neglecting the role of "non-youth";
Develop strategies after thorough and insightful analyses of the political, religious, cultural, social and economic factors that drive youth to violent extremism.
Let's put youth at the center of the narrative. Kenya can serve as a model for transmuting its youth into a demographic dividend which other nations can emulate.
___________________
Erik Solheim @solheimdac is the Chair of the Organization for Economic Co-operation and Development-Development Assistance Committee in Paris, France and Siddharth Chatterjee @sidchat1 is the UNFPA Representative to Kenya. They have seen firsthand young people at the frontlines of conflicts around the world.

Popular in the Community