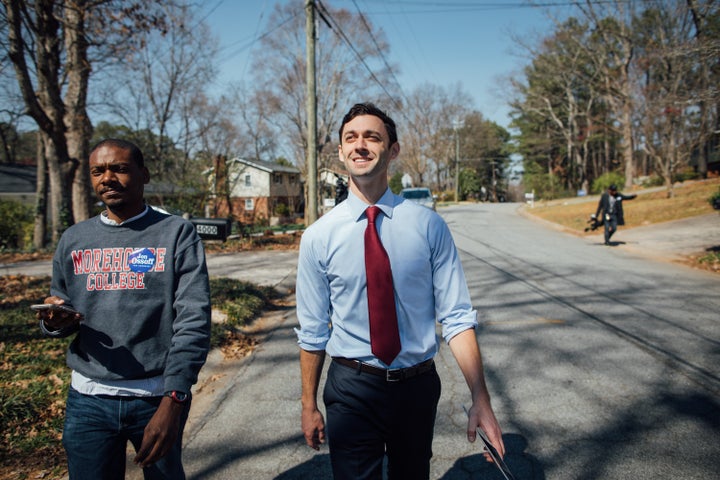 ROSWELL, Georgia ― Once upon a time, Georgia's 6th Congressional District might have flickered into your mind while you contemplated the Republican electorate. Suburban and white, this collection of affluent commuter towns 45 minutes north of Atlanta is a maze of spiraling subdivisions, upscale retail stores and well-funded schools ― a veritable paradise of automatic sprinkler systems, Mercedes-Benz GLS-classes and C-suite types with names like Chet, Bobby and Judd.
It's not surprising, then, that seemingly every Republican in the area has declared for the race to fill this typically Republican seat vacated by Health and Human Services Secretary Tom Price ― though the actual number is closer to a dozen. This is, after all, the district that former House Speaker Newt Gingrich and, later, Sen. Johnny Isakson once represented.
One reason the 6th has served as an incubator for some of the state's most well-connected Republicans is its concentration of wealthy donors and proximity to Atlanta. There's no shortage of ambitious Republicans with potentially deep war chests.
But why are Democrats also pouring millions of dollars into the race? The answer lies in an opinionated former reality TV show star with a heightened sensitivity about the size of his hands.
Hostility to President Donald Trump and his populist message runs deep here. Former Republican presidential nominee Mitt Romney won this district by over 20 points in 2012, yet Trump defeated his Democratic opponent Hillary Clinton by a scant point in November, and it was Sen. Marco Rubio (R-Fla.) who carried it in the Republican primary.
Needless to say, the commander in chief's message of upending the economic order, to say nothing of his personal indiscretions, does not necessarily resonate in a place with a thriving Talbots. Put another way, the president who so closely identifies himself with the country clubs he owns and operates is actually anathema to many traditionally center-right country club Republicans.
Democrats smell blood in the water, and hope dearly to deprive congressional Republicans and Trump of some of their early mojo with a win or unexpectedly close loss.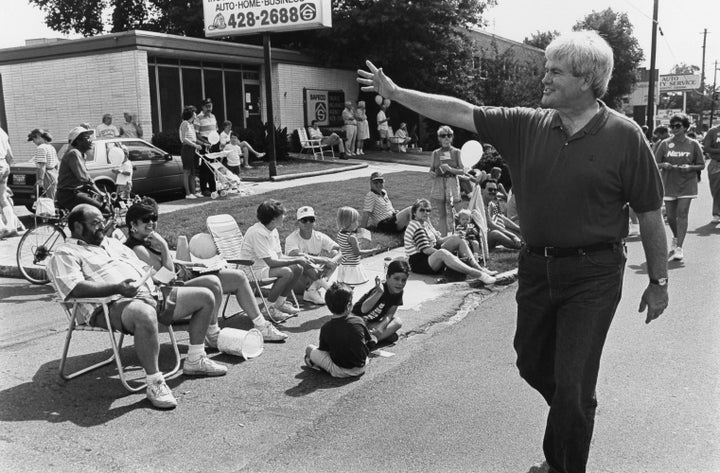 In an interview with The Huffington Post, Jon Ossoff, a 30-year-old former Democratic congressional staffer running in the district's open primary, stressed that grassroots enthusiasm and turnout by nontraditional Democratic constituencies will be key when voters head to the polls on April 18.
"There's been a huge intensity of grassroots support here," Ossoff said. "I don't think it has much to do with me, but with the times."
"The north metro [Atlanta] area has become younger and more diverse," he added, "but more importantly, it's a very well-informed electorate here, with discerning voters who look at candidates rather than parties."
Dissatisfaction with the president was on full display at one of Ossoff's field offices last week. While hostility to the opposition party is to be expected at a campaign office, what was surprising was how many first-time and Republican volunteers were present. When a campaign staffer asked a group of roughly 25 volunteers how many had never participated in a political campaign, nearly three-quarters raised a hand.
"We're appalled," said Patricia Gagne, a retiree from Johns Creek. "Before this election, we never did anything like this."
"Where we live, people are very Republican as a whole," she added, "but we see a crack, that people with any sense are starting to see that this is not what they thought it was."
"I don't call him President Trump, I just call him Donald Trump," added Patricia's husband, Walter Urbanavitch, a retired aeronautical engineer and Air Force veteran who served a year-long tour in Vietnam. "I think he's a disgrace. He's not presidential, he just tells lies."
Though Ossoff is one of five declared Democrats in the race, he has quickly emerged as the party's favorite, earning endorsements from the area's two Democratic congressmen (and Ossoff's former bosses on Capitol Hill) ― Reps. John Lewis and Hank Johnson. Outside money is pouring into his coffers, too; progressive groups including Daily Kos and MoveOn.org have funneled millions of members' dollars to his campaign.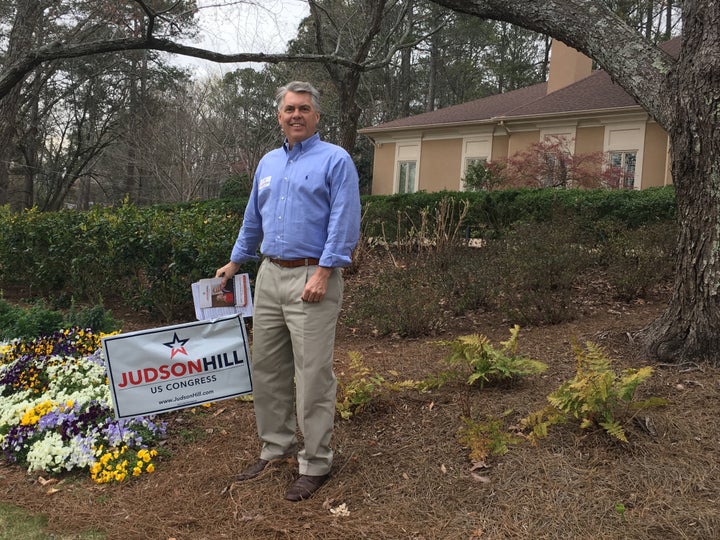 Unease with the chief executive pervades the Republican field as well. One candidate, Judson Hill, a former state senator and assistant U.S. attorney during the Ronald Reagan and George H. W. Bush administrations, has gone to great lengths to burnish his Republican bona fides ― touting endorsements from Republican heavy hitters like Rubio and Gingrich, the district's former representative. However, he's keeping a healthy distance from the president.
Hill has the look and bearing of a polished Georgia politician, with a Southern drawl, neatly-coiffed hair and a broad smile. He invited HuffPost to tag along last week as he went door-knocking in one of the district's wealthier areas.
After setting out from ― what else? ― a country club parking lot, Hill provided background on both his campaign strategy and the neighborhood, discussing his attempts to drive up the vote in his former district and pointing out local landmarks, such as where his parents previously lived and the imposing residence of a Chick-fil-A board member.
"I usually do this by myself," Hill said as he trudged up a hilly road flanked on both sides by several immaculately maintained, multi-thousand-square-foot homes. "It's good to get my steps in."
Hill is somewhat less open to talking about the president. Between chatting with constituents about whose son was in which military branch and whose daughter was enrolled in which middle school, Hill dodged HuffPost's more probing questions about the numerous scandals and setbacks already plaguing the new administration, focusing instead on his own record and conservative agenda.
"I'm thrilled we have a Republican in the White House," Hill replied, before quickly shifting to his experience in the Reagan administration. Indeed, "Republican" seems to be the nicest adjective that many Republicans in Georgia's 6th ― and across the country, for that matter ― can lay at this decidedly unorthodox president's feet.
The current front-runner, former Georgia Secretary of State Karen Handel ― already a conservative star from her stint at the Susan G. Komen Foundation, when she engineered the breast cancer organization's temporary decision to cut off funds to Planned Parenthood in 2012 ― has also distanced herself from Trump. Her website features no mention of him, outside of links to favorable articles that also happen to say the president's name. Only two candidates ― businessman Bruce LeVell, who ran Trump's diversity outreach, and businessman Bob Gray ― have fully embraced the president's agenda, and both are considered longshots.
"Where we live, people are very Republican as a whole. But we see a crack, that people with any sense are starting to see that this is not what they thought it was."
Still, Republicans are heavily favored to carry the district. The GOP possesses a strong registration advantage, and though Trump did only beat Clinton by one point here, Price cruised to re-election in November with a 23-point margin. The real referendum will be on how able the GOP is to retain its base of business conservatives that make up so much of the district's electorate.
It's voters like David Livingston who have Republicans worried. Livingston, a retired telephone company employee, has lived in the area since 1974. He's a lifelong Republican and believes in the need to reform the tax code ― a perennial GOP policy objective ― but can't bring himself to send a member of his own party to Congress. Indeed, Livingston found his way to one of Ossoff's field offices to volunteer.
"I guess I'm a RINO, actually," he said, jokingly referencing the derogatory acronym that stands for "Republican In Name Only" and is usually hurled at center-right politicians by conservative activists.
The last time Livingston got involved in a campaign was in the 1960s, when he volunteered for Republican Claude R. Kirk's campaign for governor of Florida. Now, 50 years later, with two granddaughters whom Livingston says benefit from the Affordable Care Act that Trump and the GOP are trying to dismantle, he felt compelled to act.
"They got way too conservative," Livingston said of the party he still belongs to. "I was a more moderate Republican."
Support HuffPost
The Stakes Have Never Been Higher
Popular in the Community