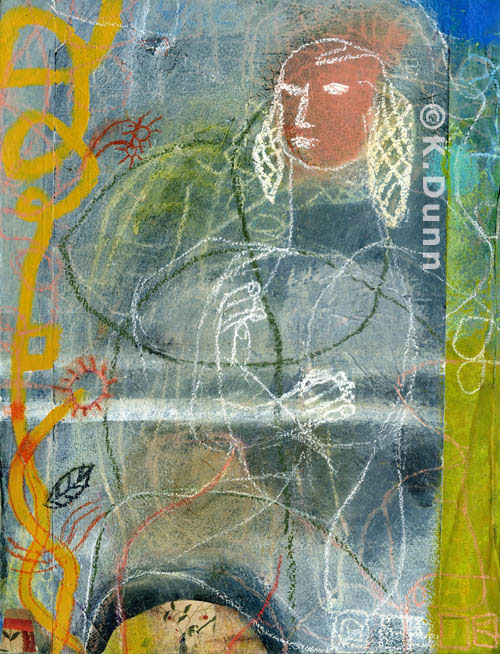 The word "chaos" might have a negative connotation, yet I can't think of another word to describe this painting I did some years ago when we first moved to the farm. My old world as artist was colliding with my new world as shepherd and farmer. Like much of my art, I didn't recognize when the painting was first finished. The colors and line feel exuberant and rambunctious.
While my initial months on the farm were wonderful, I was also confronted with a lot of... junk. Old farm junk. What you don't see in the romantically photographed calendars of old farms is the years of junk lurking behind the barn door -- bolts, screws, hay twine, wood, metal posts, bent fencing, rope, irrigation pipe and seed bags. And that's the good stuff.
When I lived as a single city person, I was able to keep an organized little closet, kitchen and garage. I wasn't a neat freak, nor did I label my closet drawers, but I knew where everything was. I was also solely responsible for placing items where I felt they belonged, thus creating a wonderful sense of organization. I had one shovel, one hoe, one rake, two little clean dogs and a chinchilla. There was no need for a wheel barrel.
Fast forward several years. I marry a man. We move to a farm and are joined by a flock of sheep, goats, a donkey or two, and chickens. And why not rescue the 22 semi-feral cats lurking the barns? Organization as I once knew it ceased to exist. I now have multiple copies of everything -- shovels, spades, hoes, buckets, rakes, ropes, boxes and crates. I also have three wheel barrels: One is red and is my barn barrel, one is grey and has a flat tire most of the time and is supposed to be for cement mixing only, and one is not worth keeping, but Frankie the goat likes to sit in it, as do the cats on a warm day, especially if there is compost in it. Usually, when I need a wheel barrel most, I can't find any of them.
I spend a lot of time re-arranging piles of old beams in the barn, piles of fencing, piles of bricks to be used on a someday wall. I rearrange the multitude of buckets, feed bins, recycle cans, nail bins, hoes, axes, electric parts and pieces of metal barn roofing until I have it in somewhat of an orderly arrangement.
Then my husband spends a day on a project in the barn, and re-arranges my arrangements.
When I moved to the farm, I was an avid throw-it-out-if-you-don't-use-it-for-a-year person. But even I have found myself in situations where I need that special piece of bent fencing to temporarily prop up so the goat doesn't get into the squash garden. There will always be a burn pile growing while we're waiting for the right weather to burn it; there will always be old, rusty posts and boards around because one always needs old, rusty posts and boards on a farm. I have learned that junk beckons other junk; I know this because I have witnessed a single fence post on a Monday turn into a bunch of old fence posts on a Friday. Where did they come from? Who knows, but they're here now; may as well treat them as guests.
During our initial remodeling, the kitchen was a chaotic mess. I designated one small corner of the counter to be the "clean and organized zone." I just wanted one place to make my toast and know the butter dish was handy. The Dirt Farmer patiently played along. But one day. the butter dish was nowhere to be seen. We laugh now at the serious speech I gave about proper butter dish placement, but at the time, that butter dish's misplacement was symbolic of all the junk and events I had no control over.
Many things collide daily here -- animals, art, business, life, death, family -- but I've learned the trick is to approach this chaos as a treasure hunt. I awake with more anticipation each day than I ever did in my life. There is always something to do here, something new, something challenging, something that will feed me internally like the city couldn't.
I've learned that the butter dish is usually around somewhere.
Katherine Dunn is an artist, writer and shepherdess at Apifera Farm, where she lives with her landscaper husband. Her new book, "Creative Illustration Workshop" (Quarry Books), is now available. She also muses about farm life, old goats, donkeys, feral cats, weeds, pie, chicken underpants and puppets on her regular blog.