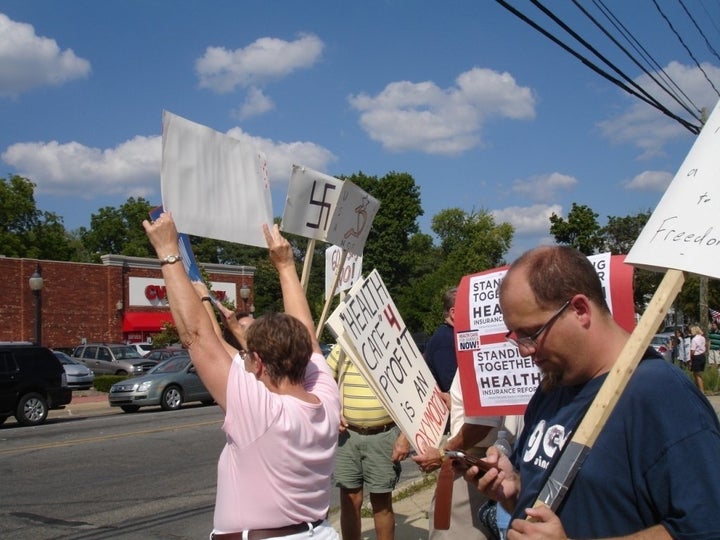 Chris Savaged reported from Jackson, MI as part of HuffPost's Eyes & Ears Town Hall Watch. Join the citizen coverage by clicking participate at the bottom of the article.
A protest rally planned by anti-health care reform forces in Michigan's 7th Congressional District was upstaged by a pro-health care reform rally staged an hour earlier in front of the offices of freshman Representative Mark Schauer (D-Battle Creek). Organizing for America staff report that 355 people signed in at the rally with many more in attendance who did not sign in. The anti-reform protest drew only about 50.
Schauer came out to speak with the crowd through a bullhorn while most attendees chanted and waved signs in support of H.R. 3200.
The Jackson Citizen Patriot is reporting Jackson County Commissioner Phil Duckham attended the rally carrying "a sign with a swastika on it, and compared Obama to Hitler". They also have a photo of him doing so.
"This is how Hitler started out," Duckham said. "First, Obama took over the auto industry, then the banking industry. We don't need him to take over the health care industry."
The large turnout to this event was a surprise to organizers after a similar town hall held in Romulus, Michigan last week by Rep. John Dingell (D-Detroit) brought in many more anti-health care reform protesters than it did supporters. Abigail Clark, a former staff person for President Obama's Campaign for Change in Michigan arrived at Schauer's office right as the rally was scheduled to begin.
"My friend was using her iPhone to figure out where we were going so we wouldn't miss it," Clark told me. "Then I looked up and just said 'I think we found it'. It was amazing. There were literally hundreds of people all up and down the streets and everywhere. There's no way we could have missed it!"
The evening of the rally, Rep. Schauer reached out to 100,000 of his constituents inviting them to a teleconference town hall on health care. These types of town hall events are becoming increasingly popular this summer as protesters continue to disrupt the public events with rude and sometimes hostile behavior.
Schauer's rather gerrymandered district was formerly represented by far-right Tim Walberg who was defeated by Schauer in 2008. Despite not currently holding office, Walberg is apparently holding "health care town hall meetings" of his own throughout Michigan, an unusual move for a defeated candidate.
Rep. Schauer's spokesperson, Zack Pohl, responded, "It's unfortunate that Mr. Walberg would rather turn this issue into a political football at a time when families and small businesses in Lenawee County are hurting. It's also ironic that the same former congressman who once said those without health insurance can just go to the emergency room now wants to talk about health care reform. We are engaged in a serious debate about this critical issue, and now is not the time for political gamesmanship for personal gain."
Support HuffPost
The Stakes Have Never Been Higher
Popular in the Community