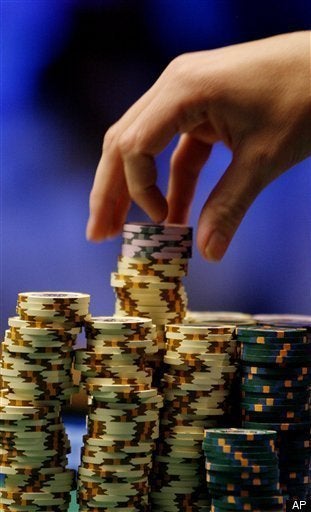 Cook County Commissioner Bridget Gainer (D-10th)
received at least $2,000 in campaign contributions from Illinois casino gaming
interests three weeks before she publicly unveiled her campaign to block video
gaming machines in Cook and DuPage Counties, her financial records show.
She then pushed through the Cook County Board an ordinance that
broadens the Cook County ban on video gaming machines to include all of the
unincorporated areas of the suburbs, places her district up north in Chicago
does not include.
She says she did this because Gov. Pat Quinn pushed through a law
to permit video gaming machines as a means of funding the state's $31 billion
capital improvement plan. She accused the governor of approving the video gaming law in the
dead of night and with no public debate. Gainer also denounced video gaming
machines and said they would cause trouble for law enforcement and for our
troubled society, which is suffering through a terrible economy.
Here are some facts Gainer doesn't want the public to focus on:
1 -- Gainer's family comes from the 19th Ward and is close to the
powers there who are behind the gubernatorial candidacy of state
Comptroller Dan Hynes. This bill helps Hynes and hurts Quinn.
2 -- Gainer comes from the city of Chicago, and her district doesn't
even represent the unincorporated areas of the county. She was anointed by the
Chicago Machine Committeemen and doesn't represent the suburban communities and
she wasn't even elected to any office.
3 -- Gainer blasts Quinn for pushing through his law to legalize
video gaming machines in Illinois, but the fact is Gainer did the same thing
that she accuses Quinn of doing: "passed in a late-night legislative session,
with no public hearings or debate."
Suburban commissioners like Liz Gorman and Joan Patricia Murphy
urged that the Gainer bill be deferred so that more discussion could take
place. Gainer said no and pushed it through using mostly Chicago votes.
Communities throughout the state and county are discussing this law and
weighing the benefits of Quinn's capital improvement plan against the so-called
scourge of "expanding gambling." County Commissioners only had 10 days to discuss the ban with one Finance Committee hearing before the vote.
4 -- Gainer says legalizing video gaming machines is bad for
society, but says nothing about the fact that we now have 10 casinos in
Illinois, we legalized the lottery and fraternal organizations and churches
rely on bingo for most of their free cash. That kind of gambling is OK, but a bill that would compete for casino revenues is not.
The question is why? Why did Bridget Gainer, a former lobbyist for the past eight years for the AON Insurance Corporation, decide to make legalizing video gaming machines a major
issue?
1 -- AON, the Insurance giant headed by Patrick Ryan, has
longstanding ties to the gaming industry.
2 -- Gainer received at least $2,000 from the principles of the
newest casino license, the first to be built in Cook County. 
Gainer told the Chicago Tribune -- she won't answer questions put
to her with a hard edge and refuses to talk to me -- that she "didn't know" the
$2,000 came from gaming interests. She told a Chicago TV reporter that the
money came from two women she met socially. (And Gainer is the sponsor of a so-called "sunshine law" to expose conflicts in campaign financing and lobbying?)
The "didn't know" excuse doesn't work. The donations came to her election campaign
committee on June 30, just three weeks before she decided to push the video gaming
ban in Cook County. The contributors are far from socialites from the wine and
cheese circuit. They are:
Leslie Bluhm, a partner in Midwest Gaming & Entertainment LLC,
and the daughter of Neil Bluhm, the chairman of Midwest Gaming and the head of the powerful JMB realty. Leslie Bluhm gave Gainer $1,000.
The second $1,000 donation came the same day on June 30, quite a
coincidence even for a wine and cheese diva, from Gregory Carlin, who happens
to be the president of Midwest Gaming and Bluhm's partner.
Gainer told the Chicago Tribune that she will return the $2,000.
(Actually, returning conflicted donations is not unusual for Gainer. If you
check her campaign finance report, you find she returned about $4,000 in
donations from a major Cook County contractor, yet kept thousands more from
interests directly tied to that same county contractor.)
Gainer's campaign contribution lists also show she received many
more donations from other companies and groups that have received thousands
from Bluhm or Bluhm-related interests.
Why rush the video gaming ban through and oppose more time to consider the matter? Why not
give the people of Cook County, especially in the suburbs, more time to weigh
Gainer's ban?
On the morning that Gainer's bill was rushed through the Cook County board over the objections of suburban county
commissioners who pleaded for more time, Neil
Bluhm went before the Illinois Gaming Board and agreed to commit his $540 million for his new casino that will soon be built in Cook County's suburbs.
Not so ironically, legalized video gaming machines do rival
casinos and especially would "harm" a casino in Cook County because
that is where the largest concentration of video gaming devices would be
placed. In Cook County, in the backyard of Midwest Gaming. Bluhm's Casino would be the only one in Cook County.
Only 10 days before the Finance Committee hearing, Gainer also
surfaced at a high profile press conference with Cook County Clerk David Orr to
announce a new Lobbying and Ethics "sunshine Law".
At the press conference, Gainer was quoted in the Daily Herald vowing, "The time to know all this information is
when you are awarding the contract and when the vote happens."
The newspaper added "Lobbying information would be included on
agenda items. In effect, it would cast light on the sometimes-shady elements of
awarding county contracts."
Gainer did not respond to two requests for information regarding
her ties to the casino gaming industry and to Chicago firms that have engaged
in lobbying on behalf of the state's riverboat casinos.
But Gainer's web page (www.BridgetGainer.com)
reflects an obsession with casino-related issues. Her Twitter account is filled
with dozens and dozens of postings on the video ban and the casino industry.
REAL LIFE. REAL NEWS. REAL VOICES.
Help us tell more of the stories that matter from voices that too often remain unheard.