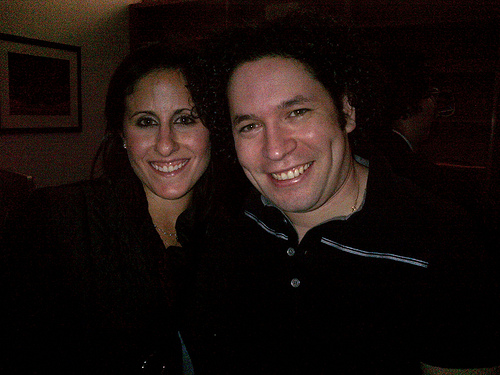 Restaurateur Camelia Coupal and Musical Director Gustavo Dudamel backstage at LA Phil!
Huffington readers may recall my review last week of the stunning Mahler 8th "Symphony of a Thousand" conducted at the Shrine by the 31-year musical director of the Los Angeles Symphony Orchestra, Gustavo Dudamel, accompanied by that orchestra, hundreds of vocal musicians, and the Simon Boliver Youth Symphony from his native Venezuela. Following that concert, where I was hosted by L.A. Symphony Board Member Ginny Mancini, the musicians boarded a chartered 737 jet, all 117 orchestra members, 9 soloists, and 26 staff members, to fly to Caracas, Venezuela, to continue their Mahler cycle there.
Mrs. Mancini and 30 other board members and patrons flew via American and Delta to Caracas on Monday to join the Mahler festivities. Before leaving, she told me that a famed Caracas restaurant, DOC, was hosting a big party for the group... and did I know that they had a Beverly Hills branch? No, I didn't... So this week I gathered my reviewing friends, Penney McTaggart and David Rapoport, and we dined on exciting Venezuelan food at Camelia Coupal's COUPA CAFÉ (419 N. Canon Drive, Beverly Hills (310) 385-0420, parking at the adjacent city lot).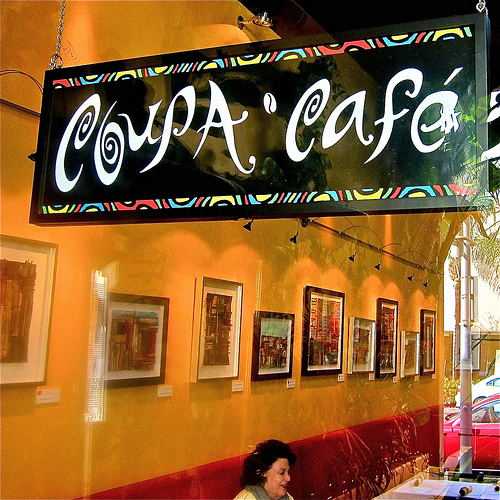 The charming owner told me that her lively Venezuelan restaurant, open since 2006, featured a completely new style of international dining combining the best of Venezuelan dishes with the philosophy of the modern Slow Foods movement. That's the group which promotes the use of organic and fair trade ingredients. Knowing that I am a coffee fanatic, she said that her beautiful little restaurant on Canon Drive was the only place outside of Venezuela where patrons can enjoy and purchase the nation's shade-grown, hand-picked, patio sun-dried super fair trade organic single-estate Arabica coffee beans roasted in small batches. And, yes, I did consume cup after cup of the very best coffee I have ever had!
It's a gorgeous restaurant featuring an original California Bow Truss ceiling with resort-like spaciousness. The large outdoor seating area in front is like a tropical garden with an exotic water fountain and hand-painted tiles. I know that I will be here most mornings now at a sidewalk table people-watching and sipping a cappuccino ($3/3.50/4), macchiato, or one of their luscious iced drinks. Hot chocolate, hot tea, chai lattes or special Venezuelan drinks will keep me -- and you -- coming back for many more. Such an incredible find in the heart of Beverly Hills!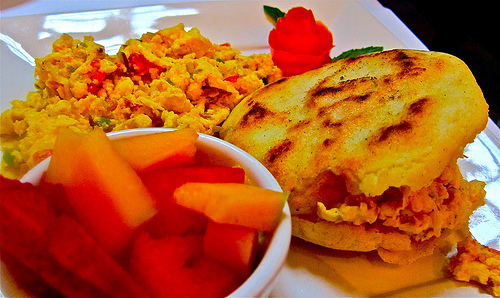 The Perico Platter-Dudamel's favorite breakfast dish... scrambled eggs with sweet peppers, tomatoes, onion and spices.Although Dudamel has not been able to visit the Beverly Hills location, Camelia said his favorite hometown dish is the Perico Platter, a traditional breakfast dish of scrambled eggs with sautéed mini-sweet peppers, fresh tomatoes and chopped onions, served with a Venezuelan arepa (wheat and gluten-free!) corn cake and a side of fresh fruit ($11). I have not been to Caracas since the early '70s, but I still remember falling in love with arepas, white cornmeal stuffed griddle cakes, here $10 with a side salad, offered with shredded chicken, shredded beef, ham, cheese, veggies... in many combinations. Empanadas are also gluten/wheat free, with many fillings, and there are a handful of Venezuelan specialties which will entice you forever.
You must experience their version of chicken pot pie called polvorosa de pollo ($18), shredded chicken in a crumbled crust pie, the crust with a touch of raw sugar cane pulp, one of the most delicious, savory dishes in memory. I learned that Venezuelans are the second-largest consumers of pasta in the world after Italians, so one of their pasta dishes is a 'must.' A seafood pasta Spaghetti Del Mar ($16) with grilled shrimp and calamari is mildly spicy, but she told me that their best-seller is the Rigatoni Bolognese ($14), beef ragu with tomato sauce. Of course, this being Beverly Hills, there is an extensive menu of traditional lunch and dinner dishes more familiar to the natives of this area -- "Think One Way Wild Salmon" ($23) done the way I like it, medium rare and juicy, a "Coupa Burger" with frites ($13) which I'm told is fabulous, steak frites ($28, ribeye) and "Roasted Rocky Jr. Chicken" ($21).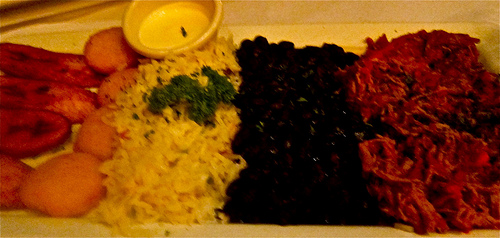 Pabelion -- the national dish of the country.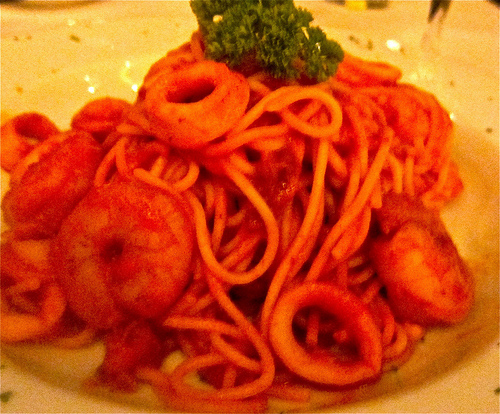 Spaghetti Del Mar -- seafood pasta with shrimp and calamari.
Camelia, member of the Coupal family, told me that they have six Coupa cafés, which includes one in downtown Palo Alto, four on the Stanford University campus, as well as here.

Venezuelan food is not a spicy hot cuisine. It uses ingredients like sweet peppers, garlic, onions, and coriander as base flavors. "Corn is a staple of Venezuelan food and Cachapas are corn griddle pancakes served with fresh white cheese." She made a point that arepa is a corn-based food, which is gluten/wheat free, something which many people today are seeking. "Pabellón is the national dish of the country, a delicious platter made with shredded beef, rice, black beans, sweet fried plantains, nata, queso blanco and arepitas." ($19, chicken/veggie option available)
At the next table a bunch of youngsters were eating Tequeños. Their mother smilingly said, "It's fried white cheese sticks wrapped in home-made flour dough ($7), and is named for a city just outside of Caracas called Los Teques."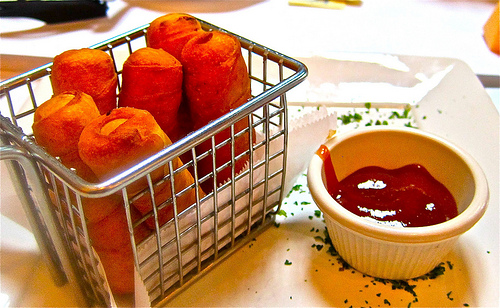 Tequenos are deep-fried cheese sticks... addictive.
Back to their coffee! Our waiters, Shane and Nick, said that no one does coffee like Venezuelans. I later learned that coffee was introduced to Venezuela from Martinique in 1730 by Spanish missionaries in the Ciudad Guayana region, and is mostly the more precious Arabica beans. I'm drinking a cup of fresh drip coffee made from the beans I bought last night and it is so rich and aromatic I will be giving up my Cuban Café Bustelo for this from now on.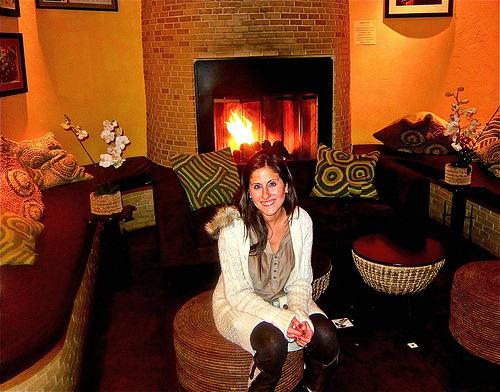 Carmelia in front of the romantic fireplace niche at the rear of the restaurant.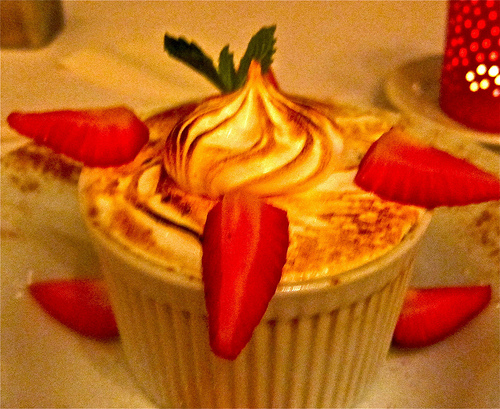 The luscious tres leche dessert-rich cake and three kinds of milk, topped with meringue.
A programming note from Deborah Borda, president of the L.A. Philharmonic: On Saturday, the 18th, the combined two orchestras and a massive chorus will perform Mahler's 8th symphony in a concert in Caracas which will be broadcast live and in hi fi back to some 350 movie theatres in North America. Actor John Lithgow, who traveled to Caracas with them, will emcee the visual event. I understand the theaters are almost sold out but perhaps you can garner a tix or two. Believe me, having seen this concert, it is worth it!
To subscribe to Jay Weston's Restaurant Newsletter ($70 for twelve monthly issues), email him at jayweston@sbcglobal.net.

Popular in the Community