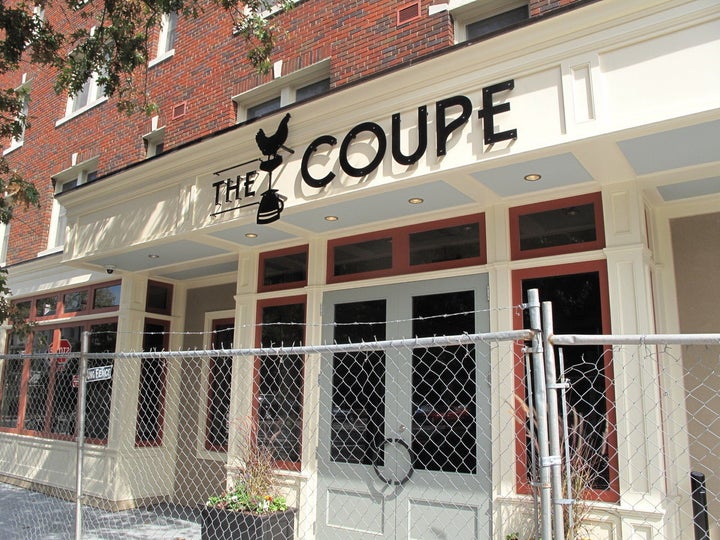 WASHINGTON -- Columbia Heights residents will soon have a new local spot to spend their late nights, a place that should please diner fans, coffee drinkers and bar flies alike.
The Coupe, the newest venture from Constantine Stavropoulos -- the man behind Tryst and The Diner in Adams Morgan and Open City in Woodley Park -- will combine all of his previous ventures into one, 160-foot long storefront space in the 11th Street corridor, just up the way from Meridian Pint and Red Rocks.
The narrow building, located at 11th and Monroe streets NW, will feature food, coffee and alcohol, becoming a one-stop destination for D.C. residents.
The former laundromat, church and most recently boarded-up building has been in the hands of Starvropolous for more than a year. The owner filed for construction permits in April 2011, received them last October and a year later, will celebrate the soft opening of the restaurant.
Story continues below ...
When Starvropolous opened The Diner 11 years ago, he said there were no 24-hour restaurants in the District of Columbia.
"D.C. is becoming a 24-hour city," Starvropolous said. "We no longer live in a conventional nine to five world. We want a place where people can create and contribute to a 24-hour living city."
The north end of the restaurant will be a classic diner. Influenced by the Edward Hopper painting "Nighthawks," Starvropolous wanted to create the kind of diner you'd find on a Brooklyn corner, complete with U-shaped counter. Classic booths dominate the window seating, along with a large table well suited for large family meals or business meetings.
The center of the space is similar to Tryst. The coffeehouse will feature a mash-up of good looking and well-maintained vintage furniture. The beans will come from Counter Culture Coffee, serving their signature Tryst blend.
The south end of the space will be a bar, the only section of the The Coupe that will occasionally close.
Exposed, reclaimed brick is dominant on one wall. A pressed tin ceiling, another hallmark of Starvropolous' spaces, runs throughout the three different spaces. Each of the restrooms has a different wallpaper theme. Regardless of where you decide to sit, the full menu will be available.
"This corner was a boarded-up, dangerous corner. We're bringing some light to the corner," Starvropolous said. True figuratively and literally, bay windows that can open are throughout the entire space.
Stavropoulos wanted to open a large restaurant on a residential street so locals could have a new base. "We want to make it their third place. Home, office, here."
With three successful businesses employing more than 300 people, his goal for The Coupe is simple. "We want to cater to everyone. A mixture or working-class people, students, lawyers, gym rats, everyone."
The soft opening of The Coupe is scheduled for this Thursday. The restaurant will start keeping regular hours next week.
Calling all HuffPost superfans!
Sign up for membership to become a founding member and help shape HuffPost's next chapter
BEFORE YOU GO