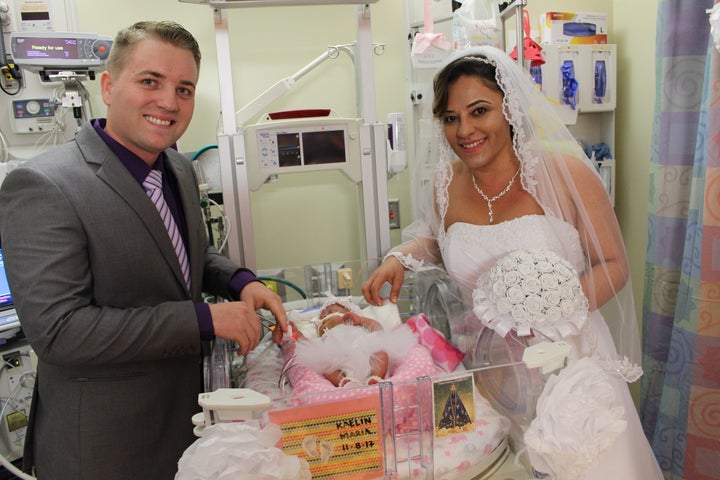 Rubia Ferreira and Tyler Campbell's hopes of getting married on a beach in Japan were turned upside down after their child was born more than 15 weeks early. But despite having to change their plans last minute, the couple managed to hold on to one big goal for their wedding day ― having their baby girl by their side.
The military couple was married in a neonatal intensive care unit at the University of Alabama at Birmingham's medical center in February. The unusual location allowed them to be close to their smallest (and most important) wedding guest ― their daughter, Kaelin Maria.
"The original plan was that she was going to be at the wedding anyway," Campbell told HuffPost. "We didn't let the fact that she was born premature stop that from happening."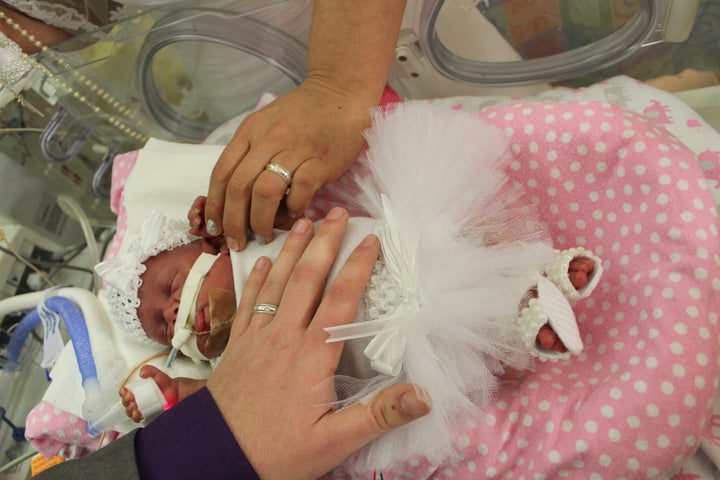 Campbell and Ferreira met in Okinawa, Japan, where Campbell was stationed as a combat engineer in the Marines. When the couple found out they were going to have a daughter due in February 2018, they planned a trip back to the United States last fall to visit Campbell's family in his hometown of Jasper, Alabama. The couple planned to get married on a beach in Okinawa later this summer.
A few days before she left Japan last November, Ferreira had a checkup appointment with her doctor, who told her everything appeared normal with the baby. When she landed in Alabama, the expectant mom began having abdominal pain.
At first, she thought it was just from the long trip. But when the pain didn't recede, Campbell took his fiance to the University of Alabama at Birmingham's medical center. There, doctors diagnosed Ferreira with HELLP syndrome, a life-threatening liver disorder that affects pregnant women. Physicians told the couple that Ferreira needed to have surgery immediately in order to save her and the baby's lives.
"We were scared because [Kaelin] was so young," Campbell told HuffPost.
Kaelin was born at just 24.4 weeks on Nov. 8, 2017. Campbell said the child weighed just 14 ounces and measured about 7 inches.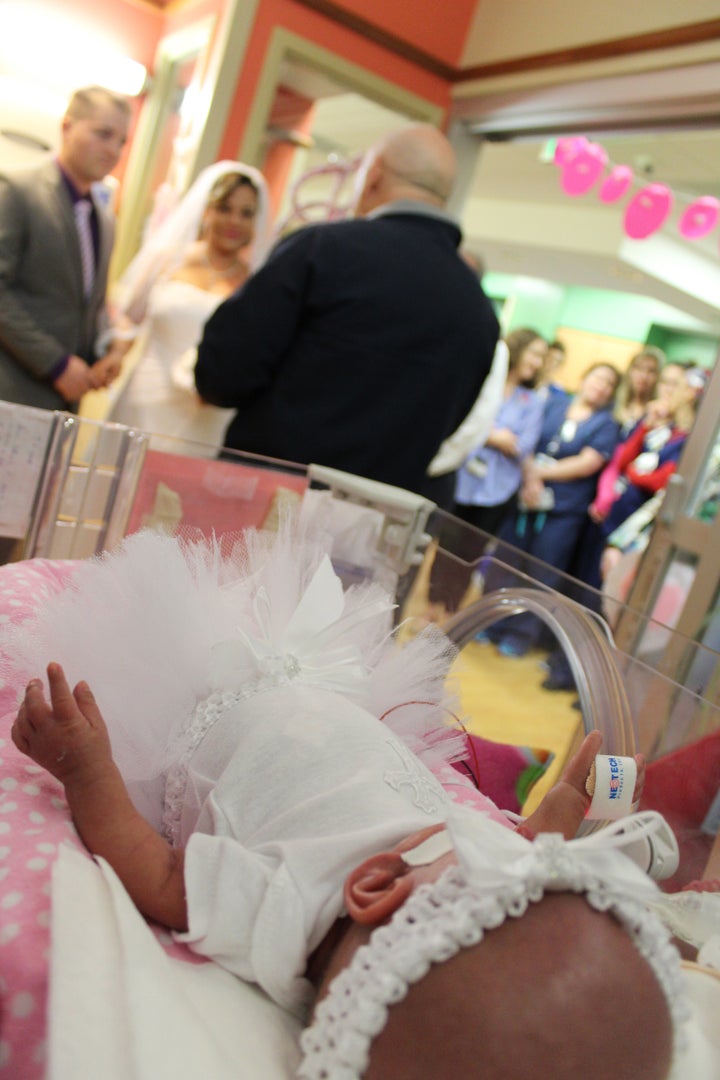 His daughter has been in the hospital ever since. In the months after, Campbell and Ferreira started talking about getting married sooner than they had planned. Ferreira saw a video on Facebook of a couple who got married in the hospital. That prompted Campbell to ask Kaelin's nurse liaison, Sandra Milstead, if the couple could hold a wedding at UAB.
Campbell said he wasn't sure if UAB would allow the ceremony to take place in Kaelin's room ― at best, he was hoping it would happen in the hospital chapel.
But the father said Milstead was excited and immediately started working to make it happen. The hospital enlisted the help of a few different colleagues to assist in organizing the wedding. The music therapy team provided music for the ceremony, while the art therapy team created the bride's bouquet. The hospital's catering service was recruited to help serve refreshments and cake.
"We had never had a wedding of this size and scale in the RNICU [Regional Neonatal Intensive Care Unit], but everyone was willing to do whatever it would take to make it a reality," Milstead said, according to an article on the UAB website. "So many people at UAB had formed relationships with Tyler and Rubia, and we all wanted to make sure that, although taking place in a hospital, this was the wedding of their dreams. That's what they deserved."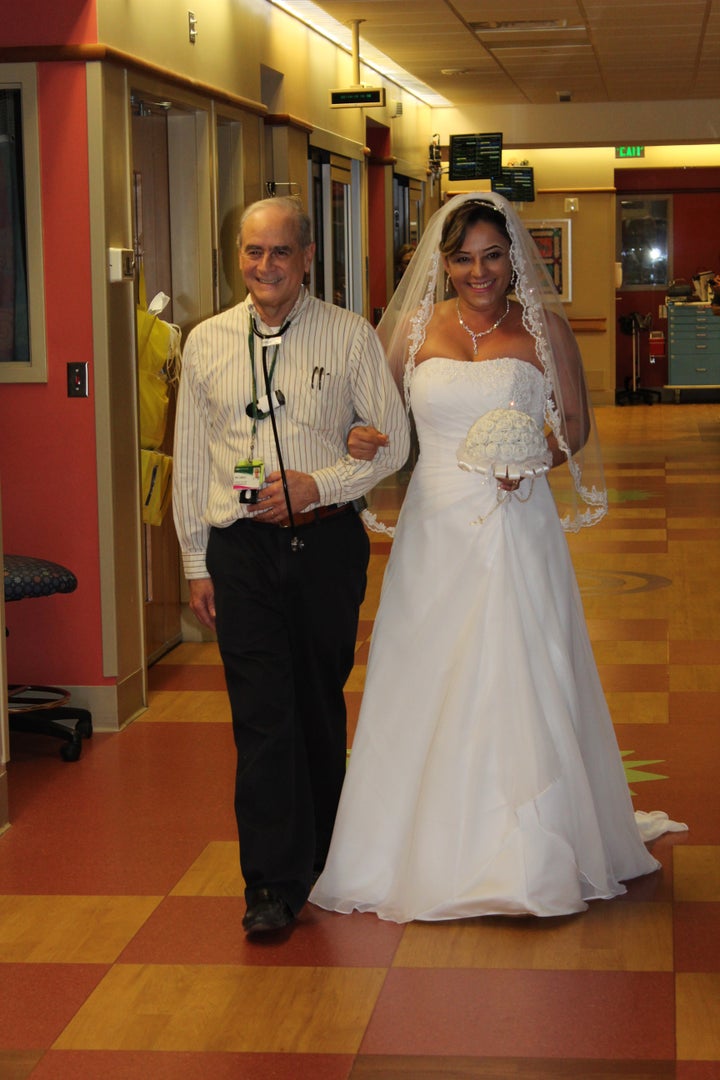 After just two weeks of planning, the wedding took place on Valentine's Day. Kaelin's neonatologist walked Ferreira down the hospital hallway. A hospital chaplain officiated at the ceremony, which happened right in front of Kaelin's cradle.
Campbell told HuffPost he'll always cherish the image of his bride walking down the hallway toward Kaelin's room.
"At that point, you kind of forget you were in a hospital," he said.
The couple originally hoped that they'd be able to take Kaelin home to Japan this summer. But their daughter's current medical complications may cause a delay in that plan. Campbell said his daughter has been diagnosed with Bronchopulmonary dysplasia, a serious lung condition that can affect premature infants ― and potentially cause breathing problems for years.
The couple is currently staying at a Ronald McDonald house one block from the hospital so that they can be as close to their daughter as possible.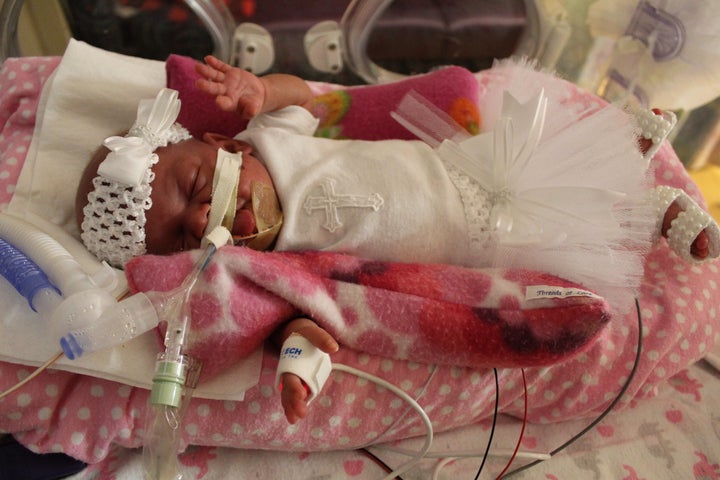 Ferreira said she has big dreams for her child. She told HuffPost she wants her daughter to be a dancer and a gymnast, and possibly go to school for linguistics so that she can study other languages.
Campbell said that's what he loves the most about his wife ― her ability to keep dreaming.
"I love the fact of how strong she is, how well she's handling the situation," he said. "How she continues to look forward to the future and all the plans we still have."
Related
Before You Go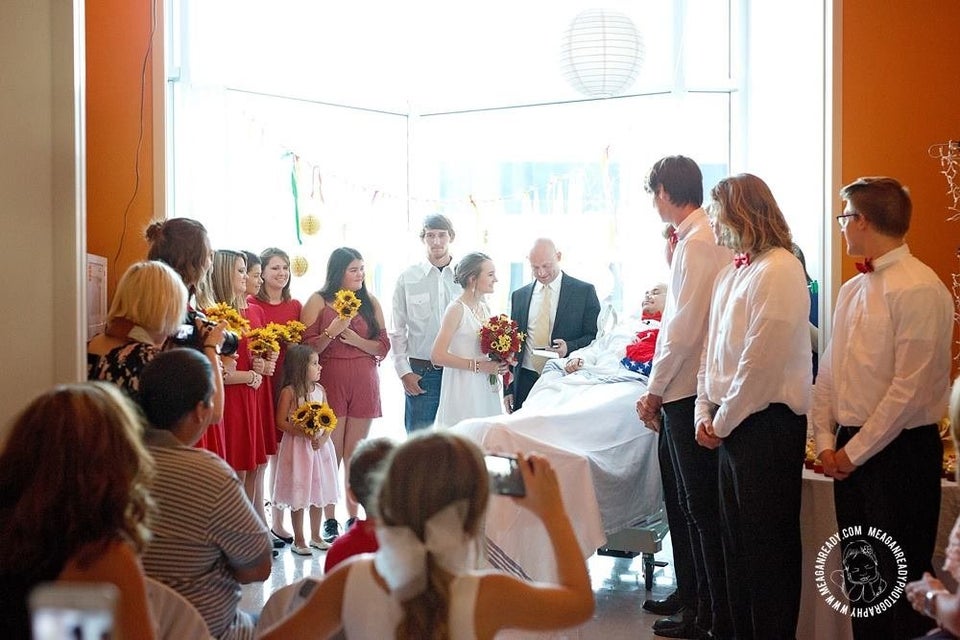 High School Sweetheart Hospital Wedding