The story of a homeless veteran giving a stranded woman his last $20 went viral online last year, prompting good Samaritans to respond in kind with nearly a half-million dollars in GoFundMe donations.
The vet, Johnny Bobbitt Jr., and the woman, Kate McClure, gave numerous television interviews and became celebrities of sorts overnight.
The seemingly made-for-TV narrative eventually resulted in a headline-grabbing squabble between the parties involved, but the real plot twist, according to a New Jersey prosecutor, is that all of it was based on a cock-and-bull story.
"The entire campaign was predicated on a lie," Burlington County Prosecutor Scott Coffina said during a press conference on Thursday. "It was fictitious and illegal."
The criminal complaint alleges McClure, her live-in boyfriend, Mark D'Amico, and the apparently not-so-desperate Bobbitt conspired to make up the false story to raise money.
U.S. marshals in Philadelphia arrested Bobbitt on Wednesday night. He's being held in lieu of a $50,000 bond. D'Amico and McClure surrendered to authorities that same night and were later released.
All three face charges of theft by deception, Coffina said. If convicted, they will face up to 10 years behind bars.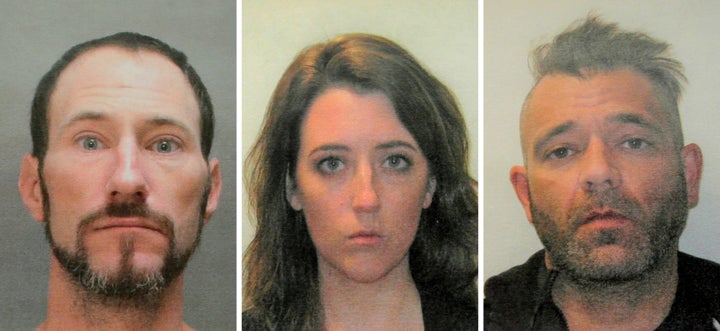 McClure started the highly-publicized fundraiser last year, claiming that Bobbitt, who said he was a 34-year-old former Marine, spent his last $20 to help her when she ran out of gas on I-95 outside of Philadelphia.
"Johnny sits on the side of the road every day, holding a sign," McClure, then 27, told WPVI-TV last fall. "He saw me pull over and knew something was wrong. He told me to get back in the car and lock the doors. A few minutes later, he comes back with a red gas can."
The GoFundMe site raised more than $400,000 thousand dollars, supposedly with the specific goal of helping Bobbitt.
"I would like to get him first and last month's rent at an apartment, a reliable vehicle, and 4-6 months' worth of expenses," read the description of the fundraiser, set up on Nov. 10, 2016. "He is very interested in finding a job."
More than 14,000 people donated to the campaign. The total amount available after GoFundMe's fees totaled about $360,000.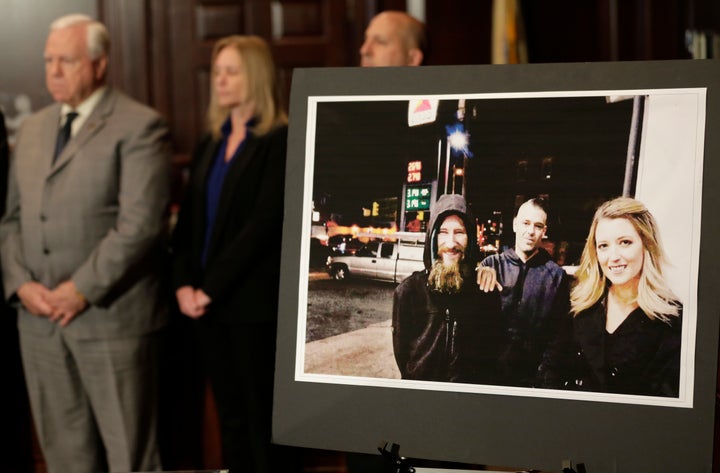 The story might have ended there, but then the trio got into a bitter dispute over the distribution of the money.
In August, Bobbitt filed a lawsuit against McClure and D'Amico, alleging they had spent a large portion of the donations on gambling, lavish trips, shopping sprees and a BMW. Bobbitt, in court documents, claimed he only received $75,000.
While it's unclear where the bulk of the $75,000 Bobbitt allegedly received went, he did admit to spending some of the money on drugs, Forbes reported.
"I always felt like I was in a weird situation. I didn't want to be pressured to get a lawyer or do anything because I didn't want to seem ungrateful," Bobbitt told WPVI-TV at the time. "I wish it didn't come to this ― I hate that it came to this."
The couple, through their attorney, claimed they committed no wrongdoing. They said they gave Bobbitt $200,000 and that $150,000 remained.
In September, authorities executed a search warrant at McClure and D'Amico's home in Bordentown, New Jersey. Authorities were reportedly seen removing a BMW and bags of items from the property.
At the time, the Burlington County Prosecutor's Office confirmed the search was related to the allegations Bobbitt had levied against the couple.
It was a text message McClure sent to a friend after the couple had set up the GoFundMe page, discovered in the course of the investigation, that led to the charges against all three parties, prosecutors said. The text allegedly acknowledged the story was "completely made up."
NBC Philadelphia reported that GoFundMe is going to provide refunds to everyone who donated to the campaign.
"This kind of case can damage the psyche of the public," Coffina said Tuesday. "I urge you not to let that happen. They put out a story that hoodwinked an awful lot of people."
Calling all HuffPost superfans!
Sign up for membership to become a founding member and help shape HuffPost's next chapter
BEFORE YOU GO