A Missouri woman and her boyfriend are facing felony charges in the case of a 16-year-old boy who told police he was held down and raped as part of a foursome, according to the Carrollton Police Department.
Authorities say 26-year-old Laura Ann Bentley is being charged with statutory rape and statutory sodomy. Her boyfriend, 34-year-old Jason Ashley Schlueter, faces a single count of statutory sodomy.
The Carroll County Prosecutor's Office has yet to decide if charges will be filed against another woman allegedly involved in the incident, who is under the age of 21.
Police in the small city, about 85 miles north of Kansas City, began investigating the couple last week, according to probable cause statements obtained by The Huffington Post. (The statements are given by an officer to a judge to obtain an arrest warrant.) The investigation started after the mother of a 16-year-old boy told police she learned her son and the young woman were involved in a foursome with "people that she believed to be over 21."
Carrollton police met with the teen on Sept. 16, and he allegedly told them he had visited Bentley and Schlueter's residence in late August or early September. During the visit, the teen said Bentley and Schlueter encouraged him and the other woman to engage in a foursome.
"[The teen] stated that he did not want to engage in sex, but that Schlueter held him down against his will, while Bentley sodomized him via performing oral sex on him," the probable cause statements read.
The teen allegedly told police he was forced to engage in vaginal sex with Bentley and oral sex with Schlueter. He also said that Bentley's four children were home during the assault and might have witnessed the incident, the police statements say.
After interviewing the teen, investigators went to Bentley and Schlueter's East Benton Street apartment.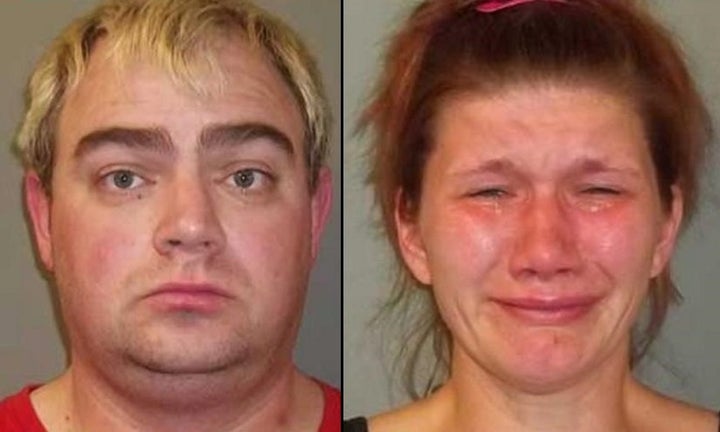 Bentley, according to the probable cause statements, initially denied involvement or knowledge of the alleged rape. But she eventually told police she witnessed Schlueter and the teen "performing oral sex and sodomizing each other anally," according to court documents.
When police questioned Bentley's children, her 6-year-old daughter acknowledged witnessing the alleged rape. The child identified each person by name and said Schlueter spanked her when he saw her watching, police said in court documents.
Bentley admitted her children were home at the time the teen alleges he was raped, but said her child was talking about a threesome she had witnessed on another date, the police statements say. 
When police questioned Schlueter he was initially hostile and evasive, police said, but eventually "did admit that he had been involved in a foursome" with the teen. However, Schlueter denied touching the teen, according to the statements.
Authorities arrested Bentley and Schlueter the day they were questioned and transported them to the Ray County Detention Center.  
An unidentified neighbor told KCTV5 News that it was often noisy in the couple's apartment. 
"It is usually wild down there," the neighbor said. "Kids would run up and down the stairs yelling and screaming and knocking on doors. It was pretty hectic sometimes."
On Monday, Bentley and Schlueter were arraigned before Missouri 8th Circuit Judge Kevin Walden, who ordered them held behind bars until they can raise bond of $50,000 each, in cash. The couple is expected to appear in court again on Sept. 30.
The Carrollton Police Department declined to comment on the case, beyond the allegations made in the probable cause statements.
"Due to the heinous and sensitive nature of the crimes, and out of respect for all those involved, the Carrollton Police Department will make no further comments on the case or investigation," the agency said in a statement. 
Authorities are asking anyone with additional information in this case to contact them at (660) 542-3128.
Calling all HuffPost superfans!
Sign up for membership to become a founding member and help shape HuffPost's next chapter