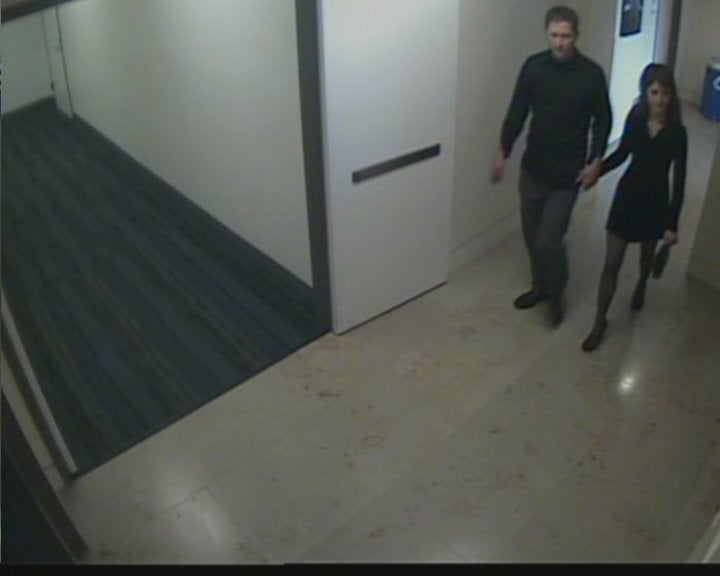 Yesterday, an attractive couple walked into a building and left with an instrument case. The twist? They may have left with a stolen cello. A Reddit user who goes by "TravisYoung" posted security pictures that seem to track the man and woman (who, it's been pointed out, look like Bobby Flay and Parker Posey) entering the San Francisco Conservatory of Music, walking up the stairs with smiles on their faces, and leaving, the cello mounted on the man's back.
In his plea posted yesterday, the Reddit user says the cello belongs to his 23-year-old son. Calling it "one of the most expensive things I have ever owned," he writes that his son depended on the instrument not only for his degree coursework, but as his "sole source of income."
UPDATE: The cello has been recovered! Officer Carlos Manfredi from the SFPD told the Huffington Post that a security guard discovered the handmade German instrument leaned against a wall at the nearby War Memorial, and recognized it from an hours earlier news segment. The handsome cat burglars, however, are still on the loose. "We're still looking for them," Manfredi said, crediting the case's "amazing turnaround" to the media blitz. "I don't think [the thieves] realized the gravity of what they had. You can't take an $11,000 cello to a pawn shop, or sell it to another musician -- an instrument that special is like a fingerprint. The good news is, the kid got his cello back."
Check out the unreal security photos below, plus a few of Young's son playing the cello. We're welcoming any and all clues to this vintage whodunnit in the comments.
Calling all HuffPost superfans!
Sign up for membership to become a founding member and help shape HuffPost's next chapter
BEFORE YOU GO