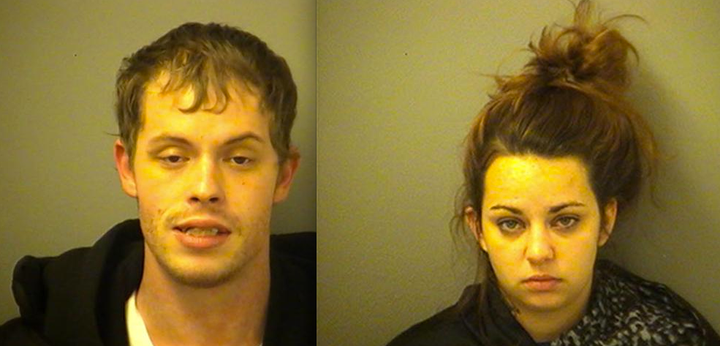 A couple that celebrated its engagement at a Walmart with a $29.62 ring and a dramatic proposal over the PA system spent the night in separate jail cells after allegedly shoplifting sex toys.
Bay City authorities in Michigan arrested William Cornelius, Jr., 25, and Sheri Moore, his 20-year-old fiancee, on Dec. 30 after the couple allegedly stole a "Bride-to-Be" thong, an edible thong, oral sex candy and a vibrator from a Spencer's shortly after leaving Walmart, according to the New York Daily News.
Investigators said Cornelius purchased the ring before popping the question, according to The Smoking Gun.
Surveillance footage shows Cornelius dropping to one knee as Moore says yes to the applause of their fellow customers.
No one was applauding at the Spencer's. An employee called the Bay County Sheriff's Department with a shoplifting complaint a short time after, MLive.com reports.
A woman later identified as Moore was apprehended near a Taco Bell. She was followed there by a Spencer's employee, according to court records.
PHOTO GALLERY
Dumb Criminals: Mugshot Gallery
Deputies said they searched Moore and found a pair of gold earrings and a silver necklace with a star pendant, according to MLive.com.
Moore denied stealing anything from Spencer's.
Cornelius was found sleeping in the mall's food court, after he fell asleep at a table while tying his shoes.
Deputies say they woke up Cornelius, searched him and found a watch, and a variety of items from Spencer's worth $80.93, according to The Smoking Gun.
Cornelius was arrested for retail fraud and Moore was charged with larceny.
Calling all HuffPost superfans!
Sign up for membership to become a founding member and help shape HuffPost's next chapter