We got married on May 21st, 2016 in Portland,Or. This was the 10 year anniversary of when my family lost our beautiful mother in 2006 when I was living in my home state, Connecticut. A year after our own loss, Kanye West also lost the most important woman is his life, Donda West.
We (my family) had already LOVED Yeezy. Being a family of six children, we sort of mentally adopted Kanye as another one of our brothers in our imaginations. This somewhat made it feel like we could all grieve together, and coping was made a little easier especially through his music. To this day none of us can hear "Hey Mama" without shedding a tear.
People came from all over the country to witness what I liked to refer to as more of a "Love Fest" than a wedding, between my betrothed and I. Most people in attendance came in from the East Coast where weddings are almost always a lot more traditional.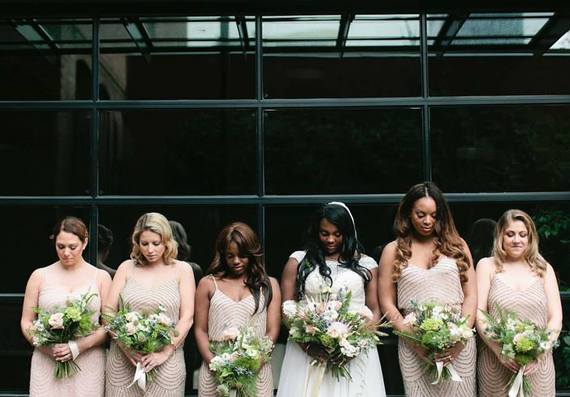 Photo Credit: Meredith Bacon
As you can tell by the reaction of the wedding guests in the video absolutely NO ONE knew what song we were planning to use for the bridesmaids and the rest of bridal party to walk out to. I chose Ye not only because of what he symbolizes for my family and I but because we wanted to set a very specific vibe for the entire affair.
So with the help of recruited talent, DJ OG One, ( the official Portland Trail Blazers DJ) we were able to make it happen.
I almost didn't even tell my husband prior, but a week earlier, completely at random, he asked if we could use "Dark Fantasy" (also by Kanye West) during the processional so I came clean about my scheme and he was, as always, entirely supportive.
The title of this video is called the "Trump Wedding" because that is my husband's last name.
However, our wedding was the polar opposite of everything Donald Trump stands for with a room full of unconditionally loving and different people from varying cultural and economic backgrounds.
This gorgeous video would have never been possible without a documentary film maker I found online named Jeff Wirth from the company "Burning Hearts Media" . He made it very clear he usually does not do wedding videos but I begged him to create some lasting memories that told a story much like the videos I saw on his website and he caved to do it for us. I am so #blessed. I am thankful for all the "Feelz."
I also listed the other angels who helped us make our day come true below.
(More information to come about these incredible Portland vendors in a blog series about our wedding.)