The 2016 election has been a divisive one, but it has hit swing-state households especially hard.
Jackie and Bill Krachala have been married for 37 years, and as the couple waited to cast their votes Tuesday in the swing state of Pennsylvania, they revealed to CNN that they are voting for rival presidential nominees.
This led to some heartwarming, on-camera bickering that has since gone viral.
Jackie Krachala confirmed to CNN that she's voting for Republican nominee Donald Trump, while her husband is voting for Democratic nominee Hillary Clinton.
"We're nullifying each other's vote," Bill Krachala said of their opposing choices.
Asked whether they get along at home, Jackie replied with a "yes" followed by an assured "no," before she and her husband broke out into nervous laughter.
When Jackie said she's voting for Trump because "he's the best there is right now," her husband appeared to roll his eyes and said, "Oh, geez."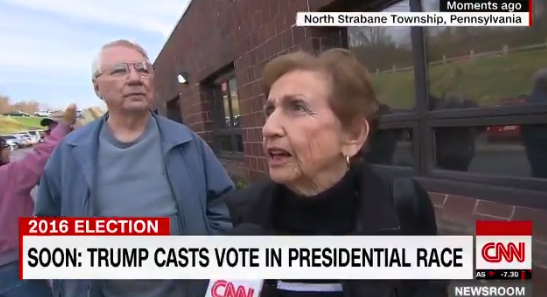 "Aren't you excited for the first female president?" the reporter asked her.
Bill Krachala added, almost immediately, "I am."
Bill Krachala defended his choice, saying he believes Clinton is the better of the two nominees.
"I don't think either one of them are capable of running the country correctly without prejudice," he told CNN. "And I believe that the experience is what counts." 
The most important part of the now-viral interview was CNN's final question to the Krachalas: Do they actually love each other?
"Oh yeah," they both replied, one after the other.
Now, America, it's our turn. Can we answer the same after Tuesday night?
BEFORE YOU GO
PHOTO GALLERY
The United States Votes 2016