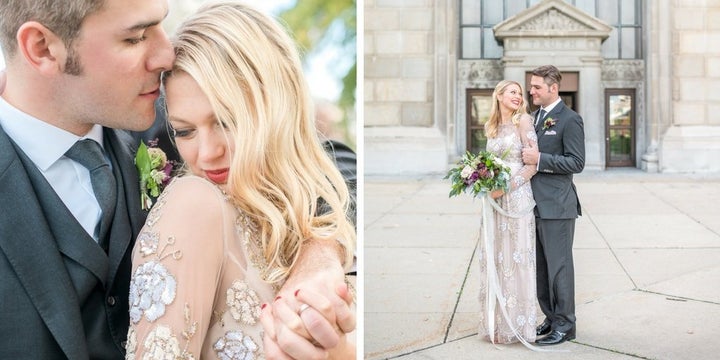 High school sweethearts and Wisconsinites Sara Zoellick and Matt Boelter grew up just outside Madison, the state's capital city. These days, though, the couple of more than a decade proudly calls Milwaukee home.
"After going to different colleges, we moved in together in Milwaukee and we've been here ever since," Zoellick said. "We love Milwaukee, it's really a part of who we are."
The couple recently put down permanent roots in the city, buying a light-filled condo that sits right alongside the Milwaukee River.
It was only fitting that when they said "I do" in October 2016, they did so at the gorgeous Milwaukee County Courthouse.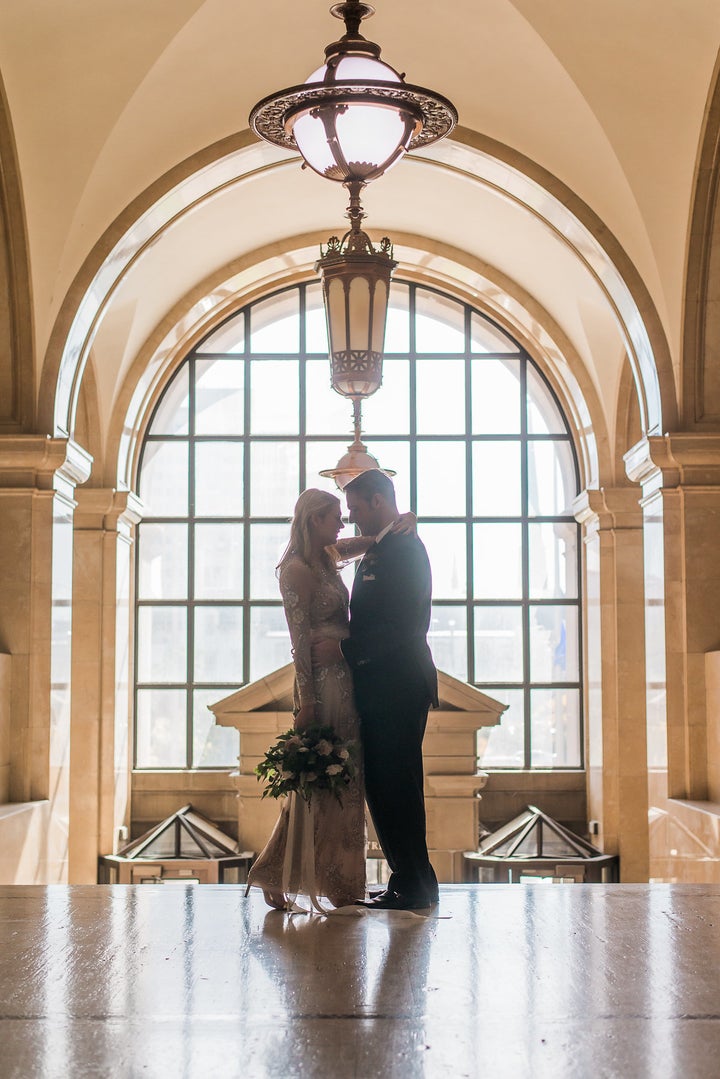 Then, they celebrated with a sunset river cruise with their closest friends and family. Local photographer Heather Cook Elliot was there to capture both events.
"We loved the art deco architecture of Milwaukee County Courthouse and it just seemed so effortless to us. We felt a big wedding just wasn't our style," Zoellick told HuffPost. "Plus, the small wedding gave us what we really wanted, which is to always be on a boat!"
Below, Zoellick and Boelter, who are approaching their first wedding anniversary, share more special moments from the big day. Be sure to follow along with us as we profile couples marrying at city halls around the country for HuffPost's Listen To America bus tour.
Who did you choose to invite and include in your wedding?
SZ: We had four couples in our bridal party, not counting us. I feel like couples think that just because you are getting married at the courthouse, you can't have a bridal party ― not true. We planned our wedding in six weeks, and were very fortunate that most of our friends could join us on the big day. Our immediate families and bridal party were there for the ceremony which took place in the judge's chamber. I bet we were pushing 20 in that room!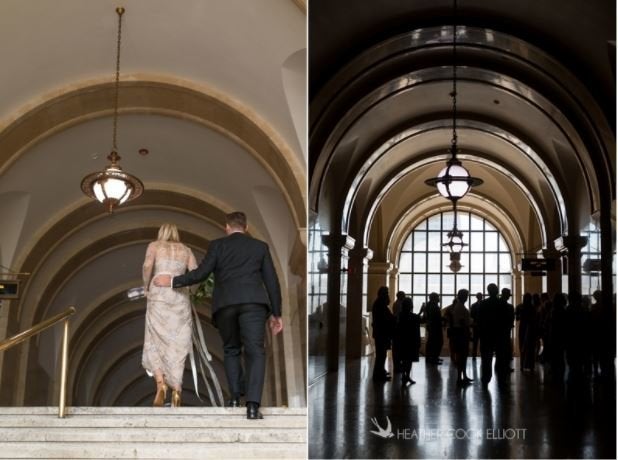 Tell us a little bit about what your wore that day. Any special signficance?
SZ: My engagement ring was a sapphire ring gifted to Matt from his grandmother shortly before she passed. We made our wedding bands from his grandpa's wedding ring, and we were able to use the metal and stones in both our bands.
My "something old" was my great grandmother's 1933 art deco engagement ring. She and I shared the same birthday so that was very nice to be able to include so much history in our wedding.
Matt had sapphire earrings made for me as a wedding gift to match my engagement ring ("something blue"). My wedding dress was from BHLDN.
MB: Sara's gift to me were antique Scottish Thistle cufflinks. We went to Scotland as part of our honeymoon.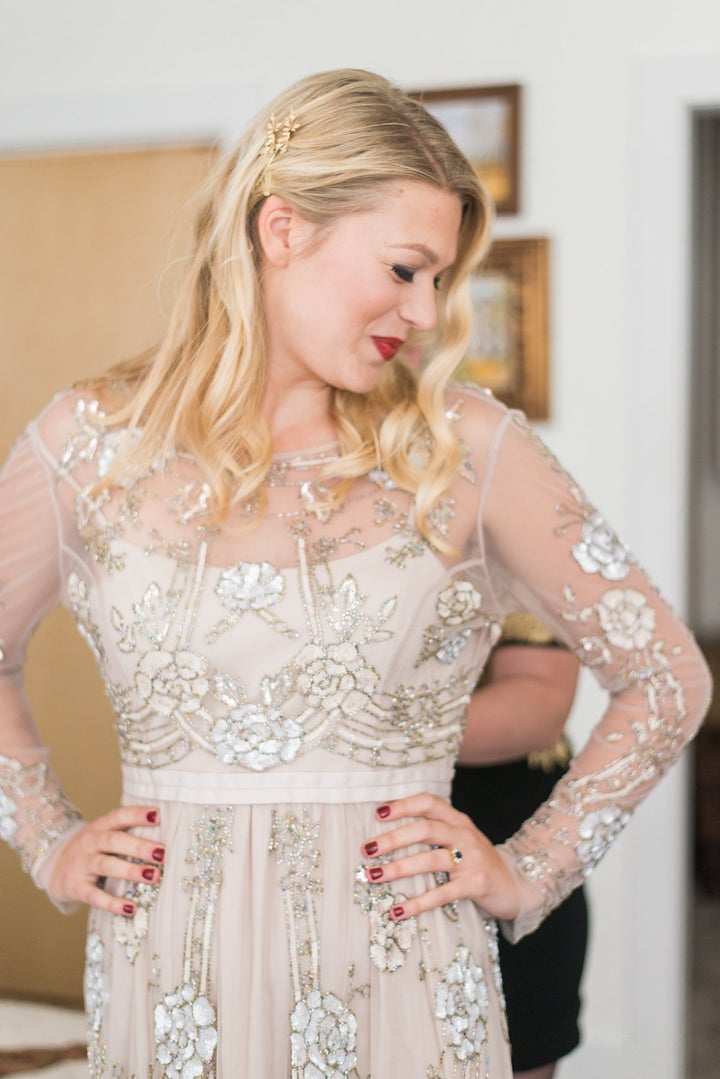 What was your favorite part about the wedding day, or your favorite detail?
MB: We love our wedding bands. We tell everyone about them. We love history and it means so much to the both of us that we can add our story to our heirloom rings. We really enjoyed working the designers and being apart of the creative process.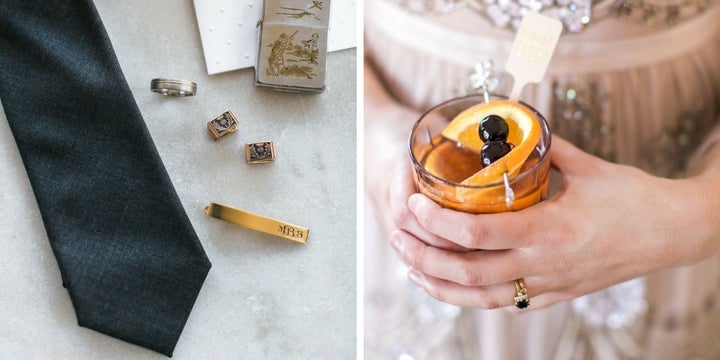 SZ: I would add that we both loved spending the morning with our best friends. We got ready at home. At the time our friends lived right above us and the boys got ready at their apartment and the girls downstairs at our condo. The boys decorated our 1983 blue moped with beer cans and just married sign for our first look. So great!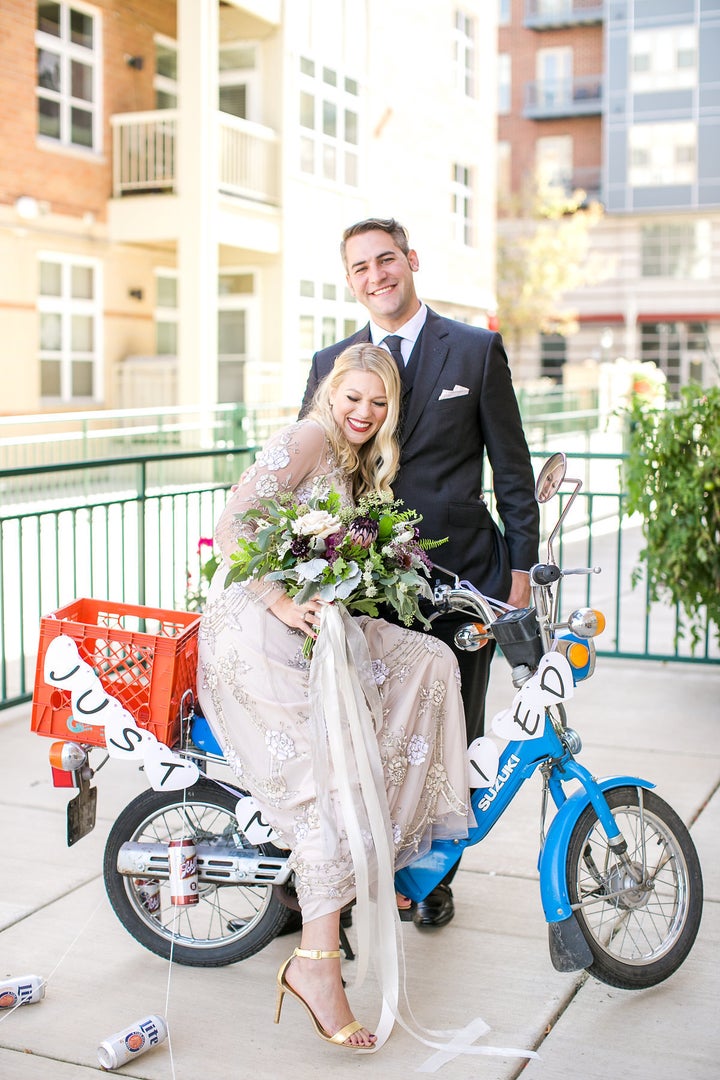 What were your post-wedding festivities like?
The rest of our invitees (about 60 total) joined us for a cocktail cruise and first dances on the Milwaukee River and Lake Michigan. Afterward, we hosted a dinner reception at one of our local bars, Paddy's Pub. The boating was our favorite part of the reception ― we love showing off Milwaukee, and it looks so amazing from the water!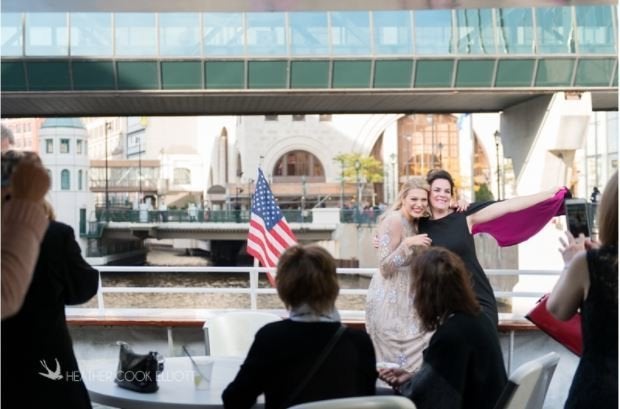 What do you love most about living in your city? What's your ideal date night there?
SZ: We really enjoy the amenities of a big city in a small town package. Our ideal date night would be a hike up the Milwaukee River Greenway to the Hubbard Park Beer Garden for a liter and a concert. Then, we'll stroll the city streets back home and critique the mix of old Victorian houses amidst modern construction. In the summer there is always a festival, block party, or concert to go to, and if the weather is bad we can choose between a hot new restaurant or a classic supper club like Jack Pandl's for a good ol' fish fry and an old-fashioned.
In winter we like to cozy up to an old hotel fireplace (our favorite spot for that is Hotel Pfister) or just put on the snow boots and head down to our local bar ― Just Art's Saloon ― for pizza and to complain about the weather. Art's isn't for everyone but its totally for us. Makes you feel like you are back home in a small town. Everyone knows everyone.
See more photos from the couple's big day below: