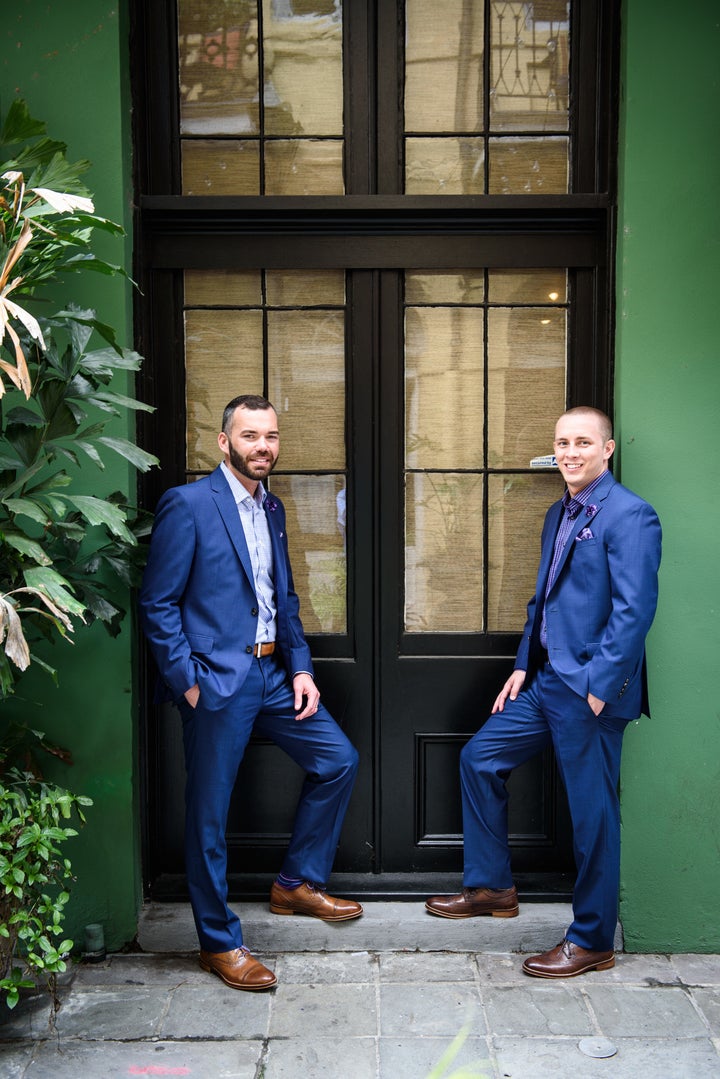 Lane Ross and Eric Sheffield love New Orleans so much, they paid The Big Easy the ultimate compliment: They named one of their dogs after the city. They have Bennett, a Scottish terrier, and Nola, a Border collie/Labrador mix.
"We don't have children, but they're like our children," Sheffield told HuffPost.
Although the couple live in Northeast Texas, they consider New Orleans their second home.
"Within a few weeks of meeting, we took a trip together to the city and that's where we fell in love," Sheffield said. "Two and half years after meeting, we sealed our commitment to each other with a marriage ceremony in the city we first realized our love for each other in."
Tell us a little bit about how you met.
Eric Sheffield: We met at a Fourth of July party that Lane hosted in his home in Omaha, Texas. We clicked instantly and knew that fireworks weren't the only things producing sparks that day. Since meeting we have not spent more than a week apart. Three years after meeting, we still have the same spark we had when we met on the Fourth of July.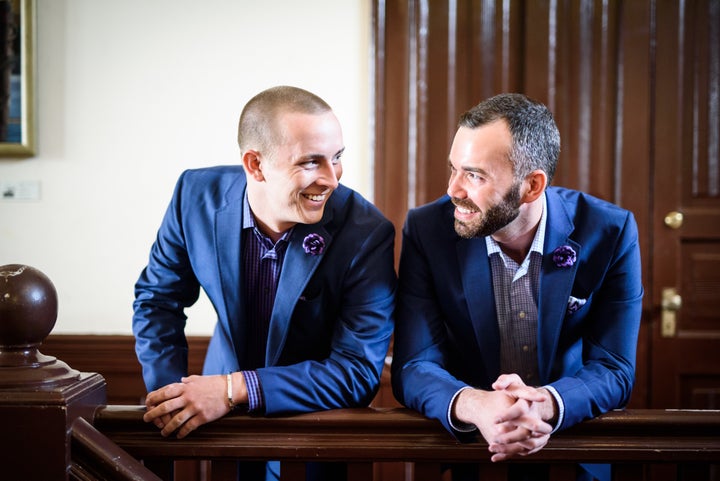 Why did you decide to marry at a courthouse?
ES: After countless hours of stressful planning, looking at venues and revising the guest list, we decided we wanted the day to be about us. With the blessings of our families, we scraped plans for a big wedding and opted for an elopement. We love New Orleans and we love Mardi Gras so we chose to seal the deal in a courthouse wedding on Mardi Gras eve.
Lane Ross: We ended up shifting our research from large venues to accommodate all of our friends and family to unique places to elope. Algiers Courthouse in New Orleans was one of the first places we found and it ended up being the place we chose, and we are certainly glad we did.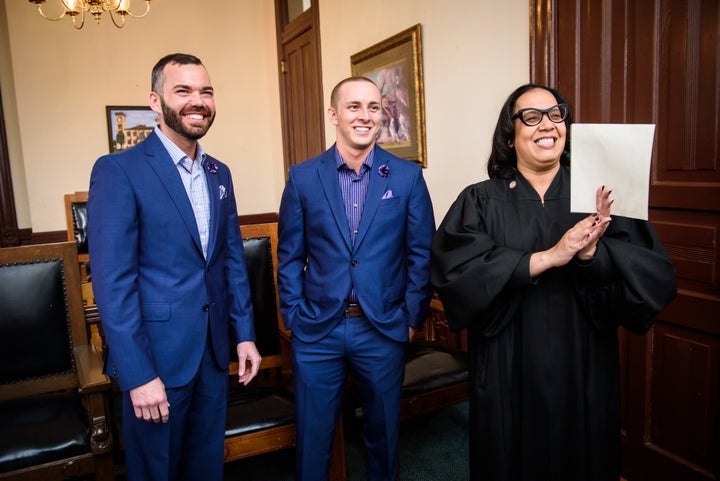 LR: We invited our closest friends from the city: Joe Lasko, Rodney Nugent, Scott Plunkett and Jay Huffstatler.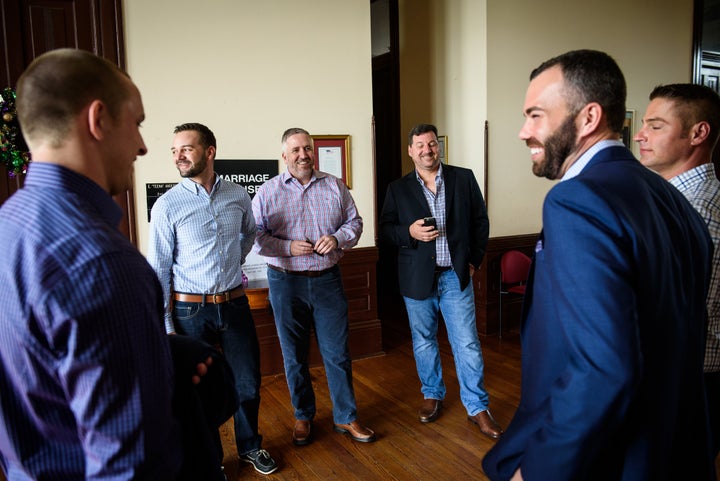 What did you decide to wear?
LR: We went simple with matching navy blue suits accented with hues of purple.
What was your favorite part of your wedding day?
ES: The town was in full-fledged Mardi Gras mode. All the revelry going on throughout the city and the easy going atmosphere of New Orleans really set the tone for the day. It truly was a day we will never forget.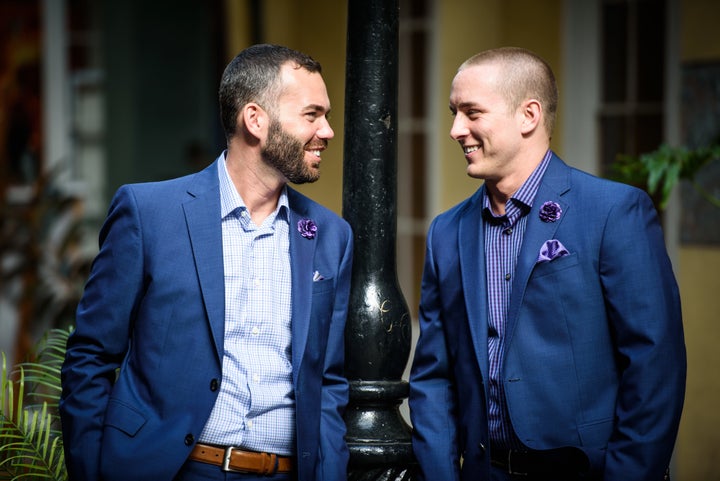 What did you do after the ceremony? How did you celebrate?
After the ceremony wrapped up we had pictures taken throughout the French Quarter to help capture our day. Following all of the photos we had dinner at Orleans Grapevine with our friends that joined us at the ceremony and then celebrated the night away with extended friends.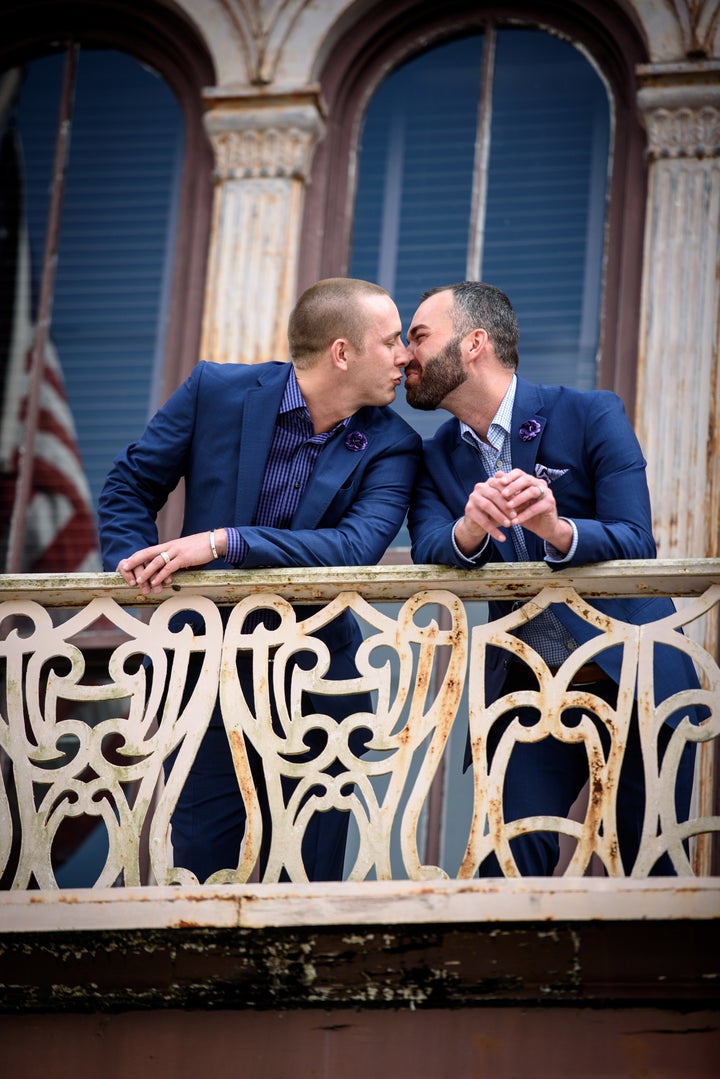 What do you love most about New Orleans?
ES: The ambiance and easy-going spirit that engulfs the city is unmatched. Our ideal date night in the city would definitely include trying out a new local restaurant. I could list so many of our favorites but some that we visit often when in town are Café Adelaide, Domenica, The Gumbo Shop and the St. Roch Market. After dinner, we'd take a stroll through the streets of the quarter and cap the night off with drinks on a balcony or quiet courtyard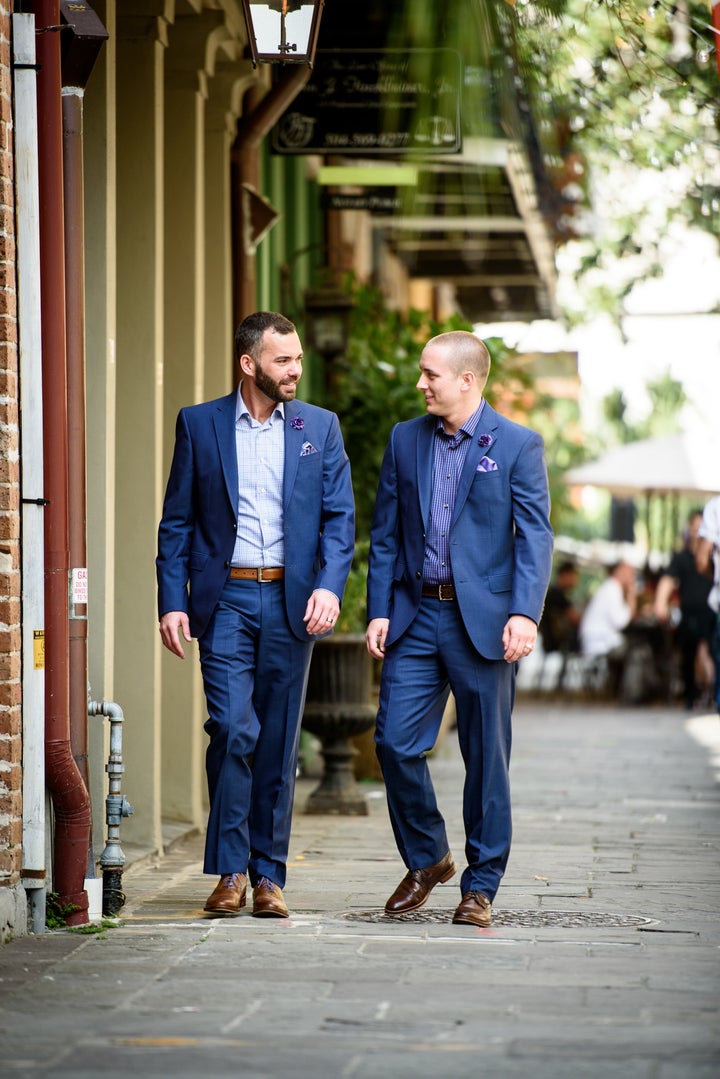 Looking back, what's your best pitch for an elopement or a courthouse wedding?
ES: Our wedding really was about us. When initially planning, we got caught up in what would make the day special for those we were inviting and before we knew it we were just planning a production for everyone else. When we scraped the idea of a big wedding and chose to elope at the courthouse, we were able to produce a day that we will never forget. The day was intimate, special and just what we desired in a day to look back on.
Below, more images from the couple's wedding day: